Jill Duggar's Wedding Registry Has Strange Items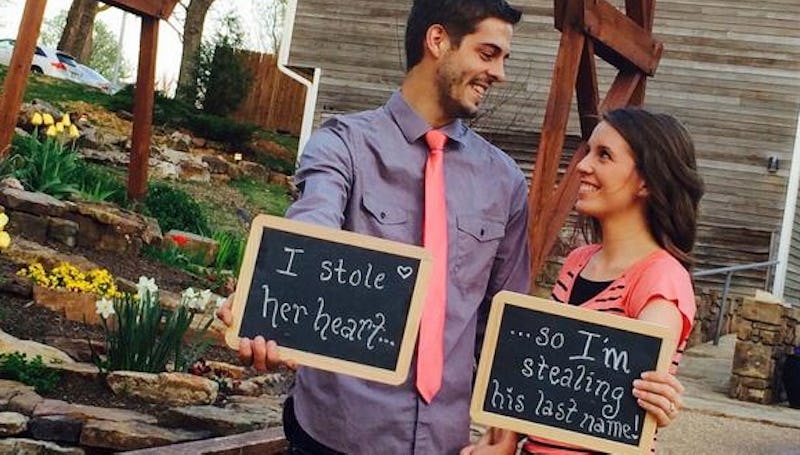 Our fascination with all things Duggar continues with the release of 19 Kids and Counting's Jill Duggar and fiance Derick Dillard's rather interesting wedding registry. The two have been eagerly planning their nuptials since their engagement and Jill's already changed her last name on Twitter. But can you blame them for wanting to hurry down the aisle? As it stands now, their courtship rules are pretty restrictive (like side hugs only).
In April, Dillard tweeted the link to the couple's multiple registries at places like Amazon, Bed Bath & Beyond, and Walmart. I'm not sure why else he would make that public, unless he was hoping that fans would get the gifts?
Though the list was originally posted a few months ago, as the couple's wedding prep steamrolls ahead, there's renewed interest in what exactly a Duggar wants. A few minutes spent looking through the list and it's soon discovered that among the more traditional kitchen supplies is a laundry list of unique items that the new couple has requested.
In case you want some Duggar-themed inspiration for your future wedding, here are the 14 weirdest items on their wedding registry.
GUNS AND AMMO
What, you didn't ask for a gun when you got married? Apparently, high-powered shot guns and rifles are a marital must have. The couple has also requested you buy the ammunition. Shoot shoot, bang bang.
A PIANO
No new home is complete without music, and Dillard and Duggar want to make their own on a new Yamaha digital keyboard.
A PIANO STAND
Duh, they don't want to play their keyboard on the ground.
TAKE-OUT FAST FOOD
For those nights they don't feel like cooking, the pair has asked for gift cards to places like Papa John's, Buffalo Wild Wings, Burger King, Taco Bell, and P.F. Chang's.
INSTANT NOODLES
Perfect for those nights they don't feel like ordering out but still want an easy meal, or for those other nights where they're feeling nostalgic about their college days.
AN EIGHT-PERSON TENT
This gift is just bound to hurt feelings. Which of Jill's 18 siblings will get the shaft on the next Duggar/Dillard family camping trip?
TINY SCISSORS
When regular scissors just can't do the job.
SIX TRASH CANS
The Duggar-Dillards have so many things to throw away that one can is not enough.
CEREAL
I guess while you have people buying you things, you might as well have them do your grocery shopping. Duggar and Dillard have asked for five different types breakfast cereal. In case you're curious what brands they like, they are Raisin Bran, Froot Loops, Berry Collossal Crunch, Fruity Dyno Bites, and Hershey's Cookies and Cream cereal, which in their defense, does sound delicious.
A CEREAL CONTAINER
All that cereal has to go somewhere other than ... the box it came in.
COLORED DUCT TAPE
No silver adhesive allowed! The happy couple has requested neon green, orange, and pink tape.
A FOOSBALL TABLE
A la Joey and Chandler, of course.
A TINY OKLAHOMA STATE COWBOYS FOOTBALL HELMET
I don't know if this is supposed to be a desk knick knack or a child's size helmet, but either way, it's a weird request.
CUTTING BOARDS IN THE SHAPE OF ARKANSAS
Dillard calls this state home, so it makes sense, but it doesn't make it any less funny of a way to show state pride.
The best part of Jill Duggar and Derick Dillard's three wedding registries is that most of the items on the list have been purchased. I guess it really does pay to have such a big family!
Image: JillMDillard/Twitter; Giphy [5]; masterofmalt; lsunnieel/Tumblr; hayyr/Tumblr; theglitterthingsinlife/Tumblr; penny-arcade; huffingtonpost; Bed Bath & Beyond