Iggy Azaelea's Style is No 'Problem'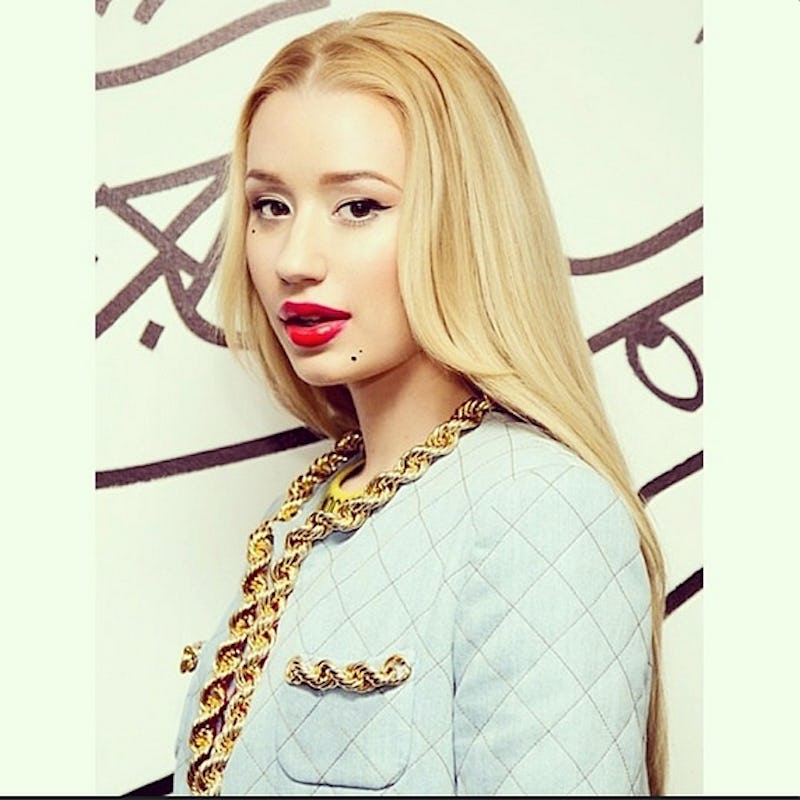 Iggy Azaelea has made the top of the charts her new home. She isn't always the most likeable character, and she probably needs a lesson or two in the history of hip-hop music, but the Australian rapper climbed her way to the top with the help of T.I., a rapper from Atlanta who has definitely made himself known in the industry (whether that name is built on the good or the bad, depends). She's got an interesting story; one of dropping out of high school, immigrating by herself to America, cleaning hotel rooms for money, and eventually getting a mini break in the form of a modeling career — she's still represented by Wilhelmina Models. "Work" was the lead single off of her debut album, The New Classic, though she had put out a couple of more underground hits from past EPs before the song was released.
Azaelea's song "Fancy" features a Clueless-inspired '90s music video — synchronized dance scenes, yellow plaid skirts, virtual closet and all. The single is still holding down the number one spot on Billboard's The Hot 100 for the fourth week in a row, and it shows no signs of slowing down.
The single's biggest competition right now is... well... another Iggy Azalea song. This one is just featuring the artist, and her raspy lines are a perfect juxtaposition to Ariana Grande's airy and sweet vocals in "Problem."
Whether you love or hate Azaelea, there's no denying she's making a name for herself. Beyond her outrageous lyrics and casually cool vocals, she also has some seriously cool style sense. Outside of her modeling gigs, she documents her most fashionable moments via social media, making her easily one of my favorite celebs to follow. In no particular order, here my absolute favorite style moments from Iggy Azalea's Instagram.
1. That time Azalea made colorful vintage earrings look #flawless.
2. When she stood, fresh-faced, next to Ru Paul in a leather skater skirt, graphic DKNY top and a sea of mermaid curls.
3. When she arrived in Miami in a signature white form-fitting midi skirt, a striped cropped tee, a red and blue cross-body bag and under a crowned cascade of blonde hair.
4. When she draped her neck in gold and loaded up in colorful Pucci.
5. She stepped out in printed high-waisted shorts and a leather zipped crop. Of course, her ponytail was killer too.
6. She casually demonstrated the beauty of cutouts in a bright skater dress.
7. Geometry suddenly became more interesting with this geometrically designed cropped outfit. Note the perfect ponytail swoop.
8. When she made Moschino's red dress and self-titled belt look like a work of art against the white canvas of the wall behind her.
9. She rocked the white one-piece in this classic "balcony overlooking the beach" vacation pic.
10. She didn't need accessories with this jewel-printed long-sleeved crop top.
11. When she looked like a superhero of love in a blue and white caped number.
Images: @thenewclassic/Instagram