Insane Photos From North West's 1st Birthday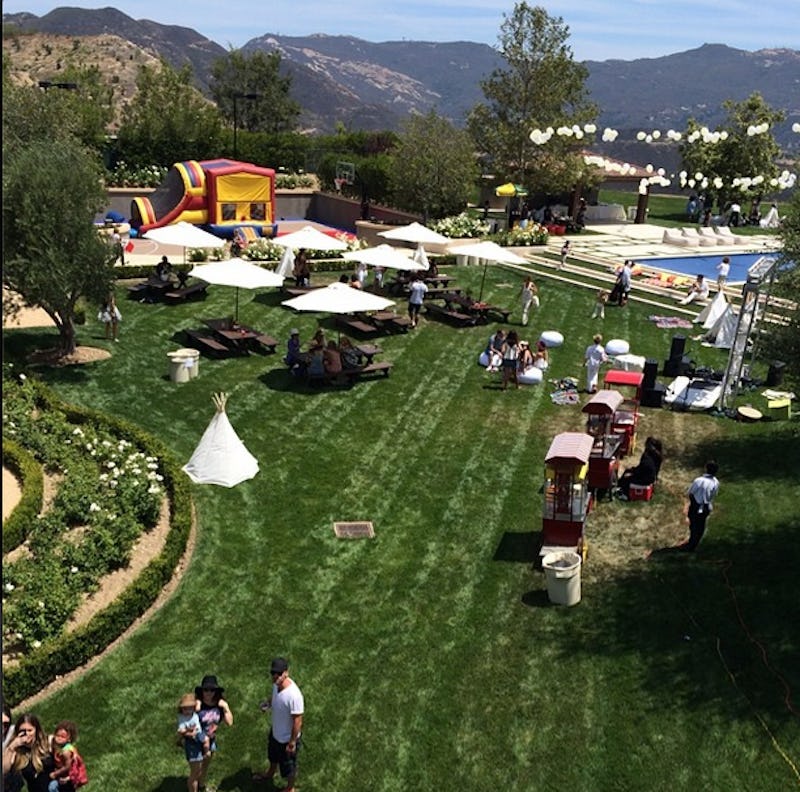 The Kardashians are calling it Kidchella, and it's the best kids birthday party you've ever seen. North West celebrated her first birthday at an extravagant festival-inspired party complete with a mini ferris wheel and Kidchella stages. The cute reference to her father Kanye's musical career and Yeezus tour was held in Kourtney's beautiful yard.
Though it has all of the elements of a good kids' party – a bouncy castle, face painting – the party seems a little excessive for such a young child. Kim has said that North isn't spoiled, but events like this are not helping her cause. Additionally, the theme of Coachella seems a little grown up. Yes, festivals are fun places with music and tents, but they are adult events. The Kardashian youngsters have all seemed to grow up a little too early. Remember Kylie on that stripper pole in the KUWTK pilot? Kim has received criticism for her policy of dressing North in a neutral color palette, eschewing the bright colors that kids tend to prefer. Creating a mini Coachella seems a little indulgent for the grownups, turning their kids into little festival-goers (without the drugs and grinding) for their own enjoyment. Once she's old enough, hopefully little Nori will be allowed to choose her own theme, even if it's not tasteful and muted.
Here's the ferris wheel from the party:
Kylie Jenner and Jaden Smith performed.
The kids received custom Yeezus tees as party favors. So hip.
Image: Kris Jenner/Instagram