What's Ahead on 'Teen Wolf'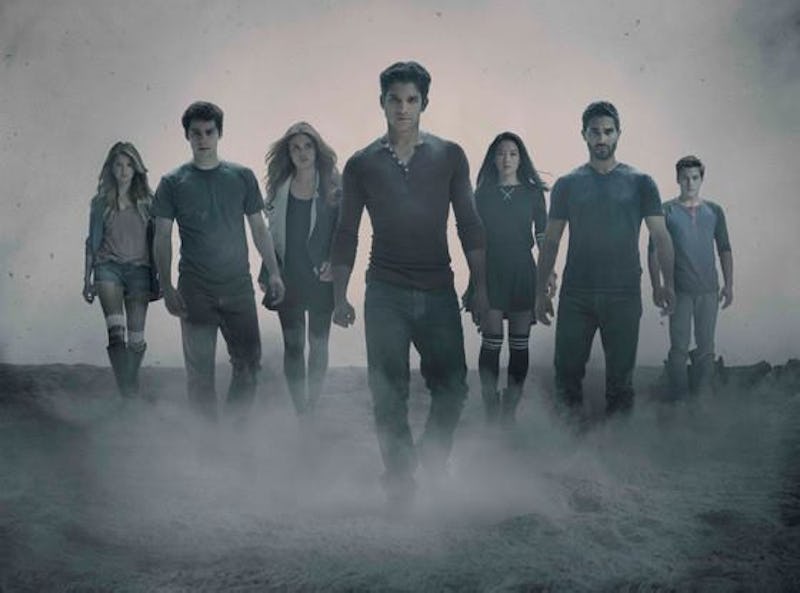 You can never really know what to expect from Teen Wolf. I mean, sure, you can expect teens who occasionally turn into wolves, but when you first got invested in this campy little MTV series, you were probably surprised to see Japanese folklore, wailing banshees, were-coyotes, and silly, sassy Stiles being possessed by a damn Nogitsune, were you? But what the addictive show lacks in predictability, it makes up for in pre-season transparency from its cast and crew — these people cannot stop talking about what's coming in Season 4 of Teen Wolf , and we appreciate the enthusiasm. It looks like the new season, premiering Monday night, will lose some of the darkness but hold onto all of the mysteries we found in Season 3.
Here's what you can expect when Teen Wolf returns.
Characters Out
Jeff Davis, the creator of Teen Wolf, has said over and over that Season 4 will be returning to Teen Wolf 's roots, bringing back much of the humor and adventure that lost out to narrative and lore in Season 3. With a return to the earlier days of Scott & Co. also comes more focus on "very human problems," in addition to the ever-lurking monsters of Beacon Hills. It's safe to assume that many of those problems might stem from grief over the loss of Allison Argent, Scott's former girlfriend, Lydia's best friend, Chris Argent's daughter, and a fiercely moral hunter. It was also announced that Daniel Sharman would not be returning to play Isaac, so that's another familiar face missing from this season.
Characters In
In addition to more human issues, this "rebuilding season" will be all about True Alpha Scott uniting his newly cemented pack, and that includes a few new players. He's already reached his banshee, human, and sheer brain power quota with Lydia and Stiles, but this season he'll likely be gaining a kitsune and were-coyote in Kira and Malia, respectively.
Creators and cast alike have been pretty open about the romantic intentions of these new characters. While Kira and Scott had a spark last season, they'll be slowing things down a bit, while dealing with the loss of Allison. Recent possession by a dark spirit and trying to learn algebra with only a third grade education, however, seem to be less taxing, because Stiles and Malia will be jumping right into furthering the, ahem, connection they had last season in Eichen House. While Jeff Davis has said things will burn hot and run into some trouble, actress Shelley Hennig has mentioned that "coyotes…mate for life," and Malia thinks she might have found her mate in Stiles. However, Hennig did still elaborate that the news that Peter could be her father may throw a wrench in her dealings with the pack who hate him (and continually wish him dead).
New Guys in Town
Now that our main protagonists have aged up to (gasp!) 17-years-old, Davis is bringing in a few new young characters, who have yet to be jaded by watching their best friends disappear and die in front of them. Dylan Sprayberry and Khylin Rhambo, two real, live teenagers — ages 15 and 18, respectively — will play lowerclassmen on the lacrosse team, who may pose challenges to Scott and Stiles.
Oh Hey, Aunt Kate
Hey, remember at the end of last season when dear, dead Kate showed up looking like a half-baked avatar? Well, she's there to stay and while Davis hasn't said it explicitly, everyone is pretty sure she's a were-jaguar, changed by the gouges Peter left in her windpipe a few season back. She's certainly got some sort of intentions with Derek (who will apparently never catch a break), but it's yet to be revealed how she feels about Peter, the former Alpha who tried to kill her. She's a were-creature now too, but "she still considers herself an argent — and a hunter."
Big Bad Benefactor
Per Teen Wolf protocol, those poor kids can't just deal with one foe at a time, there's always got to be something bigger and badder lurking. Here's what we know: there's someone hanging around Beacon Hills who has no love for the supernatural, no mouth, and a list of names that's less like Santa's naughty or nice list and more like, a to-do list filled with killing Scott and his supernatural friends. Davis says that even though it's a lighter season than we've seen in a while, it's still "a season of assassins and bounty hunters."
Images: MTV