5 Awesome Products Containing Coconut Oil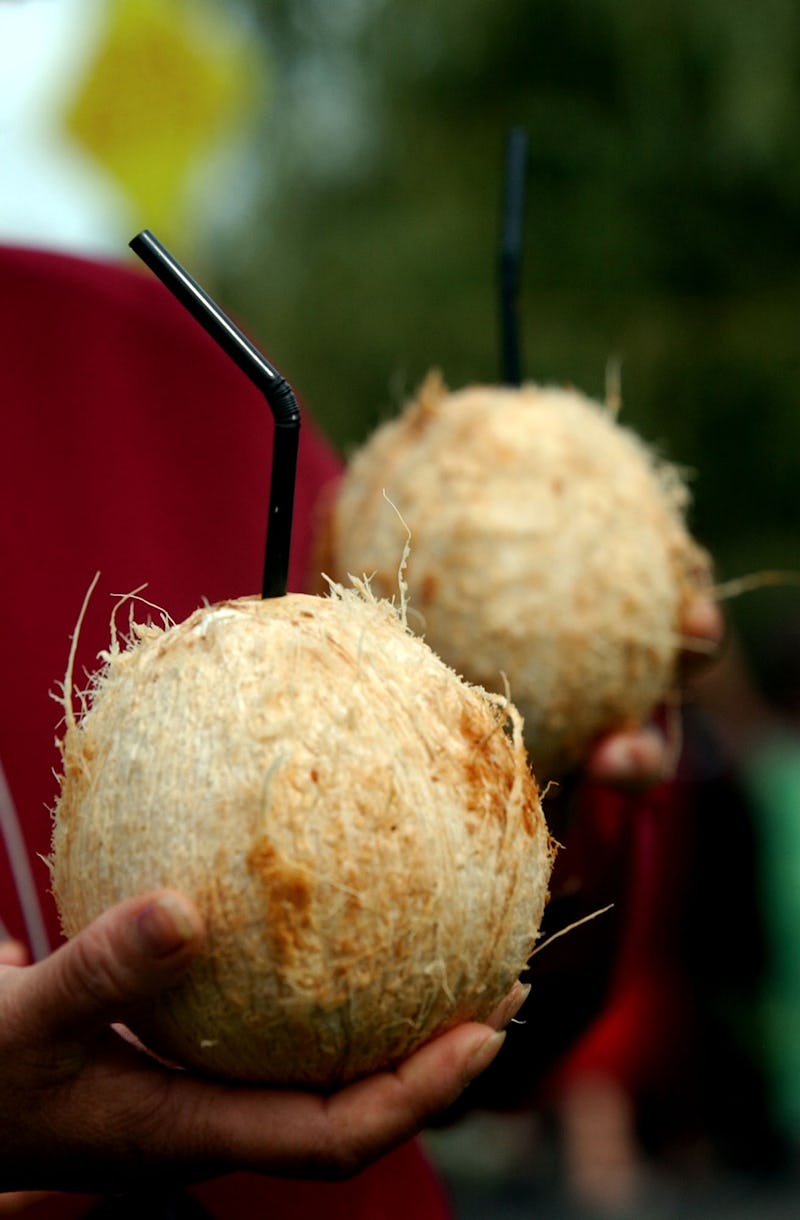 Dean Purcell/Getty Images Entertainment/Getty Images
Coconut oil is the ingredient du jour in skincare these days. But unlike, say, Mario Badescu lotion or La Mer cream, you can put it on toast and your skin. No, really. I did it for a month. I used pure and yummy coconut oil on my rye toast at breakfast; it was tastier than butter and mixed well with tomato preserves. And, sorry if this is TMI, but if I got some on the counter, I would swipe the excess on my elbow and get some extra moisture, instead of simply wiping it away and wasting it. I know, it sounds like a scene from a sitcom, but it's the truth! Coconut oil rules, for all of its added health benefits (it supposedly boosts immunity, among other things) and its general awesomeness, like lending itself to homemade beauty concoctions.
I kept my coconut-oil-for-eating in a tub that was separate from my coconut-oil-for-skincare, BTW. I don't want you to think I'm that loose.
I personally love things that smell coconut-y, so I am always looking for ways to get a fresh, summery whiff while inside, chained to, er, working at my desk, thanks to products that boast coconut oil.
Coconut oil is creeping into the recipe of many products, for both skin and hair. It's pretty cray that you cook with this stuff as well as use it to keep elbows, heels, and other areas prone to dryness hydrated. But I don't question it. I just enjoy having touchable skin and sniffing the crook of my arm.
1. Yes to Coconut Ultra Light Spray Body Lotion
This baby goes on thicker than a mist or an oil, so it does require the extra effort of rubbing it in for full absorption, but the spray formula allows the virgin coconut oil in the product seep into skin in a new way. It's a breathable summer formulation, too — not too heavy, but it doesn't skimp on moisturization, either. It also smelled like sunblock, which I personablly lurve. While I wrote this post, I felt like I was transported to the beach when I tried to inhale my arm. And no, not because there is some hallucinogenic quality to coconut oil products. Most of them smell magical enough to remind me of the sun, surf, and sand. You know, that whole scent-tied-to-memory thing. ($9.99, yestocarrots.com)
2. CapriClear
CapriClear spray oil is 100% fractionated coconut oil, so it's great for anyone looking to go totally natural with their beauty. Without getting into the complexities of the science, I can confirm that this product does indeed make skin smooth and baby-like. The only thing I didn't like? Its scentlessness. It didn't smell like coconut and that's half the fun of products infused with the oil. This was colorless, fragrance-free and all natural. No preservatives, no dyes, nuttin'. It does dry quickly and isn't messy. I was also happy the mega-moisturizing formula didn't make the tips of my hair, which often graze my arms, look or feel greasy. No transference is a good thing. ($5.50, ulta.com)
3. R+Co Continental Glossing Wax
Coconut oil isn't just for skincare — it's added to the R+Co Continental Glossing Wax to increase thickness and help define hair. If you have a piecey shag or a pixie, this stuff is miraculous. I used it on my friend who shows off all her features with super short hair and it added some edge and a roughed up texture. I have a long angled cut — 28 inches, yo! — and bangs and I used a touch (and I do mean a touch) to add some definition to the layers. Coconut oil is just an ingredient here, so no, it doesn't not smell like coconut heaven, unfortch. ($27, spacenk.com)
4. Carrington Farms Coconut Oil
Nothing like the real thing, kids. This 100 percent organic and extra virgin coconut oil comes in a huge tub, like those massive jugs of protein powder sold at Vitamin Shoppe or GNC. You can put some of this in your food or layer it all over your skin. Just be sanitary about it, please. ($7.99, carringtonfarms.com)
5. Yes to Coconut Head-to-Toe Restoring Balm
Sorry, I had to put this new Yes To line on the list twice because it's so freaking good. This rich, dense, and massively emollient balm is best used on those pesky and super dry areas, like your elbows, heels, knees, and cuticles. I wouldn't recommend it for daily usage on muggy, humid days, since it's so hyper-moisturizing, even though I want to, since it smells heavenly. I will find myself using this one more in dry winter months for sure. ($9.99, yestocarrots.com)
Images: Amy Sciarretto