This Latest 'TMNT' Trailer Comes With a Surprise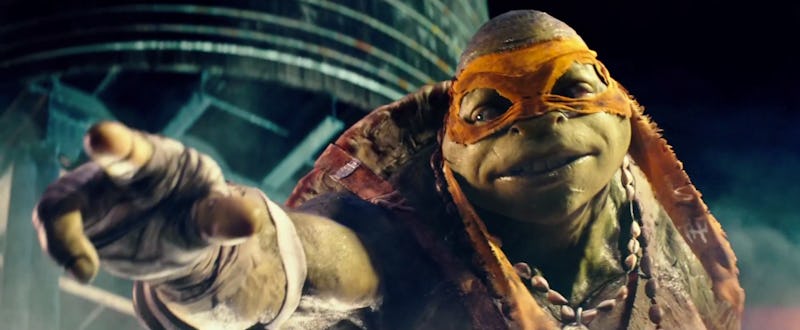 The upcoming Teenage Mutant Ninja Turtles film that everyone still isn't sure they really want is inching closer and in honor of that we've been gifted with a new TMNT theatrical trailer. In a YouTube video released on Monday, Megan Fox urged fans to tweet the names of their favorite turtle in order to unlock a poster of that turtle and to gain access to the latest TMNT trailer. Even though the Teenage Mutant Ninja Turtles reboot already has a meme to call its own, the posters are definitely the best new thing to come out of this franchise. At least, they were until we got to watch the trailer.
Admittedly, there are still days when it's hard for me to take the idea of teenage mutant ninja turtles seriously. The creepy CGI turtles in the movie reboot really don't help. The turtles are supposed to look realistic and amazing — or like aliens, as is joked about in this trailer — but instead they look a little too real and a little too infantilized. All in all, it's no wonder that Megan Fox faints when being confronted by them. Even if they weren't giant talking turtles, they're still creepy and weird.
However, the trailer gives each turtle the chance to shine and it introduces the seriousness of the plot. The Turtles' foe, Shredder, is terrifying in all the right ways and major explosions follow in his wake, including the destruction of at least one building. There are kidnappings and car chases, fainting and camera phones, humor and danger and ninja turtles. What more could you ask for, really?
The movie will be released on August 8, 2014, but those who can't wait until then can check out the posters and the trailer below. But don't tell anyone, or the Turtles will find you.
Image: Paramount Pictures