Are You Smart Enough for This Dating Service?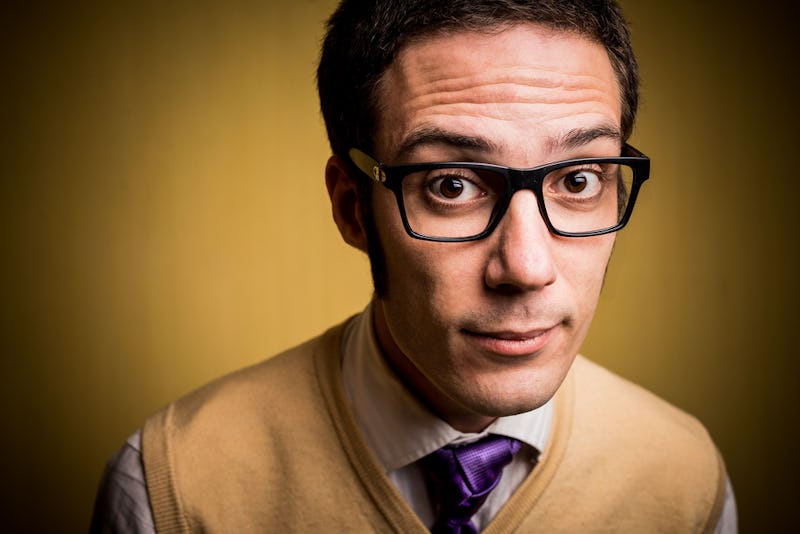 Are you super, ridiculously smart? Are you only interested in dating other super, ridiculously smart people? You're in luck — Match.com has just what you've been looking for. The dating site has teamed up with Mensa International, the world's largest and oldest high IQ society, to help its most highly intelligent members connect with other absurdly smart people. The collaboration will allow Match members to display a Mensa badge to their profiles; they'll also have the opportunity to take the Mensa test for just a dollar using the code MATCHSUMMER14 from now through July 6. The Mensa testing fee is usually $40; if you score in the 98th percentile (something which about 1 in 50 Americans does), you'll be eligible to join the organization.
The collaboration comes hot on the heels of an infographic released by the dating site illustrating where the smartest singles in America live. Said Dr. Helen Fisher, Match's Chief Scientific Advisor, on Match's blog, "Why do we want a smart partner? Because intelligence is correlated with many benefits, including: higher income; sense of humor; creativity; social skills; coordination; and problem solving. These are sexy." She added, "Money can buy a sexy evening on the town. People everywhere gravitate to smart lovers, because an intelligent partner comes with a host of sexy perks."
But… I don't know, man. The whole idea seems weird and elitist to me — kind of like the intellectual equivalent of Millionaire Match. I mean, I understand wanting to date someone who challenges you and makes you think in new ways — but I'm not sure limiting your dating pool to people with super high IQ scores is the best way to go about doing it. Take, for an example, a Mensa member quoted in an article about the collaboration on CNN: The now-55-year-old woman, who graduated high school in three years, college in two and a half, and has a law degree from Georgia State University, didn't date for a really long time because she couldn't find anyone who was "interesting enough." She said she doesn't generally get along with athletes or sports fans, because "I'm looking for people who are intellectually curious. And when all you're talking about is sports teams and barbecues… when you're talking about physical traits and not existential philosophy, I'm not going to get the vibe."
I would like to take this moment to point out that being an athlete or liking sports is not mutually exclusive from intellectual curiosity. It's possible to be both. Filing everyone you meet down to just one descriptive category is reductive at best, and pretty damaging at worst—both for the person you're judging, and for yourself. Why would you shut a budding friendship or relationship down just because of one specific interest? You could be missing out on something really cool, even if at first glance you seem totally different from each other.
There are loads of other holes in the "smart people should only date other smart people" theory, too. Later on in the CNN article, Dr. Fisher said, "It's not unlike saying I read a lot of books and I'm looking for someone else who reads a lot of books. There's an automatic filter." I disagree. Reading books is a hobby. Having a high IQ is not. Note, too, that the Smartest Singles in America infographic states at the bottom that the data used to make it was based on the top 20 cities with the highest percentage of Ivy League graduates on Match. I feel like I'm beating everyone over the head with the same point over and over again at this point, but seriously. Graduates of Ivy Leagues may generally be pretty smart, but plenty of smart people exist outside of the Ivy League system, too. And lastly, let's not forget that IQ scores in and of themselves aren't the be all, end all measure of intelligence. They can be useful to some degree — but as David Brooks wrote in the New York Times back in 2007, we're still not totally sure what it measures. "IQ," he wrote, "is a black box. It measures something, but it's not clear what it is or whether it's good at predicting how people will do in life." Ultimately, an IQ score is just a number.
Between this and the "date someone who looks just like your ex" option, I'm starting to think that niche dating is starting to go a little too far. I mean, yeah, relationships usually thrive between people with shared interests — but when you start totally shutting out whole groups of people just based on one or two qualities (your IQ score, whether you look like someone you've previously dated, etc.), I can't help but think there are going to be an awful lot of missed opportunities passing you by. It might behoove us all to keep an open mind; you never know what you could be missing if you don't allow yourself to experience it in the first place.
Image: alebaffa/Flickr