A 5-Hour Journey Through The Kim Kardashian Game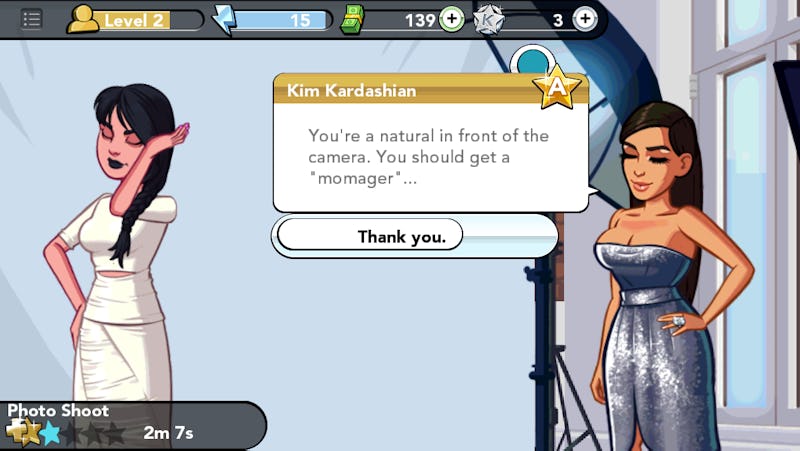 I told myself I'd stop after one hour. My Wednesday was fairly free, so I thought it'd be fun to spend a small part of my afternoon checking out Kim Kardashian's new iPhone game. I like the Kardashians, I like games, and I assumed I'd like the combination of the two. What could it hurt? I thought. At the very least, this will be silly. I'll have a laugh. Also? The app costs zero dollars. Harmless. Just give it an hour.
I gave it more than an hour.
I lost four to Kim Kardashian: Hollywood. Okay, okay. It wasn't four hours. [Sigh] It was five. FIVE HOURS. AND I HAD NO IDEA. I was in a K-hole. Time is a flat circle when your mind is numb.
The premise of the game (thanks, App Store):
Join KIM KARDASHIAN on a red carpet adventure in Kim Kardashian: Hollywood! Create your own aspiring celebrity and rise to fame and fortune!
Your avatar is a Kim-in-training: Kim takes your under her wing and within minutes you're living that Kardashian life. There are photo shoots, KARDASH visits, commercial shoots, club and bar appearances, and more (I assume there's more. I have yet to beat the game. I'll get into that later).
What's the goal? FAAAAAAAAAAME.
A highlight (that I forgot to screengrab because I was too busy scream-laughing): Kim canceled on a lunch date with me, but it was no biggie because I had a last-minute photo shoot to annihilate anyway.
Yes, it's a superficial game, but I might love it. I'll say this much: I won't be deleting it from my phone any time soon.
My Kim Kardashian: Hollywood Adventure
While I waited for the game to load, this happened:
NO NO NO NO. DON'T ALLOW. GET OUT OF MY TWITTER. I'M SCARED.
The game finally loaded (and my Twitter account was not accessed), and it was off to the races. But first, I had to kustomize my star:
I tried different face, hair, outfit, and accessory combos. This was what I decided on:
Spooky braid and spooky black lipstick. GET IT.
And then, the game began:
No turning back.
The game started in a clothing store. My place of work. The ol' salt mine. The manager told me to fold clothes and close up the store. I was happy to oblige:
But! This wouldn't be a normal workday. This would be the day KIM KARDASHIAN SHOWED UP. And she needed a dress, STAT:
No, Kim didn't throw money at me. She's not a monster. Money, experience points, and lightning bolts appear throughout the game. They're a big deal. Can't do work without 'em. Gotta snatch 'em up!
Right off the bat, Kim hit me with a puzzle:
HM HM HM HM. This was my Neo moment. I cannot resist anything sparkly (I might be a fish in a human suit), so I picked the silver dress. Kim liked my choice (YESSSSS) and immediately invited me to a photo shoot. I changed my outfit and went to the studio.
The photographer asked my name. The game suggested this:
Layla's a fine name, but I had a better idea:
TWO KIMS. KONFUSE THE GAME.
Kim watched me pose in front of the camera. She praised my work:
As did the photographer:
I needed to get out of there before all of the compliments went to my head and I decided to quit my job and pursue a modeling career IRL. (This was when I should've stopped playing. Instead, I let the kwicksand konsume my being.)
Kim invited me to a post-photo shoot party at a bar. A dude hit on me immediately:
[Fans self.]
Of course, that guy's D-list celeb ex saw the whole thing. (My life is krazy, you guys):
"Hashtag: ratchet."
After the party, Kim hooked me up with a manager. It really was a whirlwind day:
When I clicked "Why?" he didn't offer up any other details regarding the state of his bowels. I was disappointed.
But! Simon did get the career ball rolling. Before I knew it, I was hopping from photo shoot to restaurant appearance to designer meeting to fashion show:
OMG LOOK AT THAT SIGN. THAT IS MY DREAM. I NEED THAT TO HAPPEN IRL.
I stumbled upon a cat. Multiple times. Sadly, I didn't have the stars to adopt him.
During one of the photo shoots, I leveled up. It wasn't the first time I leveled up and it wouldn't be the last, but it was an exciting moment:
Simon tossed some more details about his personal life my way. Classic Simon! Always teetering on that TMI precipice:
A paparazzo chatted me up and informed me that Kim and I were in a feud with the aforementioned D-list celeb:
#Illuminati #Obamacare
I made the E-list:
Kim and I gossiped about the D-list celeb:
While I was at yet another photo shoot — I know, I'm major — this message popped up:
WHAT? I AM NOT TOO TIRED. BRING ON THE PHOTO SHOOT.
Naturally, I decided to check out the "GET MORE!" button. You see, every action takes at least one lightning bolt. So if I want to strike a pose or mingle or whatever, I had to use lightning bolts. Let's get more lightning bolts, I thought. Duh!
Oh, okay. Cool! I'll just get more stars. Easy peasy.
I HAVE TO SPEND REAL MONEY? FUCK THAT. I will spend my time on this game, but I will not spend my dollars. I closed the window and continued on my journey, sans-lightning bolts.
Kim went to Miami:
I followed:
And wound up at KARDASH:
Kim greeted me in the store:
And put me to work:
Take a look at my lightning bolt count. Look at the at the number of lightning bolts required to complete something as simple as folding clothes. I COULDN'T FOLD CLOTHES. I COULDN'T GET ANYTHING DONE. I COULDN'T BE A GOOD EMPLOYEE. KIM WOULD BE DISAPPOINTED IN ME.
I freaked out. I did the only thing I could do: I changed my outfit. The costume change didn't fix anything.
I turned to Kim for advice:
THAT'S VERY NICE BUT IT DIDN'T INCREASE MY LIGHTNING BOLT COUNT. I ONLY HAD 57 MINUTES AND 13 SECONDS (AND YES, EACH MINUTE IN THIS GAME IS A REAL-LIFE MINUTE). I HAD UNDER AN HOUR TO FIGURE THIS OUT. AHHHHHHHHH.
I panicked and hopped on a plane. Why would I do that?
THERE WAS A FASHION SHOW IN L.A. TO ATTEND. Oh, you want me to smize? Too bad. I don't have any lightning bolts. (This was when I considered breaking out my credit card. I resisted. Be proud.)
After doing literally nothing on the runway for three minutes, I decided to go click trees, bicycles, and whatever else might spew up lightning bolts:
IT WORKED. If I click on all of the objects in Hollywood, DTLA, Beverly Hills, and LAX, I thought. I could be rolling in the lightning bolts in no time!
And that is exactly what I did. And it panned out. I wouldn't have to drop dough on this game. I just had to be patient.
I went back to the fashion show with a few lightning bolts in my pocket.
While I was busy slaying it on the runway, I noticed an unfamiliar icon floating in the air. I clicked it, duh:
WHAT? NO NO NO NO NO. I WILL NOT BE THAT PERSON. I WILL NOT DRAG ANYONE DOWN WITH ME.
(I believe this was when I decided to go run errands IRL. Did I stop playing? Nope. I was that nuisance in the checkout line who wasn't paying attention to what was going on around her because she was glued to her phone.)
In the middle of my lightning bolt bonanza, something hit me: I will wind up in Calabasas eventually.
Will I meet the entire Kardashian/Jenner/West/Disick family? Will I hang out in all of the houses? Will I attend a family party? Will they be taping the show? Will I be on the show? WHAT HAPPENS IN CALABASAS?
I was obsessed with going to the game version of Calabasas. It was my new objective. I didn't care about the A-list. I didn't care about fame. I didn't care about photo shoots or club openings. I just wanted to hang out with the family.
I would play until I reached Level 8. And then I'd call it a night.
Speaking of houses, I bet you're wondering if I ever went to Kim's Beverly Hills home. The answer is yes. I could let myself in whenever I wanted, even when Kim wasn't there:
Does she have a house in Beverly Hills IRL? I don't think so, but I don't care.
Every once in a while, Kim would be home. And she always had terrific career advice:
Here's the exterior of Kim's mansion:
MONEY TREE. Why rake leaves when you can rake cheddar, amirite?
I met a number of people in Hollywood and Beverly Hills. Everyone was eager to share what they did for a living:
And then let you know if they wanted to talk to you:
Ice cold, blogger. Ice cold.
This Las Vegas bartender — Yeah, I went to Vegas. What of it? — was a treat:
I forked over the $100. Like I had a choice.
OOOOOOOOOOOOOOOOHHHH.
I was supposed to mingle at this event:
It was the worst.
This message was not the worst:
I shot a commercial for Gas-X, er, Glassex:
It was a big deal:
After the shoot, this popped up:
I didn't put my charger in my purse before I left the house. D'OH.
And then, this happened:
WHAT. MY NETWORK IS FINE. CONNECT. CONNECT!!!!!!!!!
I forced it to connect, but it didn't matter. The game froze on this image:
And then my phone went black. I couldn't get it to turn back on. I DIDN'T REACH LEVEL 8. AUGHHHHHHHHHHHHHHHHHHHH.
I took a deep breath. This is probably for the best, I thought. You need to eat something.
About twenty minutes later, I noticed my purse was glowing. It was my presumed dead phone:
I took a screenshot and tried to slide to check my feed. The phone shut off again. It wouldn't turn back on. Uh, what?
I think my phone might be haunted by Kim Kardashian: Hollywood.
Images: Kim Kardashian: Hollywood/Glu Games Inc.