Book Club These With Your Significant Other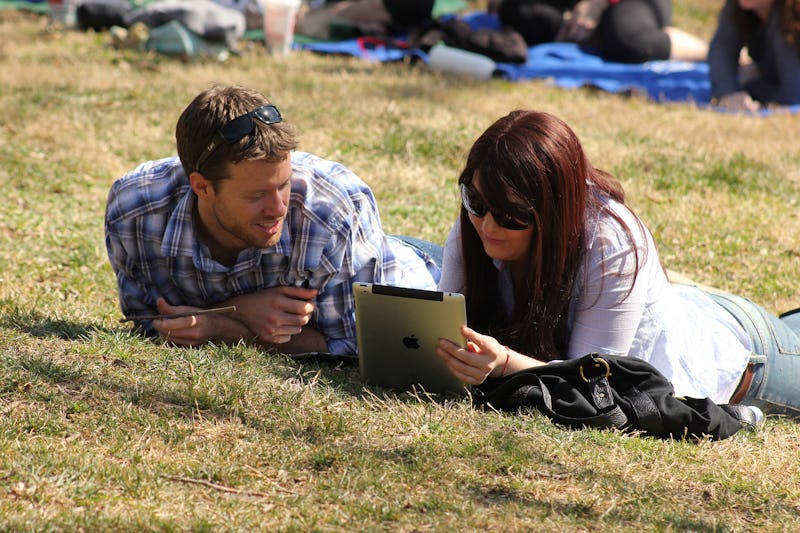 Maybe you've tried to join a book club with your significant other and it just didn't stick. Don't feel bad — you're not the first couple to have quit: book clubs aren't for everyone. But your instinct to share a read is right, because there's something enriching, rewarding, and daresay romantic about it. Books bring out even the most complex and indescribable emotions, and more often than not, a good story can allow us to dissect and examine our own lives from afar with no fear of personal scorn or insecurity.
Reading together seems like an obvious fit for warm weather, whether it be at the beach, at a café, or from atop a stool in the back garden of a bar. Or, maybe when the weather starts to cool off, you can grab a blanket and curl up together. No matter the season, who better to share a book with than your significant other? Like most good things in a relationship, books are better between two people. Below are 13 titles you can enjoy with a together: I'm talking about books that you'll both get something out of — not just ones that cater to his tastes.
Barnes' 2011 Man Booker Prize-winning novel is a compelling narrative on the limits of responsibility, following the protagonist, Tony Webster, through his adolescent years when his closest friend, Adrian, commits suicide while away at Cambridge University. The book then gives way to the repercussions of Adrian's death on not only Tony, but their group of friends and lovers. What begins as a gauzy view of teenage years in post-war Britain turns into a story that details young love, young heartbreak, and the longstanding repercussions of formative relationships on men and women as they enter the latter years of their lives.
Why you should read it together: The Sense of an Ending is the perfect length for a co-read this summer. Just on the border between novel and novella, Barnes's book is packed with succinct prose without being limited. Ending is also intellectually deep without getting depressing, so your quiet, brooding boyfriend can appreciate this one with you. Barnes asks his readers to consider the weight of responsibility in shaping the lives of others, leading to thoughtful reflection and contemplation of how young love shapes us as adults.
Alarcón's critically acclaimed 2013 novel paints a vivid, meandering picture of a wandering soul through Nelson, a young actor who heads to the countryside to act with a political theatre troupe making an anniversary tour of its once-controversial play. Throughout the novel, the anonymous narrator depicts the group's staging of The Idiot President throughout remote locales in the Peruvian countryside, all the while revealing a fractured love story between Nelson and his once-girlfriend and current lover, Ixta. Nelson's narrative is counterbalanced by that of Henry Nuñez, the actor and political activist who leads the troupe, who has experiences his own unique form of heartache and restoration.
Why you should read it together: The book brings up questions of fragility and the persistence of love, even if the defining features of love prove elusive and hard to pin down. Ixta struggles to determine Nelson's ideal role in her life, wondering if a fractured and flawed presence is better than none at all. Alarcón creates an approachable and engaging vehicle for discussing one's own concept of love against a vibrant and vivid Latin American backdrop that could make anyone swoon.
A book on North Korea might seem crazy to put on a list of go-to reads for a couple, but Demick's gripping account of daily life for six ordinary citizens is more about people trying to live amidst the chaos of a fringe dictatorship than about how little Kim Jong-Un appreciates Seth Rogen. Despite draconian limitations on media access within the nation, Demick creates a sweeping portrayal of life within North Korea as told to her by defectors and through limited visits to the nation. The book intersperses the history of the nation, yielding a book which is as informative as it is engrossing.
Why you should read it together: With someone who carries around a copy of Foreign Affairs in his bag? Pick up this book. Nothing to Envy captures 15 years in the lives of her interviewees, creating a novelesque portrayal of lives lived in spite of instability — showing how lovers find one another, families are raised, and how life perseveres despite the challenges of famine, persecution, and fear which define North Korean culture. While politics and history are featured prominently, Demick's account shows the fragile and ubiquitous elements of human life: elements of North Korean culture seen rarely in headlines.
In Murakami's tell-tale style, 1Q84 creates a world slightly off-kilter from reality. Set within Tokyo's sprawl in 1984, the book weaves two narratives that intersect and criss-cross without touching. Aomame, a killer-for-hire, dispenses with spousal abusers and rapists when she receives the job of her lifetime — killing the leader of a fringe religion known for abusing young girls. All the while, an aspiring novelist named Tengo is on the brink of a massively successful project, ghostwriting a captivating story by a mysterious young girl with an uncertain past.
Why you should read it together: Fans of off-beat, brainy love stories will adore the wandering narrative structure of 1Q84 , one that winds its way through supernatural occurrences, assassinations, and train rides through the Japanese countryside. At the book's core is the story of two lives intertwined, of love misunderstood and reclaimed, and of two people who rely upon one another for their very survival.
Henríquez's The Book of Unknown Americans provides a firsthand examination of the American experience as seen through the eyes of Latin American immigrants struggling to live ordinary, meaningful lives despite the challenges set forth from living in the margins of United States. Following the experiences of Alma and Arturo Rivera predominantly in a revolving ensemble cast, Henríquez weaves a narrative which examines the long work hours and linguistic challenges of the new American experience — paying heed to the universality of family and personal struggle which everyone faces.
Why you should read it together: Henríquez writes an eminently approachable and empathic book that provides a view into a world otherwise obscured from view on purpose: families rarely wish to expose their own struggles, and immigrant communities are often afraid to tell their own stories of assimilation for fear of deportation. Reading The Book of Unknown Americans together is intimate — you'll share a glimpse into a world that hides in plain sight, stoking fresh perspectives on the contemporary American family.
Travels with Charley is a travel narrative that has it all: a cute dog, a beat-up jalopy, picturesque depictions of the American countryside, and the classically straightforward prose one expects from Steinbeck. The book details the author's final trip through the country, bringing him from Long Island to Maine, the Pacific Northwest, California, Texas, and back to the East Coast. All the while, Steinbeck explores America for what its own citizens don't see: the promise of emerging technologies, the hidden lives of migrant farmers, diverging political opinions, and the natural beauty contained within its shores.
Why you should read it together: Anyone looking to plan a getaway with a boyfriend or girlfriend can find heaps of inspiration within this book's pages. Steinbeck creates vivid depictions of American life as seen behind a steering wheel that still resonate today. Whether you're looking to hit the road or live vicariously through a travelogue, Steinbeck offers up one of the finest in the genre.
Stein's third novel is as close as you'll get to reading your dog's mind, as the book provides a funny, touching, and bittersweet narrative of Enzo, a faithful canine companion to his human Denny Swift and his daughter Zoë. Denny risks his life, his wealth, and his family for one shot at auto racing profesionally, while Enzo prepares for reincarnation by devoting his canine life to learning what it is to be a good human. All the while, Enzo learns what it is to be good in the face of misfortune, desire, triumph, and disappointment — serving as a stoic companion to Denny as he navigates his human existence.
Why you should read it together: Love dogs? Love zen koans? Good. This approachable beach read is a great mix of realism, fantasy, and sentimentality. Never overwrought, Stein creates an unlikely protagonist who demontrates a better-than-human understanding of the human world, creating room for self-reflection and emotional turns without being sappy. Plus, who hasn't wondered what her pup was thinking while watching TV?
This New Orleans tragicomedy details the picaresque antics of Ignatius J. Reilly, a classicist-cum-hotdog slinger working the French Quarter for pocket change, spewing Boethius quotes and passages from Middle Ages philosophy. Offsetting his self-gratifying adulation of the wheel of fortune and flatulence is Myrna Minkoff, a Jewish beatnik fresh off the bus from New York City. Minkoff is his object of unrequited lust, lending a foil to Reilly's aloof sense of self. Throughout Dunces , Reilly serves as a modern-day Don Quixote, an erudite buffoon that can be loved, hated, and pitied all at once.
Why you should read it together: This book is made for hot, humid, summer days. Toole brings New Orleans to life on the page, detailing the believable and cringeworthy antics of an overeducated idiot — a man out of time, out of shape, and woefully out of step with his surroundings. A fun yet esoteric read, Dunces will remind you of all that classic philosophy you both took in that undergraduate class that one time (it's okay, I haven't read Boethius in a while, either).
O'Neill's Netherland is a novel about New York City on the outskirts — a glimpse into the city that goes purposely unnoticed by all but those who go searching for it. Hans van den Broek finds himself stranded in a post-9/11 Manhattan, with his wife and children back in London following the attacks. With nowhere in particular to go, van den Broek begins exploring New York in the creases between its well-worn corners; in doing so, he discovers a vibrant cricket community in the far flung reaches of The Bronx, Staten Island, and Brooklyn. He also meets Chuck Ramkissoon, a charismatic Trinidadian with big dreams of building a full-blown cricket stadium which would bring the game out from ill-designed and shoehorned pitches across the city's unknown pockets. How Ramikissoon plans to do this, however, creates an uneasy and compelling narrative that exposes the seedier side of city life.
Why you should read it together: It's a conversation-sparker. With a perfect blend of Great Gatsby and ESPN, Netherland provides an engaging story of sport, adventure, alienation, and analysis of a revamped American Dream — one that evolves with each new immigrant group to take on the mantle of its conquest. Both Ramikissoon and van den Broek are relatable and endearing characters — both due to, and in spite of, their flaws. With expertly crafted prose in an accessible style, the book is an excellent read that is complex without being overwhelming.
Tolstoy's epic is a test of endurance, commitment, and literary appetite — three things that are more than fundamental in a good relationship. Anna Karenina is admittedly long and complex, yet it is worth every moment of the journey through two countervailing love stories. Anna falls out of love with her husband, Alexei Karenin, and falls for charming cavalry officer Alexei Vronsky. Meanwhile, Konstantin Levin — a brooding, philosophical dreamboat — woos the young Kitty Sherbatsky while ceaselessly working to uncover the true purpose of life. Not a bad feat when everyone else around you is shacking up with lovers and scarfing down caviar.
Why you should read it together: It's a long, complex, and challenging book. If you're the type who loves to go on adventures with your S.O., this book will provide you both with a fun opportunity to uncover hidden gems throughout Tolstoy's sprawling prose. Put simply, this book has everything: adventure, intrigue, philosophy, sex, love, and horses. Plenty of horses. Plus, you'll have the satisfaction of saying you've read Tolstoy, and you'll be all like:
Hurston's seminal book about the transformation of a teenage girl, Janie Crawford, into a strong and determined woman in spite of racism, sexism, and poverty. Their Eyes Were Watching God is considered a seminal work in African-American literature and women's literature, and for good reason — the book perfectly captures the southern experience in the 1920s, demonstrating a strengthening protagonist who rejects gender roles in spite of both man-made and natural disaster. Hurston's book is eminently approachable, casting light on class, race, and gender issues in a empathic and relatable fashion.
Why you should read it together: It's a great story that packs a socially conscious punch. Huston doesn't shy away from examining difficult subjects: domestic violence, sexual assault, racism, and gender empowerment. These subjects, though, don't overshadow the gripping narrative Crawford's awakening into a strong, self-sufficient woman. The story provides plenty of serious, important issues for discussion without being overly polemical.
Joy Kagawa's Obasan is a thoughtful and heart-wrenching tale of memory, forgetting, identity, and discrimination told through the coming of age story of Naomi Nakane, a Japanese-Canadian schoolteacher. Nakane reconnects with her aunt, leading to the reconstruction of her patchwork memories of government internment during World War II. As the story is told from the perspective of a middle-aged Naomi, Kagawa plays with chronology, tense, and the tangible role memory plays on the present.
Why you should read it together: Obasan blends history and personal rediscovery in a balanced, nuanced, and personal manner. The book is just as compelling for a World War II buff as a reader interested in tales of personal reconnection, the importance of family, and the dangers of forgetting formative — yet painful — experiences that made communities and individuals into the people they become. Kagawa writes a rarely told story of racism cultural assimilation through the oft-used vehicle of personal rediscovery, creating a book that both informs and delights.
Kushner's sophomore novel provides a fast-paced, take-no-prisoners approach right from the start, documenting the protagonist, Reno, and her move to New York City to become a motorcycle-adoring artist in the 1970s downtown art scene. Wealth, status, acclaim, and reputation all change on a hairpin turn as Reno yearns to find her place within the feral cityscape of bankruptcy-era New York. Reno soon finds company with Sandro Valera, an Italian artist and motorcycle empire heir, and aways to Italy amidst protests at Valera's family's motorcycle plant. Throughout her travels, Reno comes to realize that, "People who are harder to love pose a challenge, and the challenge makes them easier to love. You're driven to love them. People who want their love easy don't really want love."
Why you should read it together: This book is badass. Kushner writes in a style that moves quick; if you can't keep up, you're left behind. Reno is on an unapologetic quest for greatness: those who are down for the ride are free to come with, and those who aren't won't be invited. Flamethrowers provides historical, political, and social commentary, interspersed with the approachable story of a woman in search of a life with meaning.
Image: perspective/flickr; chrisdelorenzo.com