Demi Lovato's "Really Don't Care" Video Is Here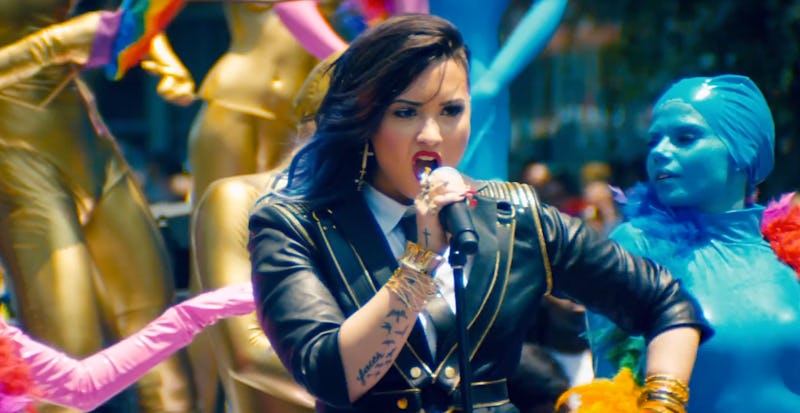 I'm gonna have to have a word with one miss Demi Lovato, because it seems like she's not telling us the truth in her don't-give-a-f*ck anthem "Really Don't Care." We think she does care, you guys. Lovato filmed her latest music video at LA's pride festivities and everything. Pride's all about caring! And also assless chaps.
Lovato was the Grand Marshall at this year's LA Pride Parade in West Hollywood, just a few weeks before performing as a headliner at NYC's Pride Dance this Sunday. She seized the opportunity of LA's June 8 celebrations and used the parade as the backdrop of much of her "Really Don't Care" video. The video features a sampling of the wide array of people who stand as near as possible to the cameras at parades — as well as some celebrity cameos.
Among the famous faces in the video are Lovato love interest and former Fez Wilmer Valderama, Cher Lloyd, Kat Graham, Travis Barker, and Perez Hilton. Despite the presence of Perez Hilton it all rocks. Right at this second my biggest regret is that I live like five blocks away from where these festivities took place and yet could not attend because I was writing about The Fault In Our Stars ' box office performance. The sacrifices I make for you people! I could have met this guy!
Image: Hollywood Records