31 Things Seinfeld Got Exactly Right About Living in New York City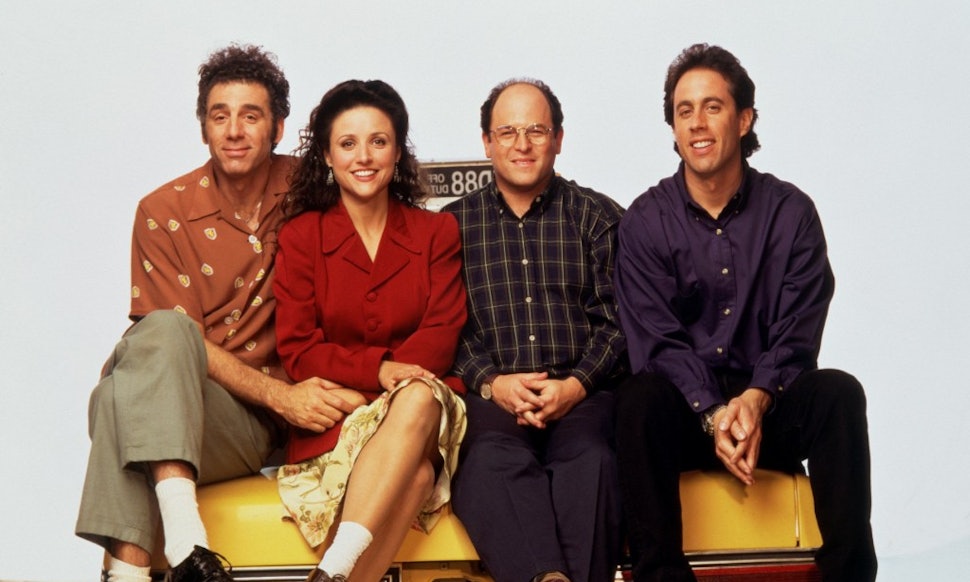 There is no Seinfeld without New York, and there is no New York without Seinfeld. Living in the city now, I find myself constantly appreciating how accurately Seinfeld portrayed the gritty, unglamorous lives of regular people pursuing regular things: sex, success, good coffee, and some laughs. Unlike Friends — or its modern iteration, How I Met Your Mother — Seinfeld's portrayal of the quotidian New York experience is pure nihilistic perfection: the characters' lives are uncomfortable and messy (and, of course, hilarious.) Their struggles — from dealing with abrasive soup vendors to unsatisfactory shower pressure — typically lacked definitive resolution. As co-creator Larry David put it, Seinfeld's genius lies in each episode's strict adherence to a "no hugging, no learning" rule.
As a Seinfeld devotee who moved to New York two years ago, it immediately became clear to me that Seinfeld got NYC living so, so right. So, in honor of Seinfeld's 25th anniversary, here are 31 things the show nailed about New York life.
1. 95 PERCENT OF THE POPULATION IS UNDATEABLE...
The dating scene in NYC is terrible...in part because you develop weird standards. Potential mates — who seem attractive and intelligent enough — become undateable for a wide range of reasons: they won't "spare a square" of toilet paper in a time of need, they eat their peas one at a time, their hands are unusually large, they have a weird laugh, their breasts seem fake, etc, etc.
And the dates you do go on are either boring or absurd. Like that time Elaine was about to kiss her date goodbye and he "took it out."
MFrancojr1 on YouTube
2. SO MARRIAGE IS PRETTY MUCH OUT OF THE QUESTION
TheSeinfeldScenes on YouTube
"What are you thinking about — Marriage? Family? They're man-made prisons! You're doing time! And you can forget about watching TV while you're eating...it's sad, Jerry. It's a sad state of affairs."
3. YOU DISTRUST MOST PEOPLE
Because we live in a world where every guy on OKCupid says he's 6'0", realtors say that 200-square-foot apartments are "cozy," and "non-fat yogurt" is not always non-fat (I'm looking at you, 16 Handles).
Chris Compton on YouTube
4. GOOD SHOWER PRESSURE IS EVERYTHING
jam0000 on YouTube
People will go through the arduous NYC apartment search over and over again for this reason alone.
5. "INDEPENDENT YOU" AND "RELATIONSHIP YOU" ARE IN CONSTANT CONFLICT
aeroaddict on YouTube
"If Relationship George walks through this door, he will kill Independent George!! "A George divided against itself cannot stand!" This is what happens in a city where, even if most people are undateable, the options still seem endless.
6. NOTHING GOES SMOOTHLY
Not even breakfast.
7. YOUR HATE FOR CERTAIN PEOPLE GROWS STRONGER AND MORE UNREASONABLE EVERY DAY
Probably because you are forced to live in such close proximity with so many other human beings.
And, of course, everyone has a Newman.
jorkrohn on YouTube
8. YOU'VE DRASTICALLY DOWNSIZED YOUR HOPES AND DREAMS
You thought you were going to be a successful prime time broadcast journalist? That's cute.
9. BOOB REALNESS IS NEVER CERTAIN
Sometimes you have to collapse on a woman in the steam room to determine the authenticity of her breasts. I imagine this is more of a problem in Los Angeles, though.
ClipsAboutNothing on YouTube
(You go, young Teri Hatcher).
10. YOUR WALLET IS OUT OF CONTROL
Alex Lockwood on YouTube
All those metro cards and bodega receipts! Same goes for handbags, briefcases, and your life in general.
11. YOU BECOME A RESOURCEFUL GENIUS
You're not above wandering into a random building to use the bathroom, at which point you accidentally end up working there for two weeks. And if someone throws out an eclair and its still on a doily, it would be ridiculous not to eat it. It's a concrete jungle out there!
MrUtoob78 on YouTube
A pastry is a terrible thing to waste.
12. BECAUSE YOU'RE GOING TO BE POOR FOR A VERY LONG TIME
Just accept it. Houses and backyards and nice cars and disposable income and washer/dryers are not in your future if you stay in the city.
13. THE LAUNDROMAT IS THE ABSOLUTE WORST
Just do wash-and-fold already.
14. THE SUBWAY CAN BE A HOSTILE PLACE
Especially if you're playing board games.
15. BUT THE BUS, MAN. THE BUS. LITERALLY ANYTHING CAN HAPPEN ON THE BUS.
dialogX5 on YouTube
Kramer's absurd bus story — in which he's transporting a severed toe in a Cracker Jack box, starts a fight, takes over driving the bus and kicks a mugger out the door — actually sounds plausible.
16. MINIMIZING THE AMOUNT OF PEOPLE YOU TALK TO ON A DAY TO DAY BASIS BECOMES KEY TO SURVIVAL
Again, another symptom of living in such close proximity to so many damn PEOPLE. Thus, when attending social events, it's ideal if someone can guarantee to you that you won't have to talk.
17. YOU'LL DO ANYTHING TO AVOID SPEAKING ON THE PHONE
Why do you think Seamless is such a success?
18. YOUR BEST SKILL IS AVOIDING PEOPLE
...in incredibly creative ways.
19. PEOPLE ROUTINELY TAKE ADVANTAGE OF YOUR GOOD WILL
You give a guy an inch, he turns your apartment into a sausage factory.
20. GIVING SOMEONE YOUR SPARE KEY IS A VERY, VERY BIG DEAL
AliStuff7x on YouTube
WARNING: The recipient of your keys can and will enter your apartment at any moment: to take a bath, make popcorn, and/or hook up with someone.
21. MISERY IS A RECURRING CHARACTER IN YOUR LIFE
22. ICE CREAM HELPS
No need to mess around with bowls.
23. YOU'RE ALWAYS CONVINCED YOU'RE GAINING WEIGHT
This is probably due to a combination of being surrounded by so much good food and so many freaking models.
24. YOU'VE NEVER COMPLETELY UNDERSTOOD THE MEANING OF "DOWNTOWN"
Nick Funari on YouTube
Below Union Square?
25. DOORMAN INTERACTIONS CAN BE EXCEEDINGLY UNCOMFORTABLE
MFrancojr1 on YouTube
26. JUNK MAIL IS RELENTLESS AND EVIL
nuclerafast on YouTube
"Pottery Barn is in for a world of hurt!!" As are the restaurant menu distributors and candidates for your local borough president.
27. ...AS ARE ARBITRARY DELIVERY ZONES
unrayochacha1981 on YouTube
ELAINE: 78 West 86th Street. Apartment three E.
OWNER: That's southside. Sorry, we don't deliver below 86th. ELAINE: I'm not below. OWNER: Yes you are. Street itself is boundary. ELAINE: Your guy can't cross to my side? OWNER: If we deliver to you, then what? 85th Street, Wall Street, Mexico, 84th Street.
28. YOU WILL SLEEP LITERALLY WHEREVER, INCLUDING AT WORK
thomasbayer82 on YouTube
"I love a good nap. Sometimes it's the only thing getting me out of the bed in the morning."
This is probably due to the fact that the sound of the BQE/neighbors having sex/Wednesday night EDM party at the downstairs bar kept you up all night.
29. PARKING IS TO BE AVOIDED AT ALL COSTS
birusan on YouTube
Hell is owning a car in the city.
30. IT'S IMPORTANT TO CELEBRATE THE VICTORIES, HOWEVER FEW
31. BECAUSE GOOD FRIENDS ARE THE ONLY WAY YOU'LL SURVIVE THIS TOWN
Image: Handout/MCT