These Temporary Tattoos Are Worth Making Permanent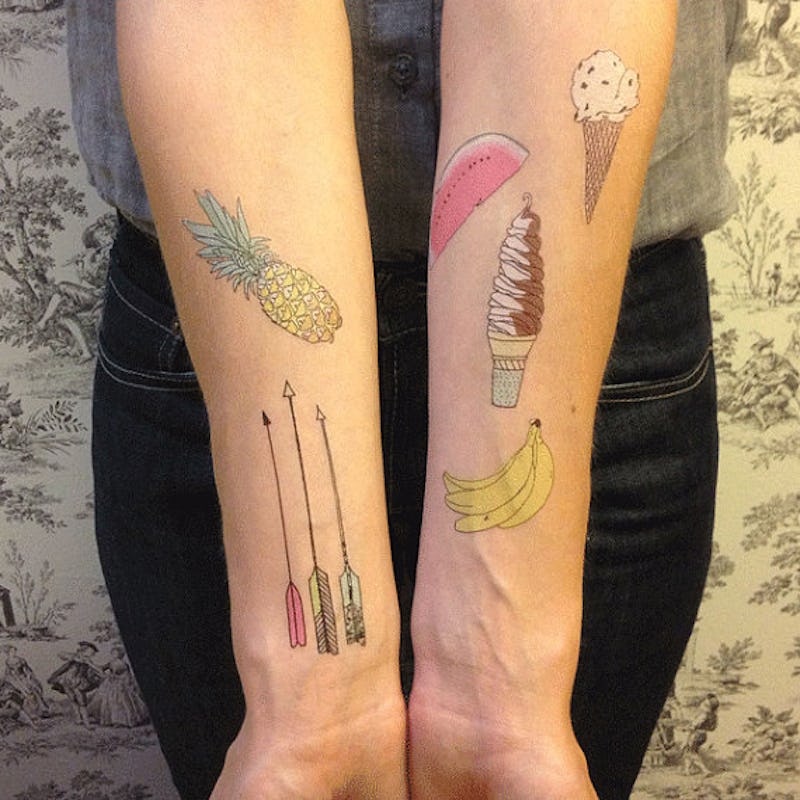 The thought of getting permanently inked is enough to incite a panic attack for some of us. I try to confine my final sale purchases to items that can easily be re-sold on Ebay, and tattoos are sadly not on that list. Luckily, there are plenty of incredible temporary tattoos out there today to satiate your appetite for self-expression! After all, real tattoos just aren't for everyone. Now the wishy-washy citizens of the world can actively participate in the badassery of body art. In fact, there are plenty of options that you'd actually wanna get painted on your epidermis for eternity…
Meh, you'll think about it at least. Certainly though, the temporary tattoos of the 21st century are a bit more complex than those tribal swirls of yore, vended from '90s gumball machines. Artists are upping their game in the ephemeral ink department, much to the joy of every indecisive person on Earth. There are plenty of crazy fun designs out there today that are just as cool as the real thing. They feature plenty of the things that you'd consider getting branded on your body in the first place-- food, cat portraits, Victorian illustrations, and even some life mantras. Check out our favorites that we've collected, and take comfort in the fact that you'll never have to hide any of these from your parents.
Have you ever wanted a corgi on your person? Pfft… I mean, is that even a question? The answer is: "Yes, always!" This tattoo by Lydia Leith is the answer to your every prayer:
Image: DontPanicOnline.com
Not a dog person? I mean, if you had your choice, it's cats all the way. Same here. We're on the same page. This tattoo from Tattoorary on Etsy will speak to your soul. Just preach.
Image: Etsy
You best believe there are more cat-toos where that came from. We can't forget about Emily McDowell's "Yol9" cat, the most devil-may-care of all temporary ink cats…
Image: EmilyMcDowell.com
Great. Fluffy lifeform quota has been met. Now you have to let people know that kind of person you are. Specifically, you're the kind of individual who relishes shot-calling. This one is also from Emily McDowell.
Image: EmilyMcDowell.com
If you're going for less tongue-in cheek, about a bit of flora? This gorgeous bouquet by Pepperink should do the trick…
Image: Etsy
Or perhaps you're a child of the sea. This ship tattoo from Tattoorary is worthy of a Herman Melville novel…
Image: Etsy
With these Victorian pugilists from Tattly, you'll fit right in at that microbrewery in Portland you're hanging out at tonight.
Image: Tattly.com
What about a rainbow unicorn? This magical beast from DeKrantenkapper is free, like your spirit…
Image: Etsy
Tattly also makes this little "Yay!" sign. Just call yourself your number 1 cheerleader...
Image: Tattly.com
They make food tattoos too, which will never not be something you enjoy. For instance, playful vegetables!
Image: Tattly.com
But really, what will give you more pleasure than staring at pizza on your body every day? Preach. Thank you, Moss and Fern Design Company. We're adding this to the list of ways to incorporate more pizza into your life.
Image: Etsy
And what are we having for dessert? Why, soft serve or course! The treat pack from Hartland Brooklyn is everything for summer treats, administered via skin decal.
Image: Etsy
For your literary side, we can't forget the Jane Austen Temporary tattoos. Elizabeth Bennett would heartily approve.
Image: Mcphee.com
Ya see? Just because you're subject to chronic buyers remorse doesn't mean you can't engage in the fun of decorating your skin. Happy inking everyone!
Article image: Etsy