Every Compliment Josh Has Given Andi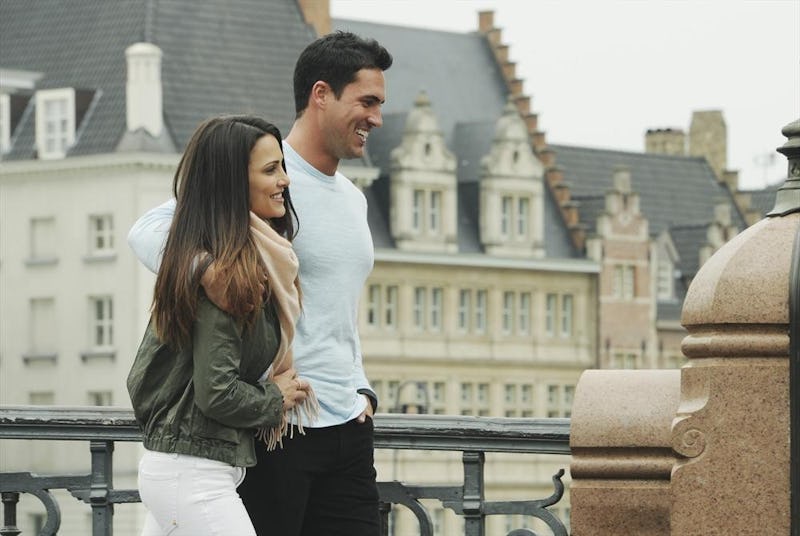 We'd like to think that after a few weeks of watching him on television, we know what Bachelorette contestant Josh Murray's deal is, but it's not that simple. From Josh's social media accounts we can gleam that he's a momma's boy, owns a big dog, takes shirtless pics in scarves, genuinely uses the hashtag #Blessed, and follows The Dalai Lama. So he's your normal average Southern ex-professional athlete with piercing blue eyes, looking for a wife and family at a semi-young age.
Is he a financial advisor from Atlanta, GA? Yes. An ex-professional baseball player? Yes. A strong contender for uttering most compliments in a single season? Definitely.
Josh is a silver-tongued fox, plain and simple. He has split his time equally between complimenting Andi, hardcore making-out with Andi, being angry when he isn't chosen for a one-on-one date, and then back to complimenting Andi again. I'm not going to lie, I've been charmed by him, but the other day I just realized how out of hand his compliment tactics have gotten. I've logged each compliment he has given to Andi from their first meeting at the season premiere to their most recent encounters. You'll be the judge of if he's genuine or not, but trust me, you'll be really surprised at how much time he spends flattering Andi.
Week One: Season Premiere
First Meeting
"Wow, you look absolutely gorgeous tonight, gorgeous."
"I'm just excited that it's you, that's the only reason I'm here."
28:34 minutes into the episode"Andi is ridiculously beautiful."
31:00 minutes into the episode (his first one-on-one meeting with Andi)"My mom absolutely loves you, I mean, you're the absolute total package from what I can see right now."
Week Two: Stripping for Charity
5:30 minutes into the episode (in confessional)
"Andi looked gorgeous today, she looked absolutely gorgeous."
40:42 minutes into the episode (during his one-on-one)"You're beautiful, I mean you have a lot going for you."
1:10:00 minutes into the episode (in confessional)"She is literally the first person in so long where I actually got like butterflies talking to [her]."
1:10:46 minutes into the episode (in confessional)"She's definitely somebody that I see myself with."
Week Three: Boyz II Men Singing Group Date
38:39 minutes into the episode (during his one-on-one meeting)
"I wanna see you everyday. I wanna kiss you everyday."
In between kisses (during the same one-on-one meeting)"I wanna see you all the time.. 'cause I like you. I like you a lot… I like everything about you."
Week Four: Basketball Group Date
21:43 minutes into the episode (in confessional)
"Andi looked awesome, she was wearing some high heel shoes, she was popping it."
Week Five: Boat Trip Solo Date
19:29 minutes into the episode
"I feel like I've known you for so long, in such a good way. I'm so comfortable around you."
20:57 minutes into the episode"It's very important that the next person I say I love you to is the woman I wanna marry…I haven't met anyone like that, until I came here, and met you. And I do feel that, and I feel like I've known you for a long time, this is like the first time that I've felt this way in like, forever. I feel really good about everything, I do."
22:47 minutes into the episode (in confessional)"One of the best days, if not the best day, of my entire life, and I don't want it to end."
24:18 minutes into the episode (in confessional)"I'm feelin' on top of the world right now. Unbelievable day, unbelievable night, beautiful woman, it couldn't have gone any better."
While dancing (slightly after)"This is so awesome. I'm so happy with you."
During his confessional"I definitely feel like I'm on that path to falling in love with Andi. It's a great feeling. It definitely is a great feeling."
24:51 minutes into the episode"You make me so happy."
Week Six: Lie Detector Test Group Date
42:55 minutes into the episode (during one on one)
"The only thing I think about all the time is me, and you, and our relationship. And that's it. And I like it."
And that's it folks, a whopping 19 compliments over six episodes. It's no wonder Andi and Josh are always engaged in an airtight lip lock. The guy has got to be one of the most suave on this season. But part of me thinks all these compliments could be to mask an ulterior motive or maybe some big secret.
You've all heard the fable of the fox and the crow, right? A fox walking in the woods sees a crow on a branch with a piece of cheese. The fox, desperately wanting the cheese, starts complimenting and flattering the bird, calling it beautiful and wonders aloud whether the crow's voice is as beautiful as its appearance. When the crow opens its mouth to caw, the cheese falls to the ground, and the fox takes it. I don't exactly know what Josh could want from Andi, but it makes you think.
Will these compliments, and more to come, be enough to keep him in Andi's heart? We'll just have to keep watching and see.
Images: ABC (6)