And the World's Wackiest Wedding Traditions Are...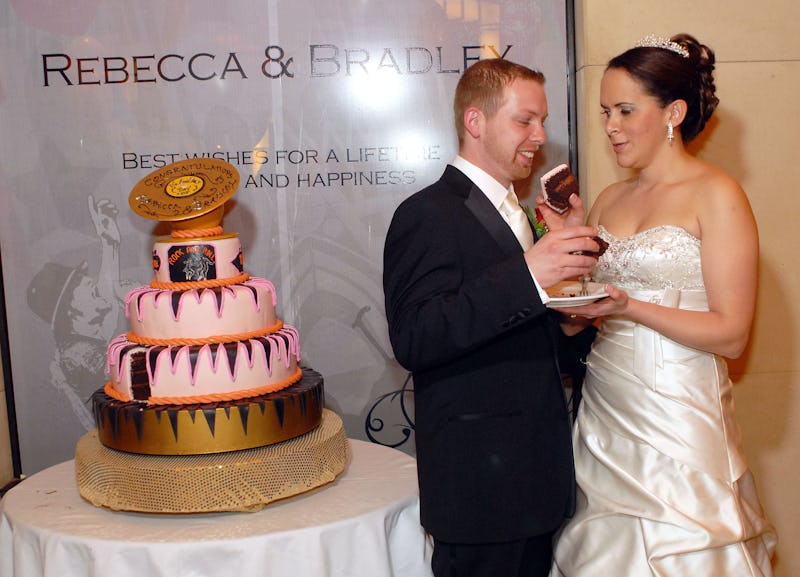 William Thomas Cain/Getty Images Entertainment/Getty Images
Wedding traditions: Love 'em or hate 'em, you'll probably never be able to escape them. But not all wedding traditions are as boring as "the bride wears white to symbolize purity" or whatever; indeed, the world is full of a huge variety of awesome and amazing rituals brides, grooms, and their friends and loved ones enact right before the happy couple ties the knot. And wouldn't you know it? UK-based personalized gift retailer Printster has just provided us with a gigantic, glorious infographic detailing some of the best ones. Get ready to oooh and aaah over the world's wackiest wedding traditions!
Printster did the research in order to celebrate wedding season, and believe you me, it's one of the most interesting wedding-related reads I've cast my eyes over in ages. It's huge, so it'll take some time to get through; I do suggest it when you've got the time to do so, though. For those of you who don't have quite as much leisure time built into your schedule, here are my five favorites:
1. Argentina's Naked Drive
In Argentina, it's the norm to announce impending nuptials by driving the bride or groom around town as naked as the day they were born. From this article about how to survive a wedding in Argentina, I think it's part of the bachelor/bachelorette party, but I could be wrong — anyone out there care to enlighten me?
2. Greece's Baby Roll Blessing
This one is geared towards ensuring the newlyweds have years of fertility to look forwards to: In the days leading up to a wedding in Greece, friends and family regularly stop by the happy couple's house to roll their babies around on the bed. It's called "Krevati." Sometimes they leave money, too, so at least there's that.
3. Mongolia's Gut Instinct
Tradition dictates that before choosing a wedding date, Daur people living in Mongolia must first gut a chick and take a look at its liver. If the liver is healthy, they can go ahead and set the date; if it's not, they have to keep gutting chicks until they get one that's in the clear. Not going to lie: I feel kind of bad for the chicks.
4. Scotland's Blackening
Once upon a time, Scottish brides and grooms were covered in treacle, soot, flour, and all sorts of other things before getting married to ward off evil spirits. It's not commonly carried out these days (although it does still happen sometimes!) — but as of 2012, you can take a course at the University of Highlands and Islands that examines it and other interesting-sounding customs from a historical and cultural perspective. My guess is that the whole thing looks absolutely nothing like this:
5. Peru's Charmed Wedding Cake
In America, it's said that whoever catches the bride's bouquet is next in line to head down the aisle; in Peru, however, the ritual is a lot more complicated (and tastier). First, ribbons with charms attached to them are woven between the tiers of the wedding cake; then, when the time comes to chow down, the single female guests each grab one end of a ribbon and pull. Whoever finds the ribbon with a fake wedding ring on the other end will be the next to tie the knot. I don't know about you, but that sounds way better than our version.
For the curious, here's the whole infographic from Printster:
Images: davidclow/Flickr, ShowsWeLove/Tumblr, Giphy, Giphy, Giphy, Numbered Pages/Wordpress, Printster