Does Eating Belgian Waffles Make You a Traitor?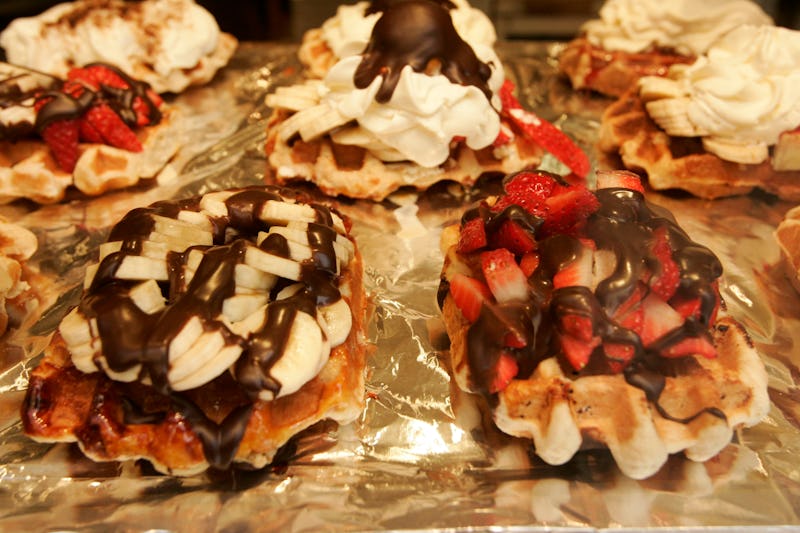 Mark Renders/Getty Images News/Getty Images
This afternoon's Belgium vs. USA soccer...er, pardon me, futbol match has Americans united about the desired outcome — clearly we all want our team to win, especially in advance of the upcoming holiday celebrating our independence. Wouldn't you feel especially patriotic this July 4th with a World Cup win in your back pocket? But what we are not united about, however, is how we feel about Belgian food and drink during today's rivalry. Waffle House is boycotting Belgian waffles in advance of the game (they also don't have any Belgian waffles on their menu so we are unsure what real life implications said boycott actually has), while others are more in the "I literally eat Belgians for breakfast" camp, using their domination of the syrupy treats as a metaphor for what team USA is going to do to the Flemish folk on the field. And others just don't seem that committed to the cause either way.
I personally have a tough time going 24 hours without indulging in some delicious frites dipped in mayo or drinking a fruity lambic beer, so I'm inclined to fall into the latter camp for purely gluttonous reasons. So while I show this Lindeman's Framboise who's boss, let's check out how the Twitterverse feels about the "to eat or not to eat" debate.
The tweet that started it all.
This eagle looks super patriotic, if a little hungry.
'Murica.
Get it??
Nice photoshop work.
Oh, semantics.
I hear you.
This guy is willing to make no such sacrifice.
The voice of reason.
So hard to resist though, right?
I forgive you.
Damn you, InBev.
Dude, it's shaped that way because of the — ugh, nevermind.