15 Things 'Seinfeld' Taught Us About Relationships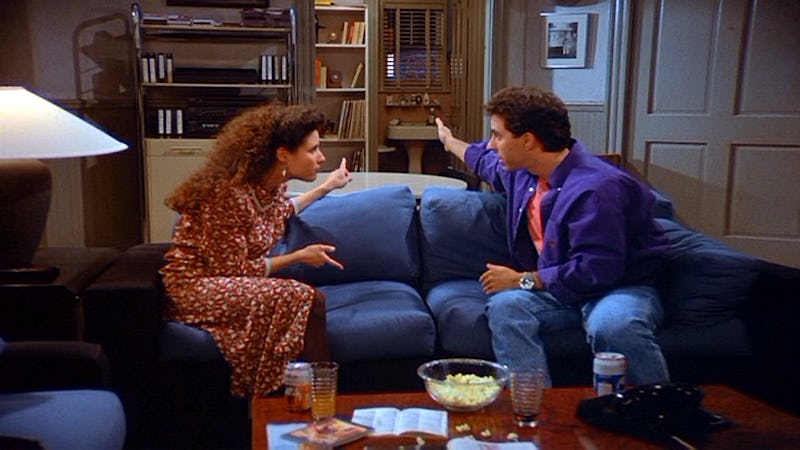 Let's get this out of the way first: every character on Seinfeld is pretty much a sociopath. Not that there's anything wrong with that — Jerry, Elaine, George, and Kramer are part of a grand tradition of entertaining TV nutcases, from Lucy and Ethel to the gang from It's Always Sunny in Philadelphia. I mean, who wants to come home after a long day at work and watch people who aren't lying compulsively, selling each other out frequently, and constantly making a complete mess of their lives? If we wanted that, we'd just watch golf or something.
But for all their borderline antisocial career hijinx, dating nightmares, and petty bread thievery, Jerry and Elaine have bested us all in one arena: staying friends after a break-up. Through nine seasons and a seemingly bottomless dating pool for each of them, Jerry and Elaine supported each other, cared for each other, and yes, occasionally had sex to save the friendship. How did these two achieve the kind of calm, drama-free post-relationship relationship that so eluded Ross, Rachel, and the rest of us?
As the 25th anniversary of the show's premiere draws near, it's time to re-examine Elaine's relationship with Jerry, and see what rules of post-dating friendship we can learn from TV's happiest exes.
1. PRIORITIZE HONESTY.
Elaine and Jerry's entire post-break-up lives center around being honest with each other — far more so than they are with any of the people they actually date. So if you're really looking to take a shot at staying friends with an ex, let go of all that romantic flattery, and be honest with them — about everything from their dating life to their inability to run a large national clothing catalog.
2. LET THEM SEE THE REAL YOU.
Take the honesty beyond words, and into actions — now's the time to drop all the facades you held on to over the course of your relationship in order to make yourself seem even marginally dateable. It's the best way to establish a strong foundation on which to build a real friendship (also, you no longer have any reason to front like you don't pour the syrup straight into the carton).
3. COMMUNICATE CLEARLY.
The time for half-truths, white lies, and compromises is long, long past. You've got nothing to lose by asking for what you want, or making your feelings known.
4. ESTABLISH STRONG BOUNDARIES.
You're not going to have sex any more, OK?
5. KNOW THAT YOU'RE PROBABLY GOING TO BREAK THOSE BOUNDARIES.
OK, fine, maybe you'll have sex. As Elaine once put it, "it's almost stupid if we didn't!" So think about how you'll minimize the drama if (when) those boundaries are crossed.
6. HAVE AN HONEST CONVERSATION ABOUT HOW EXACTLY YOU'RE GOING TO BREAK THE BOUNDARIES.
Elaine and Jerry's deal established the platonic ideal (literally) of friends-with-benefits agreements, and should be an inspiration to us all. You might be able to have your this and your that, too, if you talk it out beforehand.
7. IF YOU DO HOOK UP, NO PHONE CALLS OR TEXTS THE NEXT DAY.
And spending the night is optional!
8...AND REALIZE THAT SOMETIMES, BREAKING THOSE BOUNDARIES IS FOR THE BEST.
Jerry and Elaine hooked up again in "The Mango" to erase the last lingering lie from their romantic relationship — Elaine's faked orgasm. The breaking of that boundary actually strengthened their friendship in the end. So go easy on yourself if you slip up, as it were.
9. SETTLE ON MAYBE NEVER UNDERSTANDING WHY YOUR RELATIONSHIP DIDN'T WORK OUT.
As Jerry tells his parents in "The Pen," "We've tried all kinds of arrangements, but we can't seem to be friends when we sleep together." As long as you know for yourself that being friends is more important than sleeping together, you have a good enough answer.
10. CUT YOUR OLD PARTNER/ NEW FRIEND SOME SLACK.
You may have a sharper eye for their faults than most of their other friends, so you may want to cut them a lot of slack.
11. BE ABLE TO HANDLE DISCUSSING YOUR NEW RELATIONSHIPS.
Calmly discussing their new romantic adventures with zero jealousy is the key to Jerry and Elaine's friendship, and also the closest the show comes to being magical realism — but give it a shot. Few friendships can survive pretending that your new boyfriend is just your mahjong partner/ personal trainer/ cousin Benoit who is visiting from Paris.
12. ALSO, TRY TO GET A NEW RELATIONSHIP.
Most post-relationship friendships that fail do so because no one actually wants to be friends — they're just hanging around to see if you're getting back together, or if you're going to have sex for a little while before you get a new partner and then never talk again. These pseudo-friendships can hold you back, and keep you from moving on. Weed these out by getting back on the market (even if 95 percent of the population isn't worthy of your charms).
13. KNOW THAT YOU CAN'T EXPECT TO FORGET THE PAST COMPLETELY.
All you can do is try to have a sense of humor about your history together.
14. IGNORE YOUR FRIENDS WHO THINK THIS IS FRIENDSHIP BUSINESS IS ALL JUST FOREPLAY.
15. AND REMEMBER TO, YOU KNOW, ACTUALLY BE FRIENDS.
There's a reason you're putting all this work in!
Images: NBC, criticalcommons.org, 1, 2, 3, 4, 5, 6, 7, 8, 9, 10, 11, 12, 13, 14, 15, 16