What's Your State's Favorite Fourth of July Song?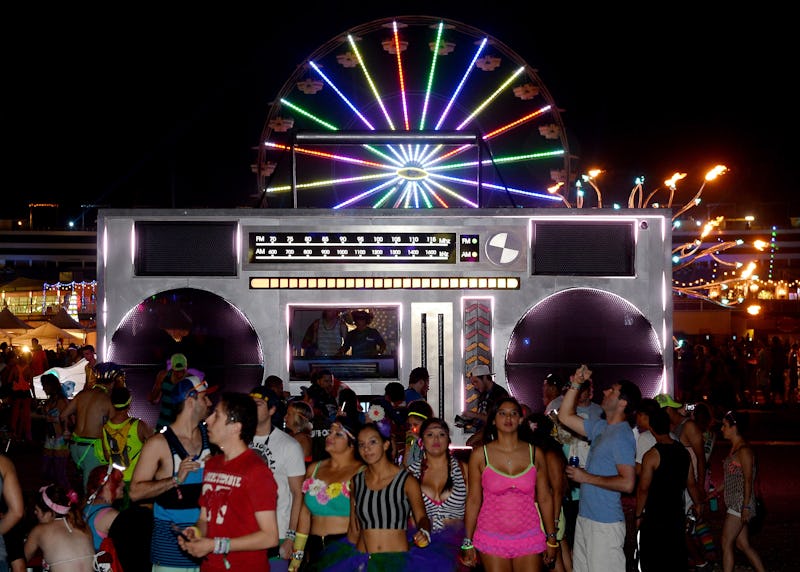 Ethan Miller/Getty Images Entertainment/Getty Images
Okay, so yes, Arthur is here and he's totally ruining our outdoor barbecue plans this Fourth of July. But you know what he can't ruin? All these awesome ways of celebrating indoors — including cuing up the patriotic playlist to end all patriotic playlists on whatever your music-playing device of choice is. Luckily, Spotify has us covered! They've oh so helpfully conducted a study determining each state's favorite Fourth of July song, created a map of the country illustrating the results, and put together a Fourth of July playlist for us. Thanks, Spotify!
Paul Lamere, director of developer platform for The Echo Nest, masterminded the whole thing, starting by pulling together a huge pool of all the music including on Spotify playlists with "Fourth of July" in their titles. Said Lamere, "That set of songs is this really funny mix. You get the core patriotic songs like 'God Bless America' and 'The Star Spangled Banner,' but you also get summer songs like 'Summer of '69' and barbecue songs like 'Chicken Fried,' and then you also get whatever was popular on the 4th anyway, like 'Blurred Lines.'" Then, as a way to firmly identify "Fourth of July songs" vs. regular songs, he compared how much people listened to those tunes on 4th of July last year with how much they listened to them during the week after the holiday. The results are the glorious map seen here, depicting each states most distinctive Fourth of July music choice (click here to see a bigger version):
Interesting, no? A whopping 22 states—that's almost half the country—blast country artist Lee Greenwood's 1984 anthem "God Bless the USA." Bruce Springsteen seems to be a Northeast phenomenon, which I find both kind of surprising and not surprising at all—surprising because, I mean, Bruce Springsteen, and not surprising, re: Springsteen is a Jersey boy. There's a little bit of John Mellencamp in there ("R.O.C.K. in the U.S.A."), a hefty dose of Miley Cyrus ("Party in the USA," of course), one hilarious instance of David Bowie ("Young Americans") — and, in what is probably my favorite thing in the history of the universe, even a few instances of "America F*ck Yeah" from Team America: World Police.
So even though it's raining out, turn up the volume and get ready to rock out. Happy Fourth, everyone!
Image: Ethan Miller/Getty Images; Courtesy of Spotify