Annabelle's Hobby Proves She's Got a Soft Spot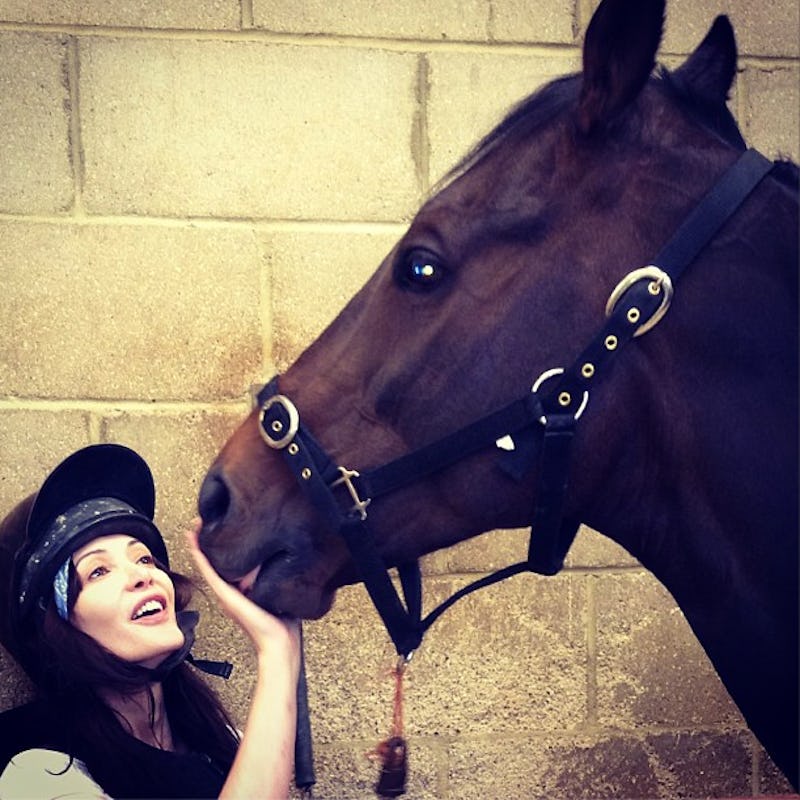 During last week's episode of Ladies of London , we saw Annabelle Neilson annihilate some clay pigeons when the ladies went shooting at Mapperton. With that, Neilson established herself as the Sporty Spice of the group, which means that not only does Neilson act like she can kick your butt with her tough exterior, but she will also actually be able to do it. In Monday night's episode, Neilson will once again show off her athleticism by saddling up and riding a horse to train for a charity riding event.
But the preview for this episode ended more dramatically than past teasers for the series. It seems like Neilson will unfortunately get into some sort of accident while horseback riding, and judging by the resulting horrified screams, it doesn't sound good. Hopefully, Neilson has found the strength to ride again since she really does love horses and horse racing. Something tells me that nothing can knock down this strong, badass chick.
So how much is horse racing really a part of Neilson's life? We've seen her train and chat about horses quite a bit on Ladies of London so far. Aside from her career and passion for fashion, horse racing seems to be a huge love of hers. Here are seven things you should know about this equine enthusiast.
What really happened with the accident
According to The Daily Mail, while out training 10 days before the big race, Neilson's horse got startled by a car, which caused her to fall off and break her pelvis and two bones in her sacrum. Due to the injury, Neilson was bedridden for four weeks. "I am on crutches and it's all fine," Neilson said in August of last year. "I am determined to take part in next year's race."
Horse racing is in Her DNA
We learned from Neilson's adorable granny's appearance on Ladies of London that her great-grandfather was quite the impressive horseman. Horse racing has been a part of Neilson's own life on-and-off for years. She started riding when she was only 4 years old up until the time she was 16. Her long absence from horse racing explains why she basically had to learn how to ride all over again when we first met her on Ladies of London.
She genuinely loves horses
Horse racing is not only a British and family sport, but Neilson also just seems to personally love horses. And with a face like that, it's easy to see why.
She was racing for a cause
On Ladies of London, Neilson was training for a race featuring female celebrities at Goodwood, a horse racecourse in England. The ladies would race to raise money to build a school in Ethiopia. British model Edie Campbell won the same race in 2011, so with Neilson's supermodel past, she might've rode past the competition, too.
And also Alexander McQueen
In addition to the charitable cause the race was supporting, Neilson threw her hat in the ring for Alexander McQueen, to whom she was a muse and a great friend. She had Sarah Burton, the Creative Director of the Alexander McQueen brand, design her racing silks, which would feature a skull on the front and the back to really intimidate the competition. "To go into this race with Alexander's colors on me, it gives me strength, having him with me, I guess," Neilson said.
Her horses have awesome names
Neilson has trained on horses named Mischief and Mr. Fickle, which perfectly match her irreverent personality. She has also ridden a horse named Whinging Willie, and you can only guess what that's supposed to mean.
Don't interrupt her about her training
Before "knickergate" even happened, Neilson was not a fan of Juliet Angus. While Neilson was talking to Julie Montagu about her training for the horse race, Angus butt in, according to Neilson, and started contributing her hip-hop yoga knowledge to the conversation. It actually seemed like a pretty normal thing for a person to do, but when it comes to talking about Neilson's training, "don't speak until you're spoken to" seems to be the rule of thumb.
Images: annabelleneilson1/Instagram