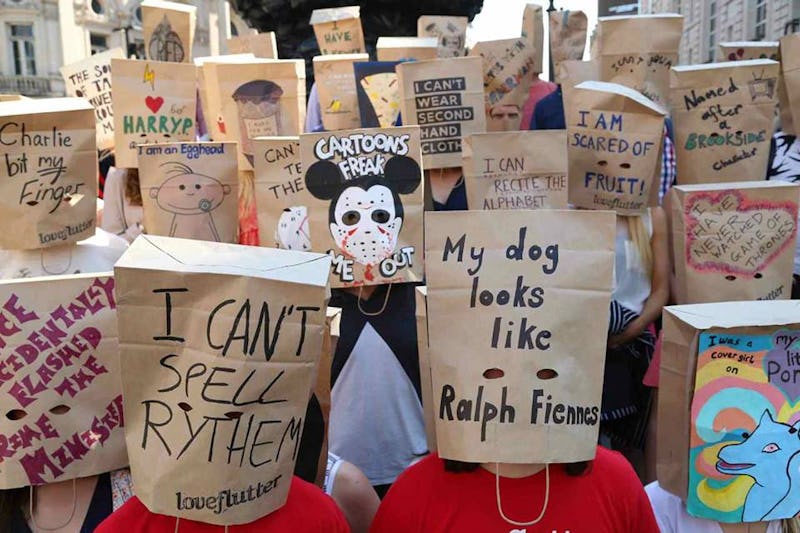 Did you think that ordinary speed dating was the height of matchmaking gimmicks? Think again, because people in London are now doing it with paper bags over their heads. Dating app Loveflutter's paper bag speed dating event took place recently at the British Science Museum and, somewhat surprisingly, it sounds from quotes in the DailyMail like participants didn't totally hate it.
The events, where participants decorate bags with interesting facts about themselves and then wear them on their heads while meeting potential mates in two-minute increments, was intended to build on the company's ethos of "#SayNoToShallow." For that reason, they're calling paper bag dating the "thinking person's Tinder," but honestly at this point just about any method would be better-suited for thinking people than the hookup-facilitating, game-able phone dating app, in my opinion (to be fair, Tinder's pretty good for entertainment purposes though).
Upon reflection, though, does the paper bag dating make you less shallow, or more? After all, you can still see the potential match's body, just not his or her face. Also, eye contact is critically important in bonding with someone, as is general sexual attraction. The person behind the bag may be laughing at your jokes and responding to your questions, but without facial feedback, it's much more difficult to tell whether he or she is really on a different wavelength or even actually bored. So while paper bag dating might be a lighthearted, novel ice-breaker kind of activity, I'd temper your expectations going in.
Image: Loveflutter / Facebook