Survive Your Walk Of Shame Tomorrow Morning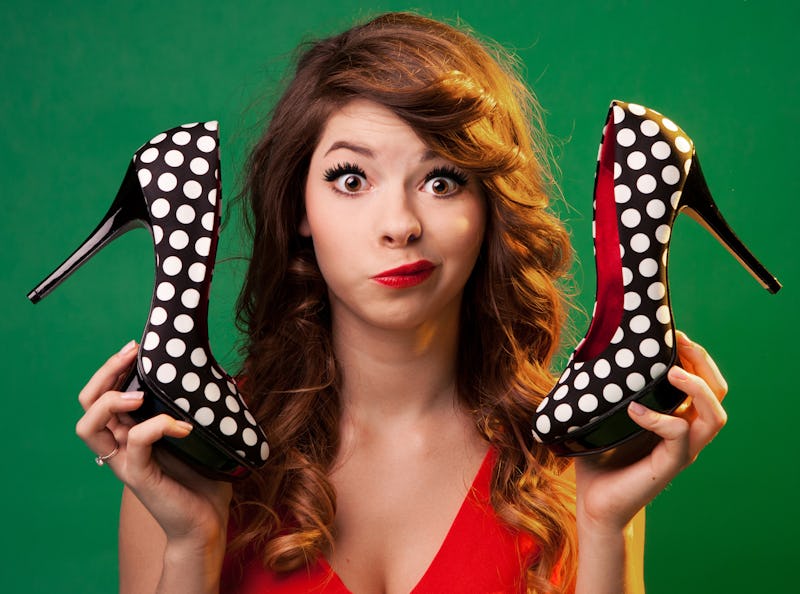 It's 7 a.m., you don't know where your pants are, and you have a long hike back to your place before quickly showering and rushing off to work. The pending humiliation as you shuffle through the business suits and smirks on the subway is enough to make you want to lie in bed for a few more hours ... if only you didn't have that pesky job waiting for you. You've been here before, the chances are even higher if you're a single twentysomething living in a big city. In fact, you've been on the other side, and possibly even casted a judgmental gaze at a walker of shame, letting the jealousy of another's evening affair get the best of you. The walk of shame does not discriminate, even celebs are caught doing this age 'ol stroll, lookin' like they've time-traveled back to the '80s for a three-day bender with the Sex Pistols.
Real talk: Last night's eyeliner over baggy, tired eyes is not a good look. There's a reason the tousled hair look takes some effort, because in reality, bed hair looks just like bed hair. If you've got some kink to your mane, an unexpected sleepover is just out of the question; unless he's Kat Williams, he is not keeping satin pillow cases for your 'fro. And personally? I am not trying to have a do-rag on while I nestle up next to my new boo.
Here's the good news: Most folks have a bunch of handy ingredients in their kitchen that can help make your schlep back to the apartment a whole lot prettier. Provided you aren't sneaking out a window for various (very valid) reasons, you should be able to get yourself gussied up before you step on that subway platform or start your long walk.
Step 1: Remove Makeup
If your boo doesn't have extra-virgin olive oil, you need to have a talk with him or her about their cooking game. Aside from making veggies more delicious, EVOO will also take care of stubborn eye makeup. If you are out of luck in the oil department, check the medicine cabinet for lotion. It may not be natural, but desperate times call for desperate measures. You'll be able to get rid of last night's face in no time!
Step 2: Find yourself some coffee grinds
Coffee grinds provide for an amazing morning face mask. Take some coffee grinds (bonus if you can grab any nutmeg or cinnamon for additional anti-inflammatory properties). Add honey to your mask if you can find it for extra-soft skin, then mix your concoction in the palm of your hand (if s/he is worth it, they will give you a bowl) and then massage into your skin. The coffee grinds will stimulate your skin, eliminating those puffy eyes and dark lines you acquired from being up all night "talking."
Step 3: Moisturize
Ain't nobody trying to step out into that summer AM heat without a moisturizer on. This is definitely going to be tricky if your night friend is lacking in the oil department. Here are a list of oils that you may be able to find on hand with natural UV protection that you can use on the fly. Note: These have low SPFs, so make sure you get where you're going quick if you burn easily!
Extra Virgin Olive Oil
Coconut Oil
Almond Oil
Sesame Seed Oil
Hemp Oil (Perhaps ... s/he's a hippy?)
Soybean Oil
Shea Butter (Perhaps ... s/he also has an Afro?)
Step 4: The Updo
I've always got an ouch-free elastic on me for those times I must succumb to Mother Nature and put my 'fro in a fun puff.
My quick updo of choice takes less than two minutes and will work on all hair types:
Separate your hair into two sections. If your comb preference is unavailable, do your best to make a side-part with your hands. For kinky girls, get your hair nice and wet (not soaked) and rub in any oil you were able to snag from Step 3. You'll definitely need to lock in that moisture. Use an ouch-free elastic if it's available to hold one section while you work the other.
Start at the part of the section that's loose and take two strands of the top layer of your hair and twist them (wrapping them around each other), then carefully grab from the middle section of your hair and add an additional strand, combining it with either the top or the bottom strand. Keep your two-strand twist close to your crown as you continue until the section is completely in one twist. Then repeat on the other side. If you've got some kink, it should be fairly easy to take each two-strand plait and twist them (as you were doing previously with untwisted hair) and tuck them underneath one of your twists.
If your hair is pretty short, two-strand twist the front of your hair as much as you can and then use your ouch-less hair-tie to leave a cute puff or short ponytail in the back.
So work appropriate!
There isn't too much I can do for last night's clothes, but I find a cute button up shirt to be pretty handy to make a dressy outfit more casual. Perhaps your new shorty will have no problem lending you one in hopes of seeing you again!
Image: © NinaMalyna - Fotolia.com