It's Time to Bring Back the Backpack Purse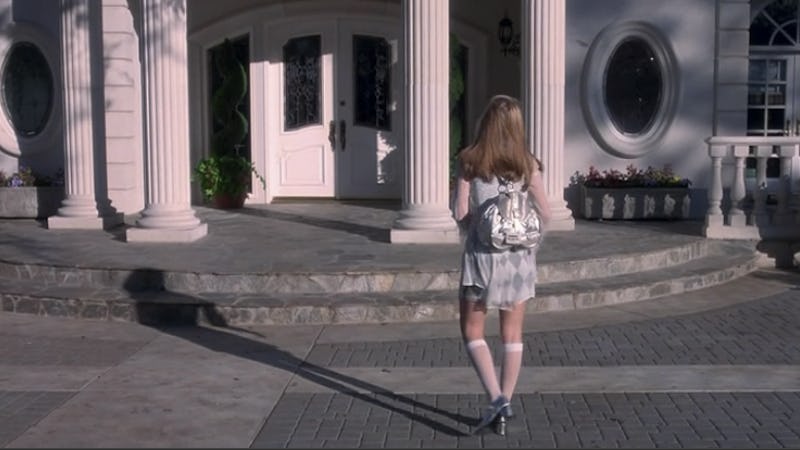 My backpack purse was silver, shiny, and about 11 inches tall. It was the coolest purse I'd ever owned, with the added bonus of being hands-free so that I could spend all my energy awkwardly playing with my tattoo choker necklace and perfecting my enviable playground Skip-It skills. It was also the most amazing accessory a '90s middle-schooler could hope to own, other than a lock of Brian Littrell's bleached-out hair.
The backpack purse fit right in with our strange 1990s obsession with tiny bags, too. There was a lot of transparency going on in the purse department back then. There was a lot of fuzziness. And, of course, there were a lot of purses that were actually hollowed-out stuffed animals with straps attached. Horrifying. Naturally, there were plenty of flowers: screen prints, appliqués, and 3-D daisies that waved from our tiny purses with a life of their own. There was plaid, neon, Astroturf, and glitter, but whatever the print or color, the end result had to be very, very small. Like, way smaller than any school book I've ever seen. Maximum school supply capacity of these things was approximately two mechanical pencils and a scrunchie.
Image: trashyvintage via Etsy
But before we talk mini-backpacks, we have to talk regular backpacks — a far more serious matter. Today, we strap them on our toddling children and send them off to school, burdened with the weight of a thousand geometry books, but for most of history, a backpack was something that helped you survive. The idea of strapping supplies to your back with a piece of cloth is an ancient one — think hunter-gatherers — and for a long time, backpacks were a great way of literally bringing home the bacon.
The word backpack, however, has only been around for about 100 years, and only recently has it become something of a vanity item: think Jansport or L.L. Bean versions, where the logo was far more important than whatever rotting school lunch was forgotten inside.
Image: TheVintageBulldog via Etsy
The idea of "practicality" was simply not on anyone's mind when it came to backpack purses, though. Sure, you could fit a surprising amount of stuff in there — an entire bag of butterfly clips, for example, or enough Warheads to win you the cutest boy in sixth grade — but we were all too little to be carrying around important things like phones and money. These tiny backpacks were made to see and be seen, nothing more.
How to wear it? Slung low on your back, of course, in a look that CollegeHumor said "managed to completely disrupt sideboob and make a girl's butt look comparatively enormous." Um, whatever. We slung our backpack purses low because high-slung backpacks with tight straps made us look stressed out, like we were actually carrying homework in that thing, while low-slung backpacks just screamed I also wear Dr. Pepper–flavored Lip Smackers.
Most importantly of all: CHER HOROWITZ WORE MINI-BACKPACKS IN CLUELESS.
I could not be more overjoyed to inform you that the '90s mini-backpack scene is alive and well and living in someone's basement. Whether you're longing for a clear daisy version, a Tweety Bird–themed mini, or a terrifying Teletubbies thing that was apparently worn by club kids, Etsy and eBay will happily meet all your '90s throwback needs, as usual.
Image: MICROMALL via Etsy
I don't have my shiny silver version anymore, but I think I'm ready for the mini-backpack purse to return. After all, we're a culture obsessed with youth and intrigued with all things hands-free. If I were a social scientist, I'd say the time for the backpack purse's rebirth is here and now.
Image: Paramount Pictures