New 'Housewife' Amber Will Fit Right in on 'RHONJ'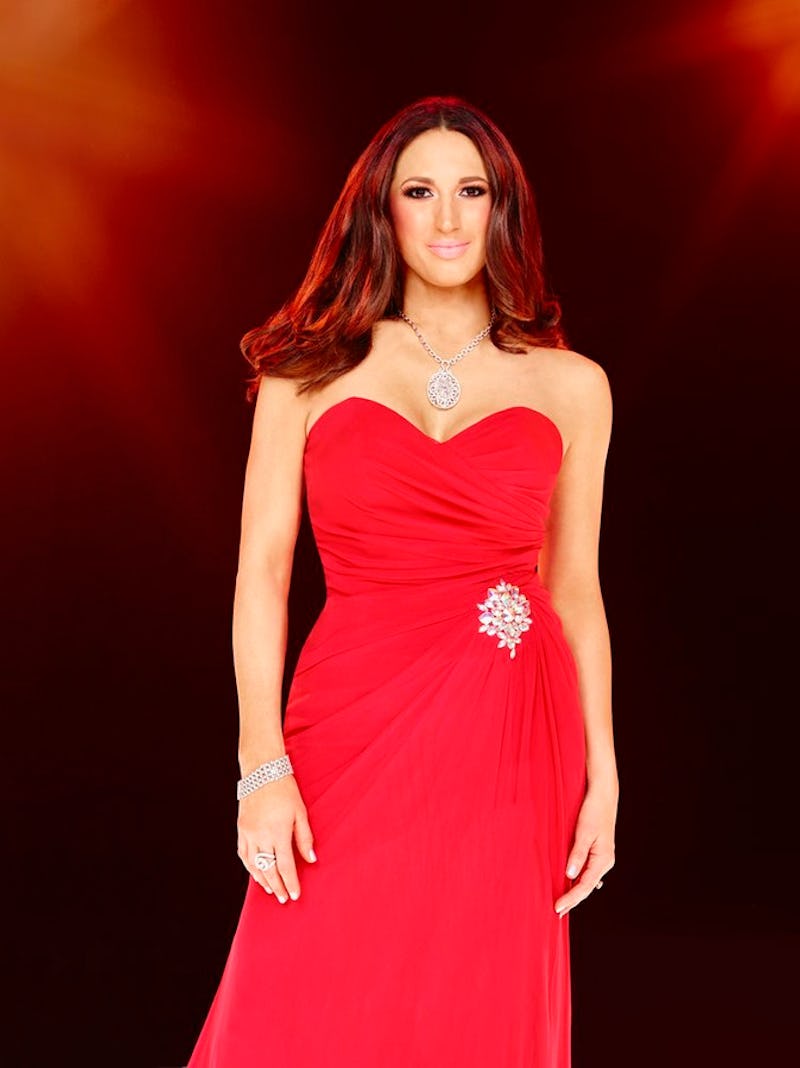 Just when you thought it was safe to turn Bravo back on, the backstabbing, table-flipping, hair-pulling ladies of The Real Housewives of New Jersey are back to wreak more havoc on your TV screens. But this season, we've got a bit of a shake-up. OG housewives Caroline Manzo and Jacqueline Laurita will not be returning to the show, in addition to Teresa Giudice's apparently least favorite relative in the world, Kathy Wakile. However, we all know that Real Housewives casts are like the mythical hydra; cut off one head of this beast and two new ones will grow. So without further ado, let's get to know one of the four new "heads" of Season 6 of RHONJ, Amber Marchese.
From what we can tell so far in the previews of this season, Amber used to be besties with Melissa Gorga, and she's hoping to repair their friendship. It looks like Amber is a firecracker, so she should fit in extremely well with these ladies. She's not afraid to speak her mind and get into some physical altercations if the moment calls for it, which it often does on this show.
All of that is just the surface of "50 Shades of Amber," as fellow new cast member Nicole Napolitano calls her in another season preview. Here's what you need to know about this new housewife, who seems more than up to the challenge of hanging with the RHONJ crew.
She's friends with Melissa
Amber and Melissa go way back, hanging out together before Melissa got married. The two have drifted apart over the years, but Amber is hoping to mend their relationship. However, telling people that Melissa's husband Joe was engaged at the time they met is probably not the best way to do that.
Everyone seems to hate her husband
Nobody seems to like Marchese's husband of seven years, Jim. It looks like he just rubs the other housewives the wrong way. Maybe this season we'll see one of the husbands outshine his wife when it comes to the unavoidable drama of RHONJ.
She battled breast cancer
Marchese was diagnosed with breast cancer when she was 31 years old, and after a double mastectomy and chemotherapy, has been in remission for five years.
She's a health nut
Marchese has a master's degree from the Teachers College at Columbia University in Bio-Behavioral Studies/Exercise Physiology. Since she was diagnosed with breast cancer, Marchese only eats organic and locally grown foods. Her social feeds show her working out a ton, and she has created her own fitness brand, Vici Fitness. She's going to need all the strength she can get to go toe to toe with these ladies.
She's kind of an actress
In addition to appearing on The Real Housewives of New Jersey, Marchese is also currently pursuing an acting career. She has appeared in a short horror film called Baggage, according to her IMDB page, and filmed a show for Food Network, according to her official Bravo bio. But the real highlight of her career so far has got to be the above commercial for her husband's company, Mortgage Now. That hair flip, though.
She's religious
Marchese's faith is very important to her. "I believe in the power of the Lord," she says in the show, "but if you f*** with me, all bets are off." Duly noted.
She doesn't like the twins
At first, it seems like Marchese and twins Nicole and Teresa are going to get along great. But then, surprise surprise, they don't. It's going to be weird to see people other than Gorga and Giudice go at it.
Images: Alex Martinez/Bravo; ambermarchese/Instagram (3)