The Official Ranking of The Best 'Whitney' Videos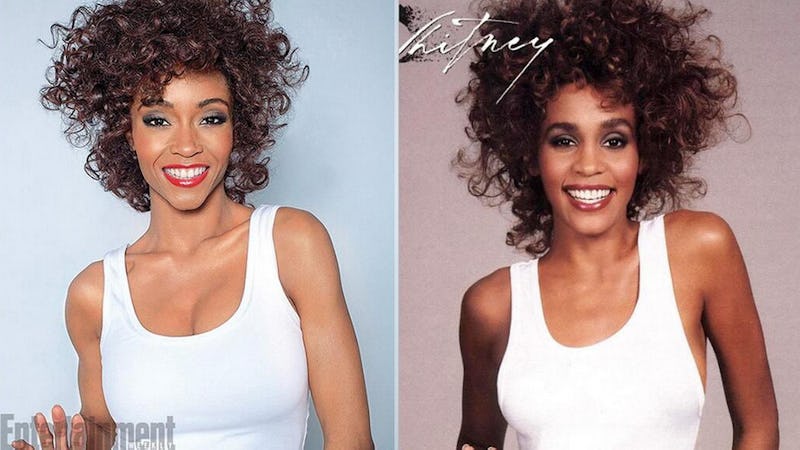 The first photo of Yaya DaCosta portraying Whitney Houston for the Lifetime biopic was just released via Entertainment Weekly. DaCosta embodies Houston's vibrancy and spirit in the era when the late singer's star was just beginning to skyrocket. Though the image might make you miss Houston's voice, talent, and presence more than you already do, it is a shining reminder of how much she contributed to the pop music landscape. DaCosta re-captures Houston on the cover of her 1987 smash album Whitney, which gave us some of her greatest dance hits and ballads. If this image tells us anything about the Angela Bassett-directed biopic, it's that the television movie is really going to pay attention to the details of Houston's life and personality.
The movie is currently going by the tentative title Whitney Houston and will chronicle the time in Houston's life when she first met Bobby Brown and will cover the history of their rocky and highly-publicized relationship. Despite Houston's daughter Bobbi Kirstina Brown speaking out against the film and DaCosta's casting, it's clear that Bassett and Lifetime are aiming to do justice to telling the story of Houston. Not only is the look spot-on, the feeling and joy of her earlier work is already apparent in the image.
DaCosta's portrayal of the Whitney cover also reminds me of just how many incredible singles and music videos came out of that classic album. Here is the official ranking of Whitney's best videos.
#1: "I Wanna Dance With Somebody"
Timless, even in all of its neon glory.
#2: "Didn't We Almost Have it All"
A swift kick right to the gut, this one.
#3: "So Emotional"
Whitney in leather and in concert ALL DAY!
#4: "Where Do Broken Hearts Go"
A tragic break-up story, massive '80s hair and shoulder pads, halo lighting, a recording session in black and white... yes to all of this.
Image: DynamicAfrica/Twitter/Entertainment Weekly