Everything You Need For A Midsummer Night's Party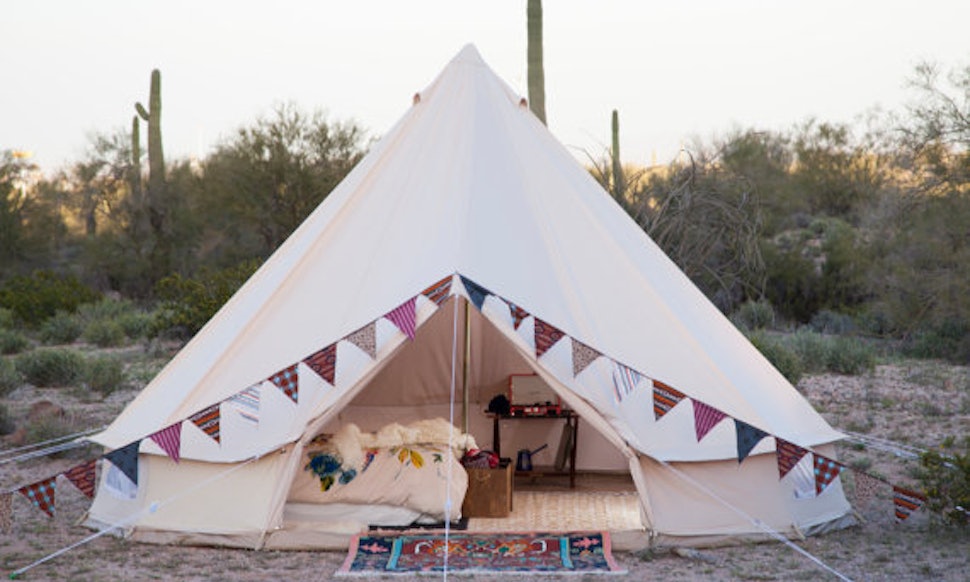 Etsy
It's that time of year again, and no, I'm not talking about Christmas. I'm talking about midsummer! I'm sure we all remember reading A Midsummer Night's Dream in high school and thinking "This is some crazy stuff." Because, well, it was — lots of love triangles, multiple characters with crazy names that start with H, mysterious sprites that like to pull pranks. It was imaginative to say the least, and it sounded like a lot of fun.
In my opinion, Shakespeare's work is the most fun when a bunch of pugs act it out. But that's obvious. And while I'd never want to be caught up in one of his tales in real life, doesn't a Midsummer Night's Party sound nice? Well, I gathered up 12 must-haves, from banners to cocktails, so you can throw your own Bard-themed bash.
floral head wreath
Sure it screams Manic Pixie Dream Girl, but who cares? A midsummer party is the perfect occasion for this flower crown.
Floral Head Wreath, $75, Etsy
bell tent
I would go camping in a heartbeat if it looked like an Urban Outfitters photoshoot. Just imagine a midsummer party in one of these bad boys.
Bell Tent, $950, Etsy
outdoor tent
Now here is a very similar tent. It is a third of the price (and size) but twice as adorable.
Outdoor Tent, $154, Etsy
paper doilies
These doilies can bring plenty of whimsical energy to any kind of party, and are sure to add the dreaminess a midsummer bash requires.
Paper Doilies, $8, Etsy
summer night cocktail
Now for the drinks! This tasty summer night cocktail from A Beautiful Mess is exactly what this party calls for.
Image: A Beautiful Mess
rose sorbet
Hot night? Try this rose sorbet from How Sweet It Is. It's refreshing and, come on, who wouldn't want rose in sorbet form?
Image: How Sweet It Is
watermelon basil mojito
This watermelon basil mojito from A Beautiful Mess tastes as good as it sounds. The watermelon, basil, and mint combine into a perfectly refreshing summer drink.
Image: A Beautiful Mess
mason jar lanterns
Who says mason jars are so last year?! Keep the lighting playful with these little lanterns.
Mason Jar Lanterns, $39, Etsy
solar light string
String lights are a must for any outdoor party. This solar set is reminiscent of floating bubbles of light. It doesn't get any cooler.
Solar Light String, $50, Amazon
paper lantern with floral cutout
This floral cutout lantern adds the perfect combination of playful and mischievous energy to the party space.
Paper Lantern, $12, Etsy
salted almond flourless chocolate cake
Adventures in Cooking is excellent at creating delicious and dreamy food, and this salted almond flourless chocolate cake is no exception.
Image: Adventures in Cooking
summer berry sangria crumble
Finish your night off with some summer berry sangria crumble from How Sweet It Is. The fruity, cold, crunchy dessert is a great way to conclude a midsummer night.
Image: How Sweet It Is