Clara Oswin Oswald's 10 Best Style Moments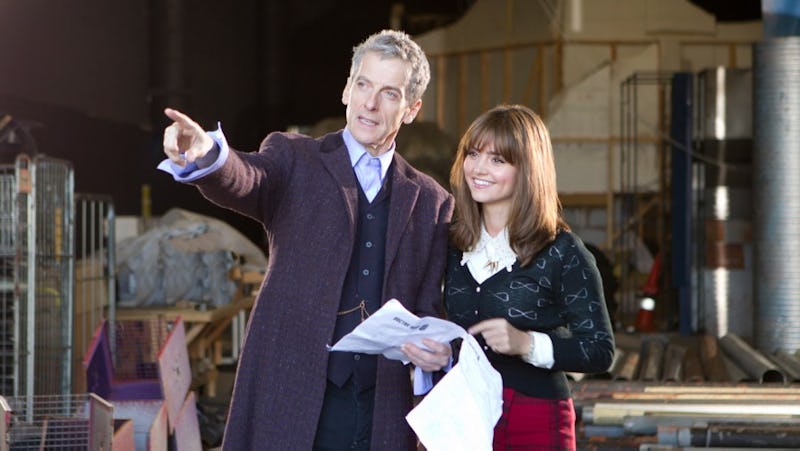 BBC released a real trailer for Doctor Who season 8 yesterday, and it's awesome for a few reasons:
We finally, finally got to see Peter Capaldi as Twelve. We'll all miss Matt Smith (...and David Tennant... and Christopher Eccleston), but I think it's safe to say that we're going to love this incarnation of the Doctor, too.
Terminator-esque robot-aliens, dinosaurs, and daleks. Kind of sounds similar to part one of season 7, when you think about it, with "A Town Called Mercy," "Dinosaurs on a Spaceship" and "Asylum of the Daleks," respectively.
Fan-favorite Madame Vastra is back — and I'm assuming this means her recently revived wife Jenny Flint is back as well.
It reminded us all (not that we needed reminding) that Doctor Who is back in just over a month!
Fabulous clothes.
Now, the clothes in question belong to both Clara and the Doctor — looks like Clara will be back to her standard fare of cutesy ModCloth-esque dresses paired with leather jackets and boots for a touch of edge. And the Doctor? Looks like he's eschewed his purple tweeds (and rather heartbreakingly, if you think back to the Christmas Special, his bow tie) in favor of a simpler navy overcoat, with a flashy red silk lining, paired with a white shirt and black slacks.
But back to Clara: in honor of the new trailer, let's do a little style retrospective of her ten best outfits (it's actually quite a challenge, seeing as pretty much every single thing she wears on screen is adorably stylish). Geronimo!
10. The Time of the Doctor
She keeps her Christmas-y red plaid skirt and lacy collared shirt from veering too twee with a spiky necklace.
9. The Bells of Saint John
Clara loves a good mullet dress, and she's styled this one impeccably by adding an army green parka and shearling lined moto boots.
8. The Rings of Akhaten
Another day, another mullet dress. This one's paired with a black leather jacket and more moto boots, as well as an adorable red satchel for a pop of color.
7. Some Episode from Season 8
We may not know much about season 8, but we do know that Clara will be as well dressed as ever, in her signature vintage-inspired dresses and black tights.
6. A Nightmare in Silver
Clara sure knows how to work a structured jacket with a printed dress! Also, a mace never makes a bad accessory.
5. Journey To the Centre of the TARDIS
Sequins and a Peter Pan contrasting collar? Add that to the fact that she paired the outfit with brown boots and a sideswept hairdo, and you've got yourself a total win.
4. The Name of the Doctor
Clara returns to plaid in this completely adorable outfit. Maybe it's just me and my slight jumper obsession, but I love this dress/black shirt combination.
3. The Asylum of the Daleks
Clara's alter ego Oswin rocked a bodycon look that I have a feeling present-day Clara wouldn't be caught dead in. That said, she pulls off the futuristic space girl aesthetic very well!
2. The Snowmen
Speaking of Clara's alter egos, Victorian Clara might just be the best dressed Clara of all.
1. The Time of the Doctor (again)
Classic Clara = ultra-girly with an edgy twist. This time, the ultra girly comes in the form of a contrast-collared yellow sweater, and the edgy twist comes in the form of a leather mini skirt. A cool outfit made only cooler by the presence of a roast turkey and Christmas cracker paper crown.
Images: BBC America, IMDb