Would You Stop Shaving Your Legs?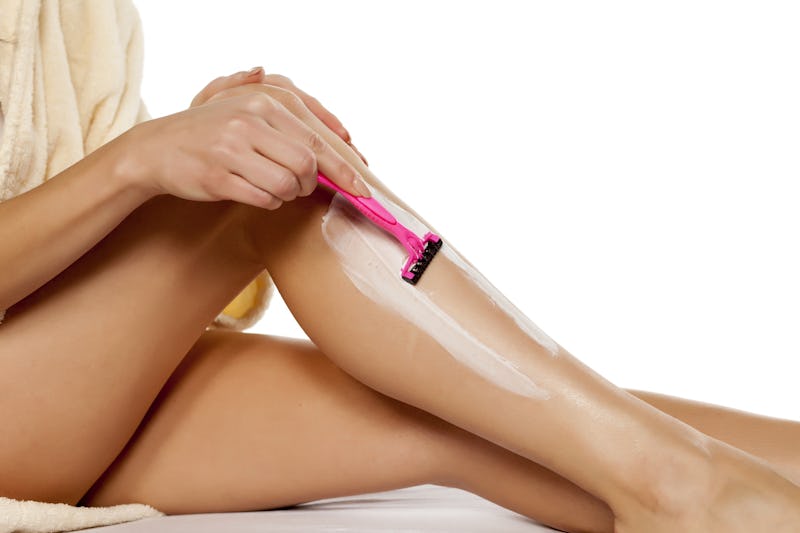 © Vladimir Floyd/Fotolia
A couple of years ago, I entertained the idea of lasering all of the hair off my legs — but backed out because I had a weird feeling that hairy legs (like other hairy areas) would someday be the coolest thing ever. Sort of like a trendy accessory or haircut, because that's how my young, fashion-centered brain worked. Low and behold, that day has finally arrived — except instead of a leg hair trend, it's a leg hair movement (even better). Thousands of women everywhere are proudly showing off their hairy legs via blogs like the "Hairy Legs Club," and it's kind of beautiful.
The Daily Mail recently reported that women are promoting the pro-leg hair movement with the help of social media groups and blogs — one of the more prominent being the "Hairy Legs Club" Tumblr page. On the site, women submit and post photos of their hirsute lower limbs with positives notes as to why they chose to ditch insanely expensive razors (and the gendered beauty standards they accompany). There's also Very Hairy Legs, another Tumblr page with the same premise: share photos of your gorgeous hairy legs, see them on the Internet, be awesome. If Tumblr isn't your thing, you can also check out the Facebook group, The Women Against Non-Essential Grooming (or WANG). Each of these blogs and groups emphasize maintaining a judgment-free zone, or as the Hairy Legs Club's note explains, "a POSITIVE space."
So why are these ladies insistent on not shaving their legs all of the sudden? WANG's Facebook page does explains that you should not feel forced to give yourself razor burn on a daily basis because society, or anyone for that matter, makes you feel like it's necessary:
WANG believes that everyone should be free from coercive gendered bodily norms and should have absolute bodily autonomy. We look forward to a day when people can present their bodies in whatever way they choose, free from political, social, and economic constraints!
WANG and the "Hairy Legs Club" aren't the only anti-razor pioneers out there. In May, Buzzfeed put a spotlight on British Photographer Ben Harper's Natural Beauty project, a series of portraits featuring women proudly showing off their hairy armpits. The Guardian also contributed to the dialogue earlier this year, which a piece on Cameron Diaz's movement against the banishing of pubic hair. Into the Gloss also posted an amazing piece about female body hair, shedding light on several "hot babes" (awesome choice of words considering Goddess Sophia Loren is one of them) with body and/or armpit hair, and Bustle's Maitri Mehta described her feelings on body hair, saying "I'm not trying to trifle with any man who recoils at the sight of it — If you can't stomach it, you're not mature enough to be having sex."
I think it's safe to say that body hair is not only "cool" but, more importantly, it's becoming more and more acceptable. (My 22 year-old-self as well as my current self are very, very okay with this.) Whether we're doing it as an act of feminism, a way to become more confident with our bodies, or just to save cash on ridiculously expensive shaving cartridges (I MEAN), I fully support it. If you want to be hairy somewhere, or everywhere do it! Be proud of it! And please post it on the Internet so we can see!