The OPI X Ace Hardware Paint Collection Is Awesome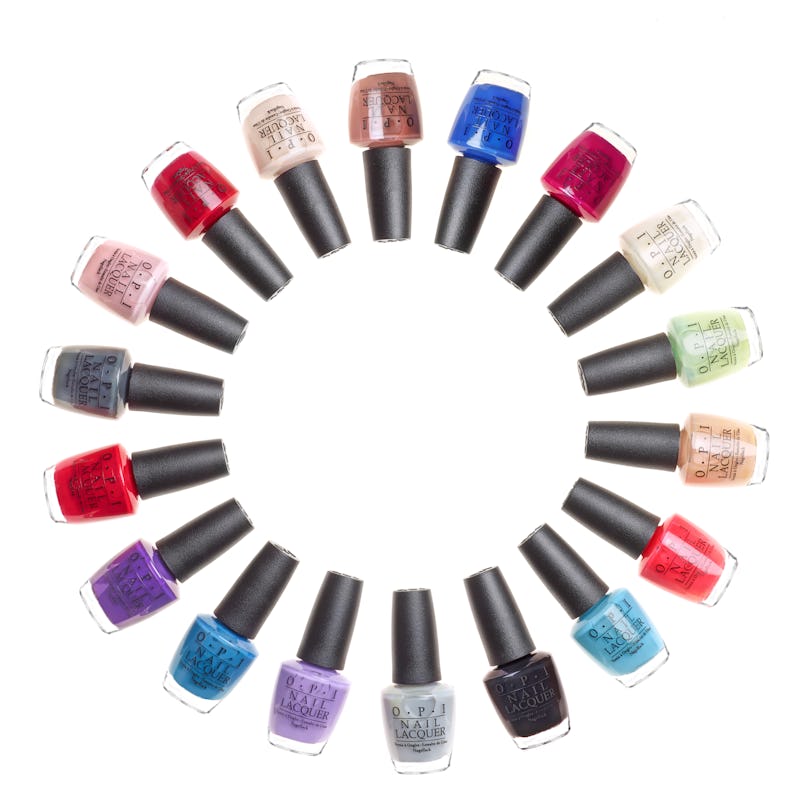 Nail polish isn't the first thing I think of when I pop into Ace Hardware. In fact, nail lacquers never even cross my mind because, why would they? Why the hell would they when shopping for a tape measure or getting a key made, unless I somehow chip my own manicure if I happen to finger an item while looking for something on the shelves?
Well, that's about to change. OPI, the nail polish brand known for its kitschy, snarky shade names, like I'm Not Really a Waitress, and its collabo with Gwen Stefani, as well as partnerships with icons like Mariah Carey, Carrie Underwood, and Coke, for God's sake, to name a few, has teamed up with Ace for the OPI Color Palette by Clark + Kensington, the premium paint line. With this set, 18 of OPI's most beloved shades are available in paint form. Now you can't paint your bedroom walls with your favorite polish shade. Finally.
It's actually a brilliant concept and might lure some more female shoppers into the largely male domain of the hardware store. You can wander into any of 3,200 Ace stores and nab your fave pedi polish reimagined as paint.
There are three collections featuring six OPI shades. Each set offers five coordinating Clark + Kensington shades.
The Artist set features Keeping Suzi at Bay, Miami Beet, Don't Touch My Tutu!, Gargantuan Green Grape, Samoan Sand and I Eat Mainely Lobster.
The paints created this room. Snazzy, right?
The Wild Heart range includes Can't Find My Czechbook, Black Onyx, My Pointe Exactly, Do You Lilac It?, Suzi Says Feng Shui, and Vant to Bite My Neck?
The "Wild" ones were used to craft this urban chic bathroom. OMG, I would totally move into my bathroom if it looked like this. That blue is so spa-like and relaxing.
The Romantic collection boasts OPI Red, Nein! Nein! Nein! OK Fine!, My Very First Knockwurst, Chick Flick Cherry, My Vampire is Buff and Over the Taupe.
The Romantics were used, flawlessly, to create this cozy, modern room. I want to have parties — ones where I entertain, not ragers where people are getting nekkid, breaking stuff, and acting a fool — in this room.
This collection is appealing to my homeowner sensibility and the fact that I, like Carrie Bradshaw, cheated on fashion with furniture when I closed on my condo and had to decide on a décor. In case you're curious, I mix vintage, pin up girl decor with vampy Victoriana and pieces with history and that are lived in. I have a doctor's suitcase from the late 1800s that sits on a shelf, sharing space with my W magazine collection.
That said, OPI x Ace also had me wondering if other makeup brands could partner with a paint range for some chic shades. How about NARS Orgasm, a peachy pink, which could be used for painting powder room trim? What about MAC's Ruby Woo, a rich, real scarlet, for an accent wall in the living room? Or how about Clinique's Black Honey lipstick shade, which would look gorgeous on any wall, just like it does on the pout of most women? What about any of MAC's Viva Glam hues? OMG, my hamster wheel is spinning out of control. OPI x Ace are on to something.
I think I might need to repaint my crib...
Images: DBC PR