Wanna Eat Ribs With Frank Underwood?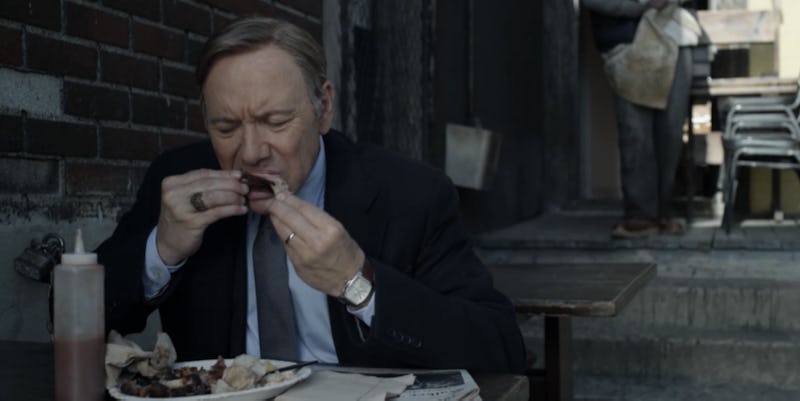 Netflix's House Of Cards has a lot on its plate at the moment, what with gearing up for the third season and dealing with all those Emmy nominations. Now it's looking to add a little something to its plate. Namely, the chance to eat ribs with House Of Cards ' very own Frank Underwood, Kevin Spacey. Vegans and vegetarians should probably skip this one.
Ribs are surprisingly important to House of Cards. Freddy's BBQ Joint is a constant presence throughout the show's existing two seasons. And now there's a contest whose grand prize is the chance to chow down with Spacey in a meal themed after the joint.
The contest is taking place as an effort to raise money to save the Old Vic Theater and the Geffen Playhouse, and on top of a very carnivorous meal the winner gets a tour courtesy of House Of Cards showrunner Beau Willimon. Oh, and did I mention you get to rehearse a scene from the show with Spacey. That last part sounds a little intimidating to me, but I'm willing to bet there are some rib-loving rich people out there who'd jump at the chance. Perhaps the Clintons? I heard they love them some House Of Cards .
If you are a person with money to burn on contests like this, you can learn how to do so here.
Image: Netflix