A Lot Happens in the 'Big Brother' Bathroom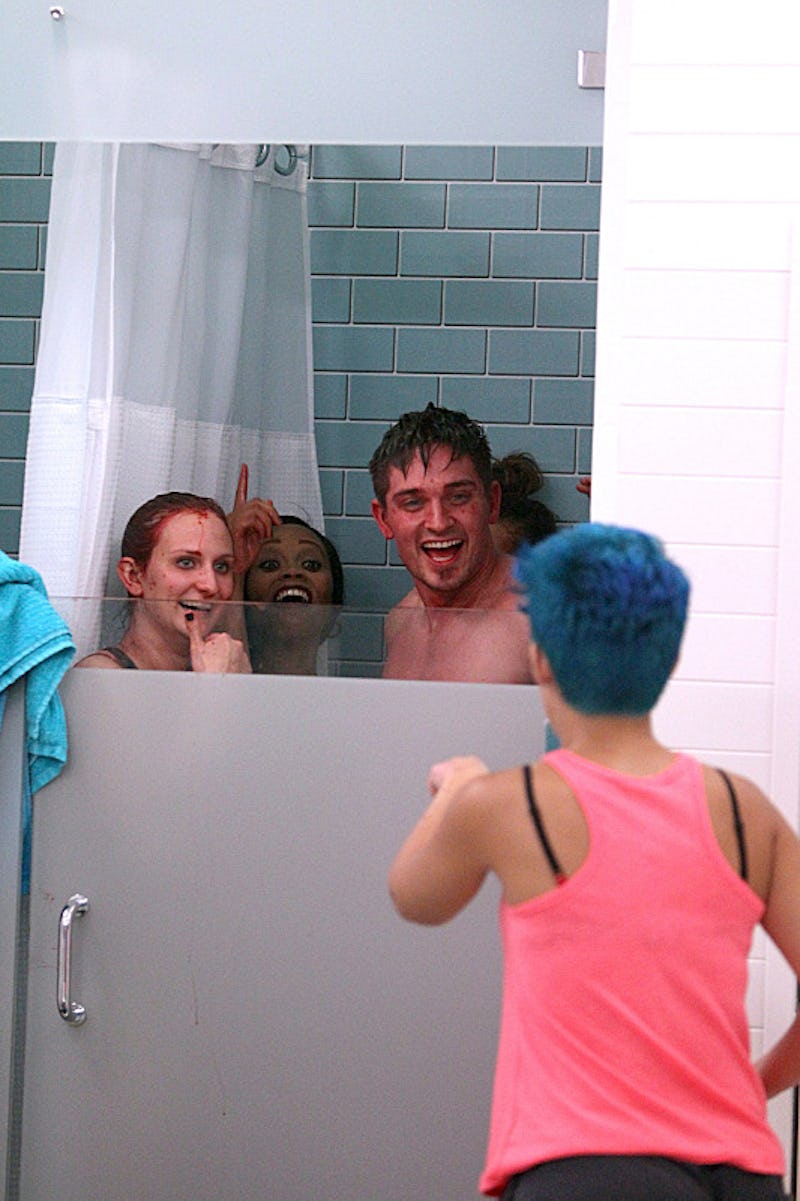 The shower is a sacred place, one where you should be able to get clean in peace. But when you're in a house filled with strangers scheming to get you evicted and cameras watching your every move (yes, even in the shower), it's nearly impossible to do your thing in private. It's bad for the houseguests, but good for viewers as we get some entertaining gems, such as Big Brother 16 houseguest Zach crooning Lana Del Rey's "Young and Beautiful" in the shower recently. Obviously, fans are hoping his rendition was meant for Frankie.
The bathroom has often been an important spot in the Big Brother house throughout the seasons, not only for its main functions, but also where important plans are hatched, people fight, and showmances seal the deal (if you know what I mean). When people are naked, wet, and have the impression of privacy, things are always bound to get interesting.
Instead of just picturing your favorite Big Brother houseguest in the shower, I've got something much better for you to spend your time on. Okay, almost better. There were actually a bunch of memorable Big Brother moments through the years to have taken place in, yes, the bathroom. And don't worry; they're not all gross.
Zach masturbates in the shower
Our little friend (no pun intended) Zach pops up again so soon for reportedly masturbating in the shower in Week 2 of Big Brother 16. He's not even the first Big Brother contestant to seek some alone time while in the house. Season 12's Lane and Season 15's Spencer were also caught in the act. The Big Brother house can sometimes get a little lonely, after all.
Shannon's infamous toilet cleaning
Season 2's mean girl Shannon was pretty peeved that HoH Hardy nominated her and her main squeeze Dr. Will for eviction that week. So what's a girl to do? Get mad and get even. Shannon used Hardy's toothbrush to clean the toilet in what is perhaps the most gag-worthy scene in Big Brother history. The producers couldn't risk Hardy catching God-knows-what grows in the Big Brother john, and they forced Shannon to tell Hardy he couldn't use his toothbrush. She told him she had broken it while reaching for something, and he was really mad about the whole situation, but probably not as mad as when he found out what actually happened to his toothbrush.
Willie Headbutts Joe
On a rampage after his reign as HoH ended, Season 14's Willie didn't take too kindly to some sass from Joe. He followed Joe into the bathroom and violently confronted him, eventually headbutting him. In the above video, note freshly-showered Ian in his green towel trying to break up the fight by yelling "Hey guys!" before quickly exiting the room. Since violence is never tolerated in the Big Brother house, Willie was immediately expelled from the game.
The place where everyone cries
Whether it's Devin sobbing in the shower after coming clean to his housemates and admitting he wanted to play an honest game this season or Season 15's GinaMarie mourning the loss of her beloved Nick from the game in the toilet, the bathroom makes for a wonderful place for houseguests to let the tears flow.
Jen and Ryan have sex on the toilet
Season 9's showmance, Jen and Ryan, weren't the first couple to possibly have sex in the Big Brother house, and they probably won't be the last, but they are memorable for potentially doing the nasty on the toilet.
Keep clean, houseguests.
Image: Lisette M. Azar/CBS