'SYTYCD' Or Love Connection?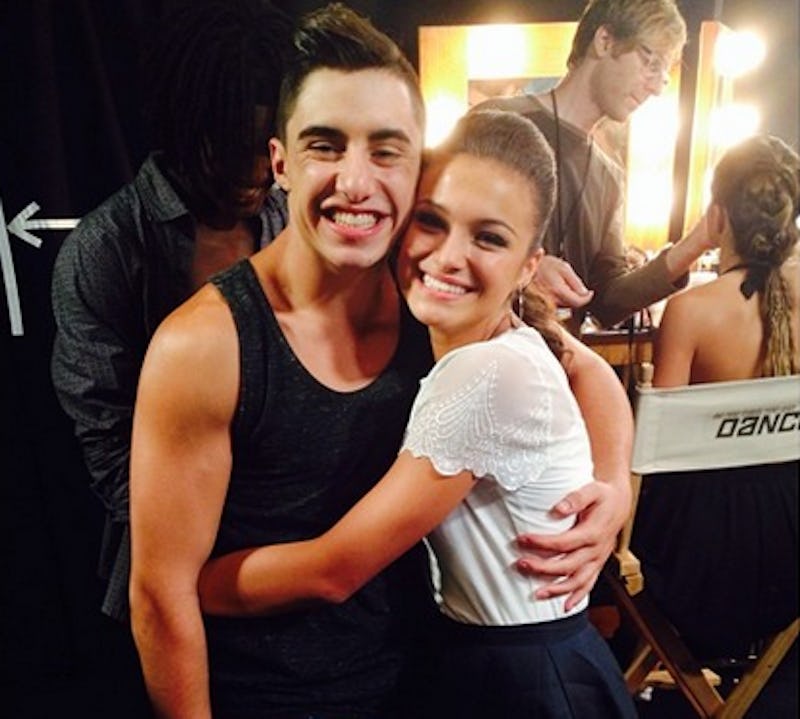 So You Think You Can Dance might channel Dancing With The Stars but not in the way you might think. It looks like two contestants might be heading for a potential romance, and the show is really playing it up. Like the fans' dream relationship of Maks and Meryl, Season 11 contestants of the hit Fox dance show Rudy Abreu and Jacque LeWarne got quite a bit of attention about the nature of their relationship during the Top 18 competition night on Wednesday.
It all started when contestants were asked to to reveal something about their partners. Tapper Zack revealed that Jacque had a bit of a crush on Rudy and the show immediately cut to a montage of photographs the couple has taken together. She didn't say much about the topic other than feign surprise and ignorance when Zack let the public in on the juicy information. Zack and Jacque then performed a brilliant hop hop number together and completely killed, and it looked like the little reveal was going to be put on the back burner. But don't worry fans, the best hostess ever Cat Deeley wasn't going to let that happen. She immediately brought up the little tidbit to Jacque before the judges gave their critiques.
The romance didn't stop there however. Apparently Rudy reciprocates Jacque's feelings because the young dancer's partner Tanisha confirmed this information during their partner reveals. When Tanisha asked Rudy if the rumor was true he replied with "I ain't gonna deny it, I like her." But that's not all. After Rudy and Tanisha performed a show-stopping Broadway number that had audiences and the judges saying Rudy was a shining light, Cat yet again kept the possibility of romance going by asking Rudy why he had this inner light. Rudy responded by saying Jacque with a sentence that effectively broke millions of teenage girls' hearts.
There you have it. Let the shipping begin!
Images: dance11rudy/Instagram