Science Says They Should Be Together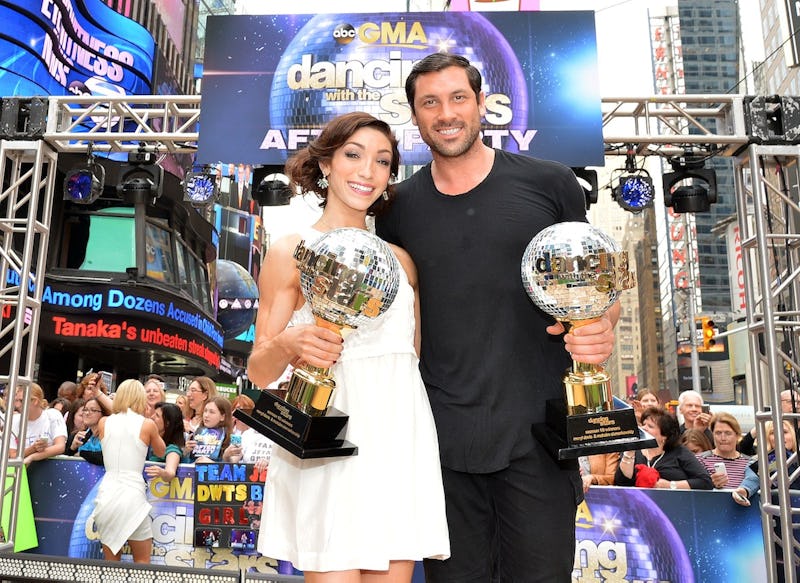 We know, you know, everyone knows — Maks Chmerkovskiy and Meryl Davis should be together. But now we have one more source that confirms the universe's collective belief about this amorous enigma from Dancing With The Stars: Science says that Maks and Meryl should be together. YourTango recently pooled together some advice from experts about why one should date a dancer — in other words, why this smokin' duo work, or ahem, WILL WORK when they finally get married and have beautiful ice dancing babies — and the facts don't lie.
Granted, Maks's ex, Karina Smirnoff, recently commended the duo's "great acting," because according to her, that passionate, obvious chemistry is total BS. However, this new science-y info seems like a perfect reason to hop on the "yes they CAN!" train again because there are so many reasons to date a dancer. Why wouldn't the two of them take heed? And seriously, two dancers? That's like, asking for an explosion.
YourTango's sources voiced their research about why dancers make such good romantic partners, pooling data from places such as Psychology Today, the AARP, and LiveScience, essentially honing in on the notion that dancers have stamina, are super well balanced individuals, are very, very attentive, and are in kick ass shape (duh). And oh, how flexible they are!
All of these traits make for an excellent relationship and, if you couldn't guess already, some good times in the bedroom (not that you were second guessing Maks and Meryl's potential after seeing the duo's freestyle, which bordered on softcore porn) but still. Bottom line: date a dancer. Science says you should. And, Maks and Meryl. We're lookin' at you. Please go and get married now.
No matter what naysayers suggest, the universe and science want this triumphant dancing duo to be together. And would you really argue with science?
No. No you would not.
And you can't really argue with this, either:
No. No, you cannot.
Image: ABC; kbnello/tumblr