'Southern Charm's Fate Has Been Decided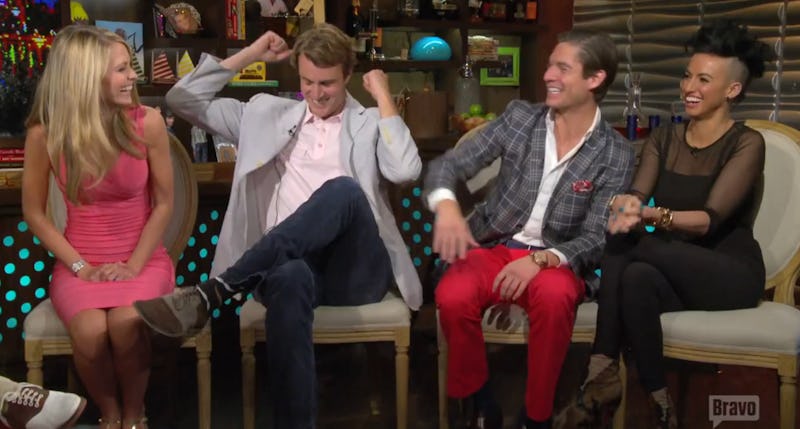 Finally. FINALLY. FINALLY we have an answer. And it's a great answer: Southern Charm WILL get a second season. Oh, if you could only see the victory dance I'm doing right now. It's a dance that'd make Nigel Lythgoe proud. He'd wave that plane ticket and tell me I get to go straight to Pasadena. Wait, where am I? Ah, right. Southern Charm. Monday, Bravo officially announced that the reality program has been picked up for another round of champagne, er, episodes.
(While that is THE piece of news that caught my eye, it isn't the only Bravo update: Emmy-nominated Million Dollar Listing New York also received a renewal AND! The network added yet another crop of new shows to its constantly expanding roster: Million Dollar Listing San Francisco, There Goes the Motherhood, and Secrets & Wives. Whew, so many shows! How is a gal supposed to keep up, Bravo?)
Oh, and its renewal is not the only Southern Charm morsel to chew on: Thomas Ravenel will be back after all. Yes, in June he tweeted that he was through with the Charmed life. Not the case. According to the Charleston City Paper, T-Rav confirmed his return via an email that was sent out to South Carolina media outlets. Hot dog!
Wait. WHAT ABOUT THE OTHER CHARMERS??? ANY WORD??? I CAN'T LOSE ANY OF THEM. THEY'RE ALL SO VERY IMPORTANT TO ME.
Like I am wont to do, I combed the Internet for answers. Here's the best of what I found:
Four weeks ago (!!!), Ladies of London's Juliet Angus posted this photo with Whitney Sudler-Smith:
DO YOU SEE THAT CAPTION? SHE KNEW. SHE KNEW BEFORE THE OFFICIAL ANNOUNCEMENT. WHY AM I ONLY SEEING THIS NOW. I WILL GO AHEAD AND ASSUME THIS MEANS WHITNEY WILL BE BACK. AND IF WHITNEY WILL BE BACK, PATRICIA ALTSCHUL WILL DEFINITELY BE BACK. PACKAGE DEAL SITCH. AUGHHHHHHHHHHHHH PRAISE EVERYTHING.
It looks as though Kensie's mom will join Kensie's dad on Season 2:
Shep Rose says he'll be back:
And he believes filming will commence next month:
Uh, do you know what that means? Seas 2 will be filmed while T-Rav's in the thick of campaign mode. Terrific timing. A+. Can't wait to watch.
Do you know what else I can't wait for? The official casting announcement from Bravo. I have an inkling a majority of the cast will return, but you can never be too sure. I'm on pins and needle-like fake eyelashes over here. Believe you me, if Patricia doesn't return, I will crawl under my bed and stay there for a month.
Images: Bravo; julietangus/Instagram