Proof Khloe and Scott Are the Best BFFs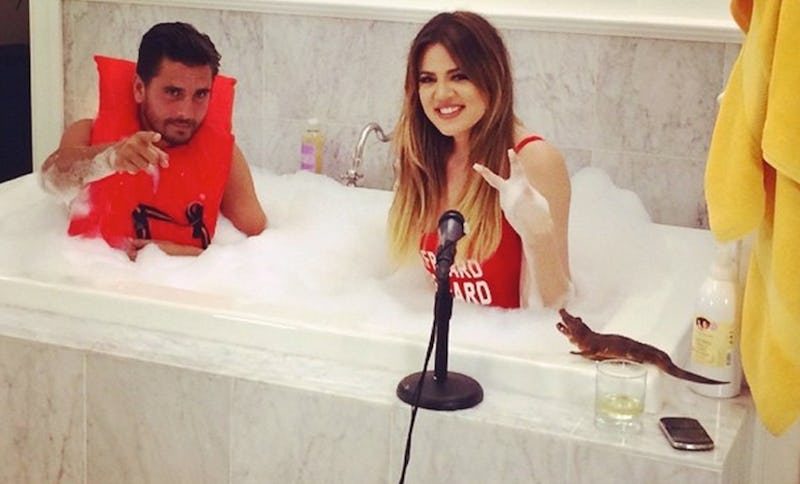 There are few reality TV pals that are more entertaining than Lord Disick and Koko. Especially after Khloé Kardashian and Scott Disick instagrammed a picture of themselves hanging out in a bathtub together — life vest and all — on Friday night. It was a pretty funny photo, with Khloé dressed in a red lifeguard swimsuit and Lord Disick wearing the aformentioned orange life vest. "Lifeguard on duty! #SurfBoardSurfBoard #PrivatePartySwim #TheLord #TheLady," Khloé captioned the picture. Later Scott posted the same snap and captioned it, "Repost! The Lord and his lady! @khloekardashian thanks for saving me, #hardtimesinthetub."
It's always fun to see the two hang out, especially in the wake of the news that Scott was hospitalized for alcohol poisoning in May. Supposedly he's back on the wagon now, and having the support of his ladylove Kourtney's family will certainly help.
But Khloé's relationship with Scott is way more than just a helping hand in a time of need. This is a pair that had to fight for a friendship, so to see them taking goofy selfies together is a sight for sore eyes. Especially since the two have struggled in their personal lives so much lately. Keeping Up With The Kardashians has detailed the breakdown of Khloé's marriage and the death of Scott's parents. So they need each other more than ever now. From bathtub selfies to a supportive conversation, here are 7 reasons why Scott and Khloé's friendship makes watching KUWTK the best.
THEY HAD TO WORK FOR IT
Khloé hated Scott for like half the show. She hated him to the point that it actually hurt her relationship with sister Kourtney Kardashian. But as Scott improved and showed he could be a good dad and boyfriend she warmed up to him and now they're pals. The fact that they had to work hard to be close makes their relationship mean that much more.
THEY LOVE TO PLAY PRACTICAL JOKES
Auntie Kris, it's me! Todd Kraines! Never not funny.
THEY'RE SUPPORTIVE OF EACH OTHER
In the more recent seasons of KUWTK, Scott has addressed that sometimes it's even easier for him to go to Khloé with his problems than Kourtney. Khloé is easy to talk to and helps him work through things. Such a 180 from where they started!
THEY UNDERSTAND EACH OTHER'S INFLATED EGOS
Lord Disick has a pretty big head on his shoulders, but instead of making fun of him for being self-obsessed Khloé is right there with him.
THEY EAT CRAPPY FOOD TOGETHER
The best kinds of friends are the ones who don't judge each other for eating bad food.
THEY HAVE NICKNAMES FOR EACH OTHER
Khloé calls him LD (short for Lord Disick) and Scott calls her Tootsie Roll. Seriously sweet.
AND NEVER FORGET, THEY'RE JAIL BUDDIES
When Scott's 31st birthday rolled around, Khloé marked the date by sharing hers and Scott's mugshots from their younger days. She captioned the pic, "Happy birthday to my partner in crime @letthelordbewithyou I love you LD!!"
Truly the best of BFFs.
Images: imgfave; rebloggy; duke-gaga, fuckyeahdash/Tumblr; Khloé Kardashian/Instagram (2)