Why Did These Selfies Lead to An Arrest?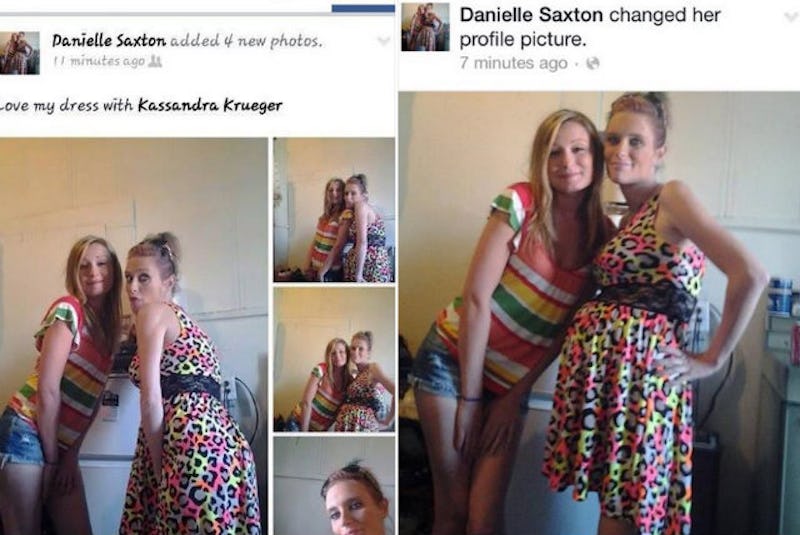 As a society, we love to share everything on social media, beginning with our morning coffee and ending with our flashy engagement ring selfies and endless photos of our newborn children. How much is too much? While some might argue that even cute pictures of your significant other is overkill, I think we can all agree that advertising illegal activity on the Web is a poor choice. Case in point: The woman who was arrested for shoplifting after posting a selfie of herself in a stolen dress. You can't make this stuff up.
Danielle Sexton, a 27-year-old woman from West Frankfort, Illinois, clearly needs a crash course in social media etiquette. Lesson #1: Don't post cutesy outfit photos featuring dresses you stole. According to Jezebel, Sexton was discovered after the owners of Mortie's Boutique wrote on Facebook regarding the theft of the dress along with additional clothing and jewelry. Other users quickly put two and two together once they saw Sexton posting photos (yes, MORE THAN ONE) in the dress, which is neon leopard print and pretty damn hard to miss.
She even captioned the photos "Love my dress," indicating that the dress was the entire purpose of the selfie photoshoot and not just a dumb mistake. Was this Sexton's botched application to the Tumblr Bling Ring? I can think of no other reason to advertise your criminal pursuits on the Internet unless you're seeking entry into an exclusive online club of idiots who who photograph their illegal activity.
The moral of the story? Don't steal and selfie, kids. Or do. It makes you super easy to catch.
Images: Mortie's Boutique/Facebook