8 Things You Need to Know Before 'Under the Dome' Premieres on CBS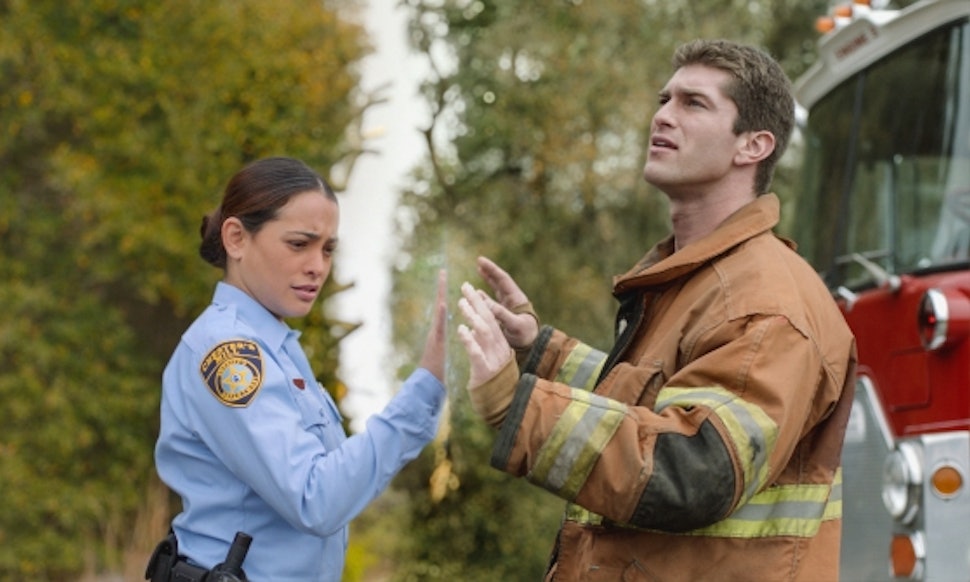 On June 24, CBS will premiere its new 13-episode series 'Under The Dome.' Typically, any scripted show airing on a major network over the summer means it was either a) canceled and burning off its extra episodes, or b) wasn't good enough to make fall schedule and got pushed back to a less competitive time. 'Under The Dome' is a notable exception to this trend. The anticipated drama/thriller was always intended to air in the summer, and is on track to be a hit. But before you decide whether to commit to over a dozen hours of television, here are some of the details you need to know about the miniseries. [Images: CBS]
What You Need to Know About CBS's 'Under The Dome'
On June 24, CBS will premiere its new 13-episode series 'Under The Dome.' Typically, any scripted show airing on a major network over the summer means it was either a) canceled and burning off its extra episodes, or b) wasn't good enough to make fall schedule and got pushed back to a less competitive time. 'Under The Dome' is a notable exception to this trend. The anticipated drama/thriller was always intended to air in the summer, and is on track to be a hit. But before you decide whether to commit to over a dozen hours of television, here are some of the details you need to know about the miniseries. [Images: CBS]
It's Pretty Much What It Sounds Like
The basic premise: A huge, transparent dome suddenly falls over a small town, cutting it off completely from the outside world. No one can leave, no one can get in, and even electricity and radio waves can't be carried through. 'Under The Dome' will follow the town's residents, as well as those on the outside trying to understand what exactly happened and how to fix it. The title pretty much sums it up, and it's definitely different from anything else on TV right now. Even if the Simpsons already did it in 'The Simpsons Movie.'
It's Based on a Novel by Stephen King
'Under the Dome' is a 2009 novel from King, which explains the show's small town New England setting of Chester's Mill. But it also means that the show has a lot of material to work with. The novel is about 1,000 pages, so there should be more than enough to fill 13 hours of television. Plus, you can count on King's signature suspense.
It's on CBS
It's a bit surprising to hear that 'Under The Dome' will be on CBS this summer. Cable channels tend to air big summer series (think TNT's 'Falling Skies' or the 'Pretty Little Liars' on ABC Family), and Stephen King... well, it's hard to picture one of his books as a network show. ABC might have pulled it off in 1994 with 'The Stand,' but can you imagine any modern horror series — 'American Horror Story' or 'The Walking Dead,' for example — airing on any of the major networks? That said, since the premise of 'Under The Dome' doesn't exactly scream violence, and it's on at 10 p.m., it could still be suspenseful and a little scary. Just think the more psychological scares, not bloody scares.
It's Got a Great Cast
First, there's Dean Norris — otherwise known as Hank on 'Breaking Bad' — as Big Jim, the city councilman left in charge when the dome drops. There's also Rachelle Lefevre, who you might recognize as VIctoria from the first two 'Twilight' movies (before she was replaced by Bryce Dallas Howard). Another notable actor is Mike Vogel, of 'Cloverfield,' 'The Help' and most recently, A&E's 'Bates Motel.' Basically, as many great actors as CBS can fit under one dome.
It's Got a Great Crew
The novel was adapted for TV by Brian K. Vaughan of 'Lost', and boasts both Stephen King and Steven Spielberg as executive producers. Jack Bender, who will also serve as executive producer in addition to directing a few of the episodes, is another 'Lost' alum. Hopefully, things won't get too crazy — we don't need a time-travelling dome. Then again, it's only 13 episodes, so how much could really happen?
It Will Break Your Heart
Just look at this photo. Sure, when you think of a town trapped under a dome, you might consider the obvious issues, like limited food or medical emergencies. And you know there will be a few couples separated on either side of the glass — that's a given for a TV show. But a little boy and his dog separated? That changes everything. If nothing else, we'll be watching to make sure these two are reunited.
The Website is Fittingly Creepy
If you log onto the show's website on CBS.com and zoom up on the night sky, the site will ask for your address. If you enter it, you get a nice satellite view of your house — under the dome. Get it?
Think of it as a Miniseries... For Now
CBS is promoting the show as a sort of miniseries, with 13 episodes guaranteed to air this summer, and it's been called a "limited series" a few times. But its creators seem to be holding out hope for an additional future season. If you watch the show and enjoy it, be happy to know that it'll definitely get to finish its first season. Anything else — well, that's just a nice bonus.