Andi Handled This Terrible Rumor Really Well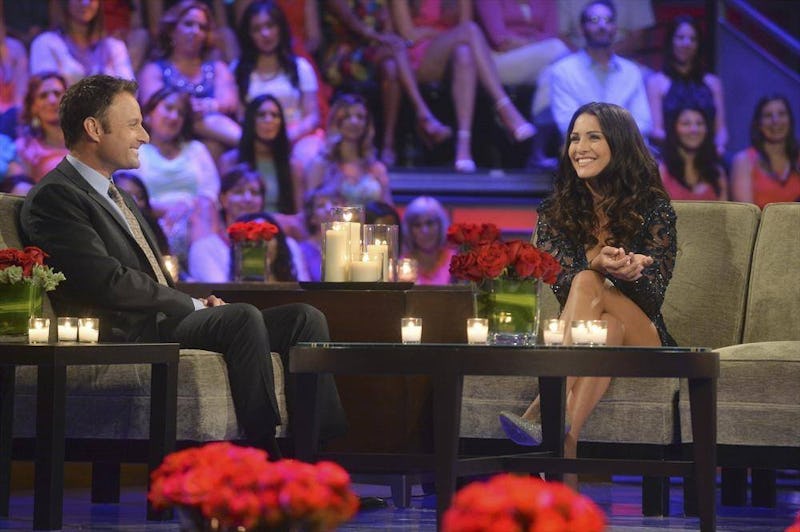 Andi Dorman stayed her usual classy self when on the Bachelorette: The Men Tell All Monday, especially when she had to confront a particularly nasty rumor. In Touch ran a story saying that Andi had gotten pregnant on the fantasy suite date and she didn't know who the father was. As with most tabloid rumors, it's completely false, if not also pretty hurtful. Fortunately Andi took it all in stride. When the rumors first broke she responded on Twitter with a light-hearted joke saying, "I love learning from a "magazine" that I am "pregnant." Too bad my cramps didn't get the memo :("
Then on Monday night's Men Tell All episode she addressed the rumors again after Chris Harrison asked her about them. He even joked that she could prove it one way or the other using the ultrasound machine that Ashley and J.P. Rosenbaum used at the top of the show. (It was weird, don't ask.)
"I am not pregnant. Mom, don't worry. Dad, I'm not pregnant," she said laughing. Then she addressed what it's like to see those kinds of stories written about her. "It's kind of surreal to read it and it's crazy how much stuff is made up," she said. "I remember reading the article and I was like whatever, you've gotta laugh at it otherwise you'll drive yourself crazy."
Backstage at the Men Tell All taping, E! News reports the Bachelorette made light of the cover story which featured her next to Kate Middleton and Angelina Jolie with the headline "3 Babies on the Way!"
"I remember saying, 'Alright, this is the close as I'll get to Kate Middleton!' Which is on the cover of a magazine," Andi said of the cover. "I'm like, that's totally false, but that's OK because I'm next to Kate!"
We're glad Andi was able to fend off the rumor with humor. And maybe for this one time she'd even borrow the Juan Pablo phrase and say "ees okay," because she's beaten the tabloid drama with nothing but laughter.
Way to go, Andi!
Image: In Touch; ABC