Could She Be 'Arrow's Next Big Villain?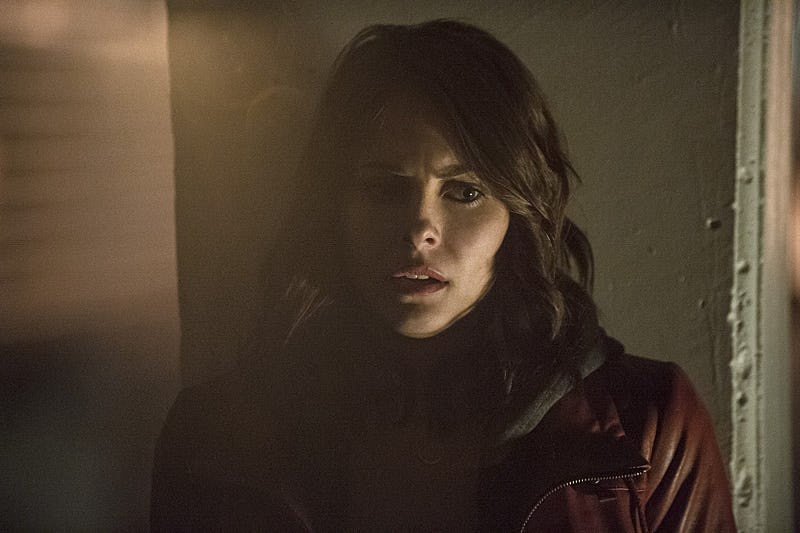 Oliver Queen has faced many formidable foes during his island and post-island days, but Arrow Season 3 may find our favorite hooded archer targeting someone a little closer to home. We're, of course, referring to Oliver's not-so baby sister, Thea Queen, who during last May's Season 2 finale decided to hit the road with her long-lost Dark Archer father, Malcolm Merlyn. And something tells us their final destination didn't end up being Disney World (though it totally should've been).
No, chances are Thea has signed up for a crash course in the ways of Dark Archery 101 (not to be confused with Intro to Bowing), making it completely plausible for her to return to Starling City as Season 3's new Big Bad. And you have to admit, it'd make for a pretty compelling plot twist.
But if the idea alone isn't enough to convince you, even Arrow's official press release makes it sound like this vigilante is in for a surprising new nemesis, stating that "Rivalries and allegiances will shift as Oliver faces his most difficult challenge yet." And what could possibly be more difficult than realizing your little sister is now a supervillain? After all, this show does pride itself in its ability to shock us.
Ugh, this scene. RIP Moira.
Oliver had a hard enough time battling his former friend, Slade Wilson, last season, so forcing him to go up against his last living family member (that we know of) would leave this Green Arrow in a very tight bind indeed (and not the kinky, good kind either). Even John Barrowman, who plays Malcolm, has hinted that his character has pretty big plans for his darling daughter now that Roy's betrayal left her in a such a vulnerable state.
"Malcolm is getting right in there with Thea at her emotional low to try to control and manipulate her and do his best to make her the toughest cookie that she can be and also to have some control over her."
Sounds like some serious protégé potential to me! Not that I'm complaining though. Arrow has always done a wonderful job of creating strong, independent female characters who are just as capable of doing the saving as having to be saved. Whether it's with using tech smarts (Felicity) or mortal combat-type moves (Sara), the ladies of this show have proven they can kick some serious butt when duty calls. And now that Laurel could potentially be filling into her sister's Black Canary shoes, it would be just as exciting to see a similar empowerment coming from Thea — even if it's in a much darker context.
Let's face it, Thea has already proven that she's more than capable of villainous acts when she fired a gun at Malcolm after he'd just saved her life. Granted, he's done a few horrible things in his life, so maybe he had it coming. But the mere fact that she was able to pull that trigger proves just how like him she really is, especially if she's led further down this corruptible path. And as many fans have already noticed, Thea is no slouch when it comes to the ways of archery. Just look at her impressive collection of trophies…
Something tells us that with a little extra training and guidance she could end up being as good as Oliver — maybe even better. But just because Thea's potentially taking a trip down the darker side of justice, doesn't necessarily mean we've lost her forever. Villainy can always be redeemed.
There's still plenty of time for her to become the Speedy comic character we've all suspected she'd eventually grow into. (After all, Oliver coining her with that nickname was no mere coincidence.) In fact, they could end up making a pretty dynamic crime-fighting team down the line. But until that time comes, we're much more intrigued to see how Oliver will handle this sibling rivalry if Thea becomes his next target, or better yet — if he becomes hers. Let the showdown begin!
Images: Cate Cameron/The CW; rebloggy; Jack Rowand/The CW; mangemaprepa, olicityforever55, jameslawrences/Tumblr