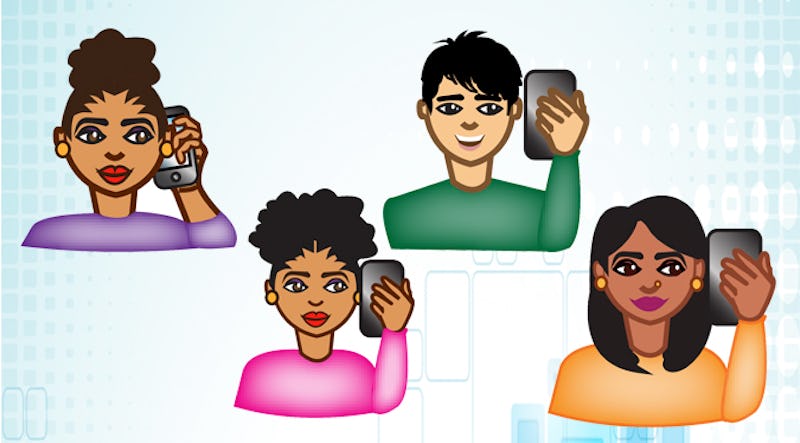 We're not the only ones who were upset that the new emojis announced a month ago kept up with the same old lack of diversity we've been struggling against since the images first became a part of our cultural lexicon. But you know what? There's a solution to the problem. There has been since October. I don't know how it took so long for it to float across my radar, but I'm really glad it has. A new diverse emoji app called iDiversicons is an app that offers over 900 emojis — including same sex couples, interracial couples, hand symbols with different skin tones, heads with different hair styles, head coverings, and piercings, and more. The app even tackles gender stereotypes, with images representing things like female construction workers and male nurses.
According to the Daily Dot, creator Katrina Parrott was a Program Manager at NASA until she was laid off last year (stupid economy. Grrrrr). But her daughter came home from college and asked, "Why don't emoticons look like the person sending them?", she decided to put her newfound free time to work. Parrott didn't have any prior experience coding, but she bought Apple's Developer Program and hired an illustrator. The initial result, iDiversicons, hit the Apple App Store in October of 2013. Said Parrott, whose own family is African American, to the Houston Chronicle, "One thing we wanted was an app that represented not just African Americans; we wanted one that represented the world. We wanted all people to be able to find an emoji that looked like them." Hear, hear!
But there's much more in store for iDiversicons. In May 2014, Parrott raised over $2,000 both to improve the Apple version of the app and port it over to Android. iDiversicons hit the Google Play store on June 25. True, getting your emojis out of the app isn't quite as convenient as picking them out right in your text message screen; instead, you have to open the app, find the emoji you want, highlight and copy it, and then go back into your text message draft and paste it in. But a few extra seconds is a small price to pay for something this awesome — and necessary.
For their part, Apple has acknowledged the lack of diversity in its "official" emojis, as well as the fact that it's a problem; wrote Katie Cotton, Apple's vice president of worldwide communications, in an email to MTV, "We agree with you…. There needs to be more diversity in the emoji character set, and we have been working closely with the Unicode Consortium in an effort to update the standard." But we haven't seen any actual results from them yet, and they'll probably be a long time coming, anyway. I'm really happy that Parrott is on top of the whole thing, though; the Daily Dot reports that she pitched her product to the Unicode Technical Committee in May, with a follow-up scheduled in August to hear the decision. She's also reached out to Apple in the hopes of forming a partnership. Our fingers are definitely crossed for her.
Oh, and also? Parrott takes requests. iDiversicon's hot dog emoji, for example, is the result of a petition; and although each new emoji takes time to create, Parrott is totally open to hearing new ideas. Think maybe she can help us out with our ideas for cheese, Grumpy Cat, and Crazy Eyes emojis?
Images: iDiversicons; OMG!reactions/Tumblr