You Need To Watch the 'Dear White People' Trailer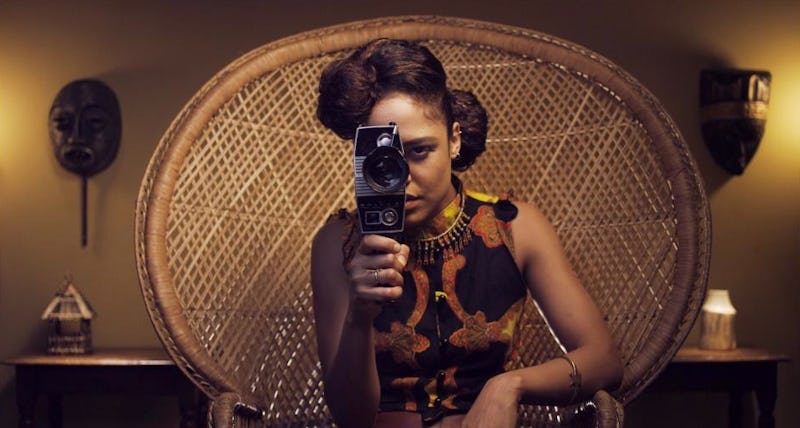 How are you supposed to feel after watching the new trailer for Dear White People ? Amused? Incited? With a whole lot to say about Iggy Azalea or Miley Cyrus? Is there even a "supposed to" when it comes to Dear White People? Or should we just sit forward and listen?
Whether they're deeply cathartic, revelatory, or just a good way to spend a few hours in high-blast air conditioning, there's no denying movies have a certain magic. In fact, the magic of cinema is a downright cliche at this point. But I've been reminded of its validity with certain films this year. As a biracial woman who's always loved Austen adaptations but never been able to find myself in them, Belle was a catharsis I've rarely felt in the movie theater. As a human who grew up American in the 2000s, Boyhood tracked something beautifully familiar in an epic way. I've never had an abortion, but Obvious Child was hilarious and heartfelt in its depiction of one woman's story.
Movies can do a lot, and they can certainly make us feel a lot — that's their point. I'm not just talking The Fault In Our Stars wracked sobs, either: Dear White People is going to make a lot of people feel a lot of things, and each new trailer proves that even more.
The first official Dear White People trailer, released last month, did a pretty great job of introducing the base of the satire the film traffics in. This new trailer, over a minute longer than the first, does an even better job laying out the racial dynamics — and racial complications — that Dear White People is working to address.
I know Dear White People is going to be just as cathartic and revelatory as I'm hoping it will be because in less than three minutes, the trailer represents more variations of the "black experience" than I have seen watching a year's worth of blockbusters. There is no guidebook for blackness, after all. Hell, even the "bougie Lisa Bonet wannabe" can enjoy Taylor Swift in between racial tirades.
Check it out:
Image: Code Red