Making Love, Not War In Israel & Palestine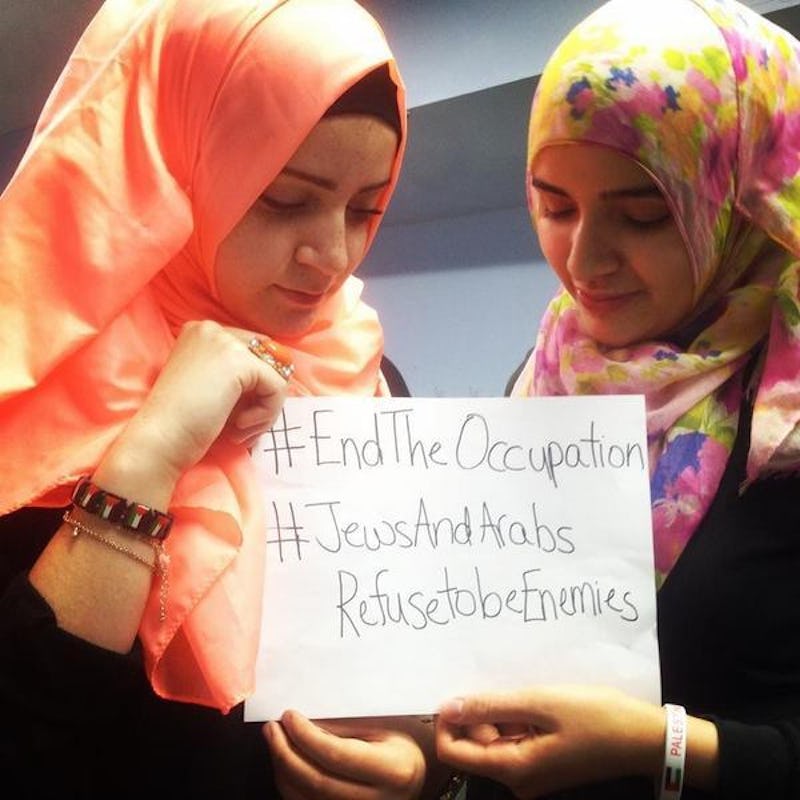 After two weeks of violence between Israel and Hamas, which has claimed at least 570 Palestinians and 27 Israelis so far, people from both sides are pleading for an end to the bloodshed. Earlier this month, around 300 people participated in a demonstration in Haifa, Israel, dubbed "Jews and Arabs Refuse to Be Enemies." Now the same phrase has evolved into a hashtag, and it's being used by thousands of people in an international social media movement calling for peace.
The ongoing unrest stems from the kidnapping and murder of three Israeli girls in June, which was followed by 10 days of air strikes, a failed ceasfire, and Israel's ground invasion of Gaza last Thursday, resulting in the deadliest day since the fighting started for both sides.
As the world watched in horror, one group is refusing to be silent spectators. Thousands of people — Jewish, Arab, and otherwise — have come together in solidarity to convey messages of love, tolerance, and peace using the #JewsAndArabsRefuseToBeEnemies hashtag. Users have been posting to both Twitter and Facebook pictures of spouses, friends, and family members along with the hashtag and various other messages of peace. Many of the people make up Jewish-Arab couples or are both Jewish and Arab in ethnicity — human proof that Jews and Arabs don't have to be enemies.
The #JewsAndArabsRefuseToBeEnemies movement was started by two Hunter College students, Abraham Gutman, who is from Israel, and Dania Darwish, who is from Syria, as a way to promote peace amid the violence. People from both sides are encouraged to share messages and photos of love, which seem to collectively say, "Violence is not the only solution."
"The campaign exists in a sense in Israel, the slogan has been alive for years in Hebrew," Gutman told ABC News. "We wanted to use that same slogan, to strengthen it, to show the international community that we don't have to be enemies."
Images: @MaryTommo_1D/Twitter, Jews & Arabs Refuse to Be Enemies/Facebook