They've Outdone Themselves With This Video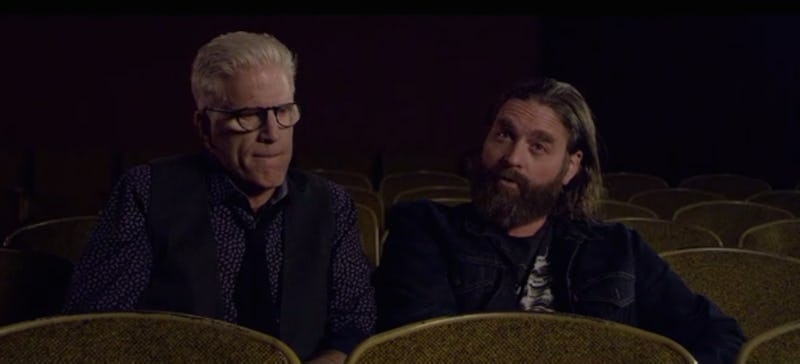 Maybe I'm biased because The National, Mistaken For Strangers, and Zach Galifianakis in any sort of project with Ted Danson (but mostly Bored to Death) are a few of my very favorite things in the world, but this is probably one of the best videos ever seen on Funny or Die. At least, it's got to be in the top ten. First things first: If you haven't yet listened to The National, go do that right now. Every song. Then, go watch Mistaken For Strangers, the documentary covering The National's "High Violet" tour that was released earlier this year and filmed by frontman Matt Berninger's brother, Tom. It's regarded as one of the best rock documentaries ever, and, for those who haven't listened to the band or are just casual fans, it's at it's core a story about two brothers who, despite how different they are, find a common bond with one another and learn to understand each other — touching stuff. After all of that, you can now fully enjoy the following Funny or Die clip, which includes Zach Galifianakis and Ted Danson starring in a musical version of Mistaken For Strangers on stage.
Yes, the concept is as weird as it sounds.
Galifianakis and Danson, who, of course, previously worked together on HBO's tragically cancelled-too-soon series Bored to Death, take on the roles of Matt and Tom for a stage version of the movie in the clip — Danson portrays Matt, and Galifianakis portrays Tom. For the sake of preserving the hilarity of the video, I won't give too much away, but just know that Shrek is involved, and Matt and Tom make appearances to assist Danson and Galifianakis with getting into character. Check it out below.
Image: Funny or Die