#TBT Reads: Your Favorite Childhood Summer Books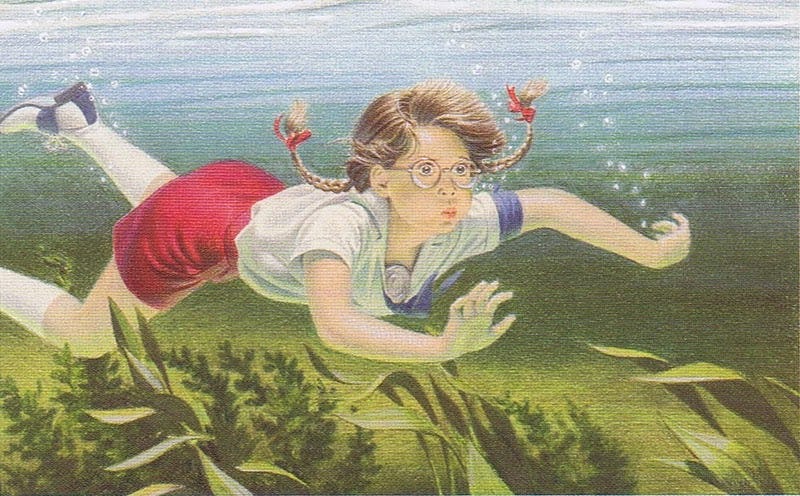 What's even better than a good summery book? A good summery book with pictures showing you just how awesome summer is. Watching our favorite picture book characters enjoy their summer vacations was a perfect inspiration for our own. We'd pack them for our beach getaways and mimic some of their adventures (just me?). I wanted desperately go to summer sleepaway camp like one of the book characters, eat sno-cones by the surf, or dance in the rain with others.
And the best part was the pictures showed you all of it. Some of the real stars here were the illustrators who were able to make us jealous of all these characters' summer fun.
These 10 children's picture books are some of the quintessential summer books of childhood. Some star familiar characters, and others are perfect standalone books. But they all capture that summer spirit that's good to remember even as an adult. Who says we twenty- and thirtysomethings can't collect sea shells and gobble down ice cream cones 'til our faces are smeared?
So to inspire your summer before it's too late, check out these 10 picture books. And the benefit of picture books? They are shorter, so you don't have to choose just one.
The Bears' Vacation by Stan and Jan Berenstain
Hooray! Hooray! We're on our way! Our summer vacation starts today! Before Brother had Sister Bear he was just Small Bear, and Papa had to teach him how to be safe on his summer vacation. Of course, it ended up being the other way around. Mostly, I remember desperately wanting a little pink-roofed cottage directly on the beach like the Bears had.
Harry by the Sea by Gene Zion, pictures by Margaret Bloy Graham
Basically you can't go wrong with the puppy + beach combination. Harry is an adorable dog who just wants a place to hide from the beating sun, but no one will let him under their umbrella or in their sandcastle. (Um, what are you thinking, beachgoers?) As an adult, this makes me more sad than probably necessary, but when he's covered by a wave, topped with seaweed, he's cool, but everyone thinks he's a sea monster. Luckily, it ends up a-OK for Harry, thank goodness.
Come On, Rain! by Karen Hesse, pictures by Jon J. Muth
Speaking of seeking some relief from the summer swelter, Come On, Rain! is the perfect summer book for those city kids (myself included) who couldn't just take a quick jaunt to the beach to cool off. The illustrations are straight-up gorgeous and it really captures the cleansing and rejuvenating experience of a good solid downpour.
Molly Saves The Day, in the American Girls Collection
It says right on the cover: A Summer Story. And I have to say this is probably the summeriest of all the "Saves the Day" American Girls books. What's more good, old-fashioned (quite literally) American summer than a rousing game of Color War at your summer camp?
Henry and Mudge and The Forever Sea by Cynthia Rylant, pictures by Suçie Stevenson
I still hold a special place in my heart for all Henry and Mudge books, but this one really captures summer so well that it stands out. Their hot, sunny beach day is full of dancing around in the waves, gobbling down hot dogs, devouring sno-cones, and — man, I have to stop before I get too jealous. Just trust me, it's picture perfect.
Nate the Great and the Boring Beach Bag by Marjorie Weinman Sharmat, illustrated by Marc Simont
Growing up, Nate and his trusty sidekick, his dog Sludge, were my favorite young sleuths along with Harriet, Nancy Drew, and Cam Jansen. This time, it's a mystery at the beach! Nate's pal's plain blue beach bag has gone missing, and his special seashell is still inside. And all the usual suspects make cameos, like Annie and her dog Fang.
One Morning in Maine by Robert McCloskey
Robert McCloskey's works are close to perfect, and in One Morning in Maine, he truly captures that feeling of a day on the island in Buck Harbor. You'll seriously practically be able to feel the ocean breeze, as Sal starts the day with a loose tooth and spoiler alert: It only gets better from there.
The Relatives Came by Cynthia Rylant, illustrated by Stephen Gammell
For many of us, summer meant a chance for all of the relatives to gather. And in The Relatives Came, they all gather in their rainbow-colored station wagon, but there's no hard feelings here; everyone is so excited and content to see each other and only sad when they leave. There's banjo strumming, watermelon eating, and so much summer fun all tied together by the strong bonds of family.
Arthur's Family Vacation by Marc Brown
Everyone's favorite aardvark and his family are having some summer vacation struggles. Arthur is upset because his friend Buster can't come, then their room is super tiny, and the pool is smaller than their bathtub, according to D.W. To top it off, it rains. But look, do you think Arthur is going to settle for disappointment? No, he takes charge and the whole clan ends up having the best time.
Amos & Boris by William Steig
I am probably biased because I think William Steig was one of the best children's book creators ever, but this story of friendship on the high seas is one of my favorite summery stories. Amos is a mouse and Boris is a whale, but they form an unlikely partnership after Amos sets out on the ocean in his mouse-sized homemade boat. This, as those familiar with the ocean will know, doesn't work out too well, and Boris steps in to save him. But later on, Amos is able to return the favor to Boris. Steig's book is gorgeous and surprisingly poignant, so it's an absolute must-read for those who haven't already.
Image: inkheart1/Flickr