You Can Now Call Saul Goodman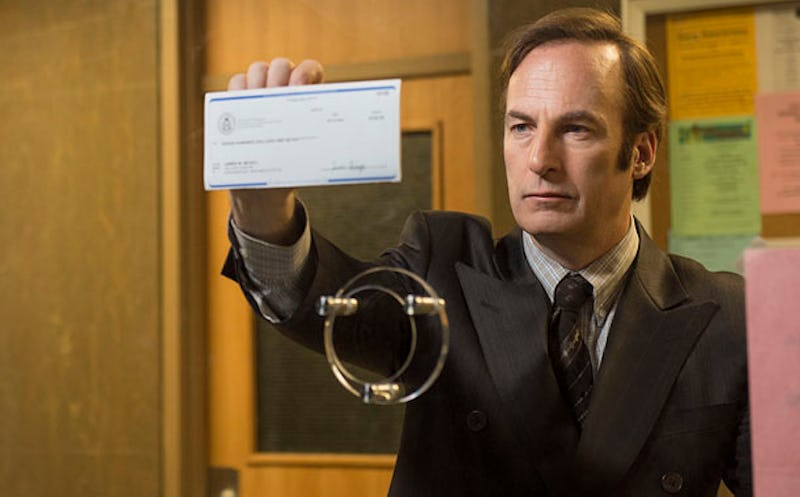 There are only two emotions one can have when thinking about Better Call Saul , the upcoming Breaking Bad spinoff show about Saul Goodman: huge, uncontainable excitement, and equally huge, nerve-wracking dread. For as great as the idea of a show based on one of cable TV's wackiest characters ever is, the execution of it is a lot less promising; in the best cases, spinoff series barely live up to their predecessors, and in the worst cases, they tarnish both shows' good names. It's unclear so far which one Better Call Saul will be, but if the series' latest marketing campaign is to judge, there's reason to hope that Breaking Bad fans might just have a new favorite show come 2015.
As spotted by an Albuquerque resident on Monday, there is now a Better Call Saul billboard — or, more accurately, a James M. McGill, attorney at law, billboard looming large above one of the city's highways. The sign features a photo of the man later known as Saul Goodman, sporting a wide smile and a hairstyle fitting for 2002, not to say his locks in later years were much trendier. The best part, though, is the phone number listed along the bottom; if you call it (and manage to get through the busy signal), you reach the voicemail of the burgeoning lawyer, a message set by either his secretary or him in a high-pitched voice, that goes:
"Hello! You've reached the law offices of James M. McGill, esq, a lawyer you could trust. Kindly leave your information at the tone, and Mr. McGill will call you promptly."
Nothing too dramatic (although the "a lawyer you could trust" part is a nice touch), but still, knowing that you're calling the law office of the future Saul Goodman is pretty exciting. Other movies and TV shows have gone the phone line route before — Arrested Development fans could text "ANN" to find out when the show premiered, Breaking Bad's own Aaron Paul called fans just for fun — but there's something about calling Saul Goodman, the craziest, most corrupt lawyer TV's ever seen, that makes one feel pretty damn cool. And as a marketing ploy, it's great; what Breaking Bad fan wouldn't be itching for the show after calling the number?
There's still reason to be nervous for Better Call Saul, of course. Spinoffs are always risky, especially ones based on shows as beloved as Breaking Bad. Unfortunately, there's a real possibility that the show will pale in comparison to the original. Still, the billboard and the phone number gives me hope, especially since it's establishing for certain that the series is focusing on a Saul so different than the one Bad fans know that it likely won't even feel related. Maybe, just maybe, Better Call Saul could be the show to fill the void in Breaking Bad's fans hearts that's existed ever since the AMC drama went off the air last September. Nothing could ever replace Walt and Jesse, but the saga of Jimmy McGill might be the closest thing we're ever gonna get.
Check out the billboard below:
Images: AMC; i_am_billytapia/Instagram