More Details on 'Better Call Saul'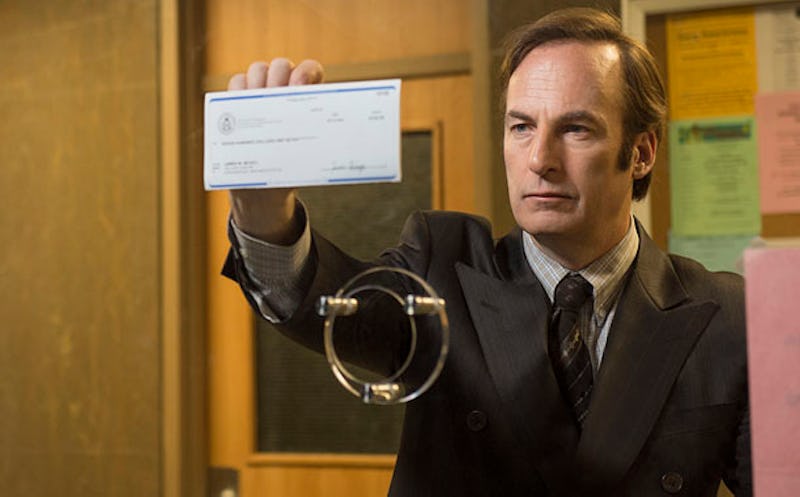 We won't get to see the Breaking Bad prequel until 2015, but to tide us over, AMC has released two new photos and the Better Call Saul cast list. Ever since the announcement of the Breaking Bad spin-off, we've been speculating who will join series stars Bob Odenkirk and Jonathan Banks in the show. There was hope that Aaron Paul would reprise his role as Jesse Pinkman, at least briefly, something Paul was initially all-in on — but recently the actor has made comments that pretty much put the nail in that coffin for both his character and Bryan Cranston's Walter White. "There's no plan of Jesse or Walt making an appearance in the first season of Better Call Saul," Paul told HuffPost Live. Writer/producer Vince Gilligan is a little less damning about Walter showing up. "If it makes sense we'll do it, if it doesn't make sense, we won't," Gilligan told Entertainment Weekly.
Another Breaking Bad character who could end up in the prequel? Gus Fring. Vince Gilligan and fellow writer/producer Peter Gould teased, "There's always a chance, yeah." Gould elaborated saying, "With Gus, there is so much more to say about that character."
But what about the series newcomers? We know Better Call Saul can't be full of only Breaking Bad actors, so AMC has confirmed four new actors who are now on board with the prequel.
Michael McKean as Saul's Brother Chuck (aka Dr. Thurber)
Dr. Chuck Thurber is Saul's brother and is described as a "brilliant attorney in his 50s." Gould is very excited by the casting choice saying, "We have these two comedy legends working together." Check out the brotherly duo in this new production still:
Rhea Seehorn as Kim
The Franklin & Bash actress is set to play Kim, though not much is known about her. When the character list was originally unveiled, no such character existed. But there was one named Beth, so perhaps they've since changed her name to Kim? That character is described as a lawyer whose life is "complicated by her romantic entanglements with somebody else at the firm."
Patrick Fabian as Hamlin
The actor has appeared on a number of television shows like Criminal Minds, The Newsroom, and Grey's Anatomy. He'll be playing a character who is a "Kennedy-type lawyer in a white-shoe law firm."
Michael Mando as Nacho
Yeah, that character name is awesome. Mando is best-known for his work as in Orphan Black (which totally got snubbed in the Emmy nominations, by the way) as Sarah's ex-boyfriend Vic. Nacho was also not on the originally released character list, but it's possible he's playing the renamed Eddy who is a "smart and calculating criminal who knows the ropes."
In addition to the cast list, we learned a couple of other things about the highly anticipated series. Like the reason for the premiere delay. Originally scheduled for November 2014, it got bumped to 2015 because, Gilligan says, "I am slow as mud as a TV writer." Also worth noting is that Odenkirk's character Saul Goodman isn't actually called that. In fact, the lawyer starts out as Jimmy McGill and the show will track his journey to the Saul Goodman we all know and love today.
I would say get excited, but try not to get too much so because we still have awhile to wait to see the first episode. But hey! At least we have those two photos and a cast list to tide us over for the time being.
Images: AMC (2); Getty Images (3); BBC