Emily Thorne Is Moving On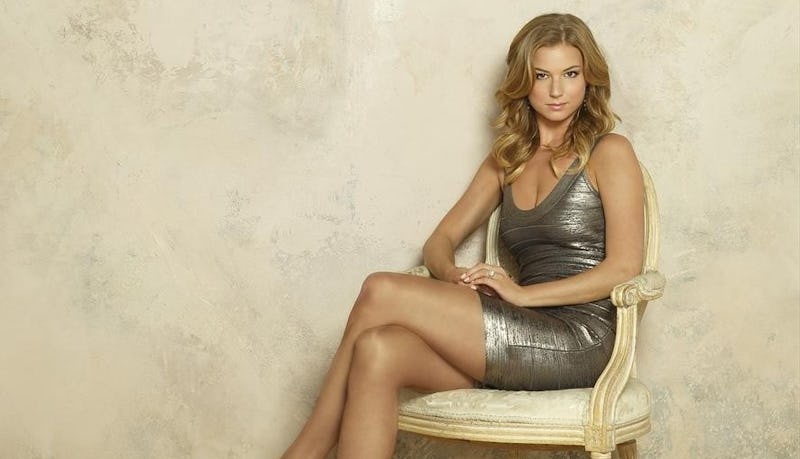 Rumor has it that Emily Thorne is getting a new love interest on the next season of Revenge, in fact TV Line reported that Brian Hallisay was cast in Revenge Season 4. With a heavily reoccurring role in the first half of the season, Deadline says that Hallisay will be a regular Revenge cast member by the second half of the show. The new guy will play Ben, a close friend of Jack Porter and a local Hamptons cop. His character is said to be easy-going and fun-loving, which isn't exactly Emily's type, but it will be a welcome change for sure.
We are finally seeing Emily get a love interest that we are probably going to be rooting for (all signs point that way for now, anyway), but let's just hope he doesn't figure out the fact that she's been blackmailing virtually everyone in town and definitely has blood on her hands. Unfortunately, if the Season 4 rumors are true, that means there are no plans for Jack and Emily to finally get together this year. I guess we will just have to wait until the show premieres to get all the answers we are looking for, but until then, let's get to know exactly who Brian Hallisay is and where we know him from:
He's Married To Jennifer Love Hewitt
We all knew that JLH was married but no one really knew who Brian Hallisay was, until now that is. Hewitt and Hallisay met in 2011 on the set of Love Bites, an unaired NBC Pilot. They became coworkers when Hallisay was cast as Hewitt's ex-husband, Kyle Parks, on Lifetime's The Client List. The couple began dating in March 2012 and by June 2013 they had announced their engagement and that they were expecting their first child. The couple have one daughter together, Autumn James Hallisay, who was born in November last year.
Privileged
Maybe you don't watch The Client List, but you may have watched the short-lived, but very popular CW show, Privileged. Hallisay had a reoccurring role playing the wealthy Will Davis. Davis was neighbors with the Privileged Bakers and dating Megan's (Joanna Garcia) estranged sister, although he really wanted to be with Megan. Basically, it was on the CW, which mean everyone was dating and intertwined in crazy ways.
Primetime Appearances
While he has had a few major roles, Hallisay has been all over TV in guest starring roles. He has made appearances on Ringer, Without a Trace, Cold Case, Bones, Medium, CSI: NY, Body of Proof, Mistresses, and more.
He Used To Be On Wall Street
Before his acting career took off, Hallisay was actually working on Wall Street. He told StarryMag.com, "I was slaving away at that and I had a really good time with it, but it got to the point where I said, "You know, I had always dreamed about seeing what acting was all about and television." He was quite the businessman having grown up in Washington D.C. and earned his Economics and History Degree at Cornell University.
So, basically, Emily's getting a hot, smart cop in Season 4. Not bad.
Images: iVillage (GIF); CW; ABC (2); Getty Images