The 'Project Runway' Season 13 Judges Panel Is Full Of Familiar Faces Including Mr. "Make It Work"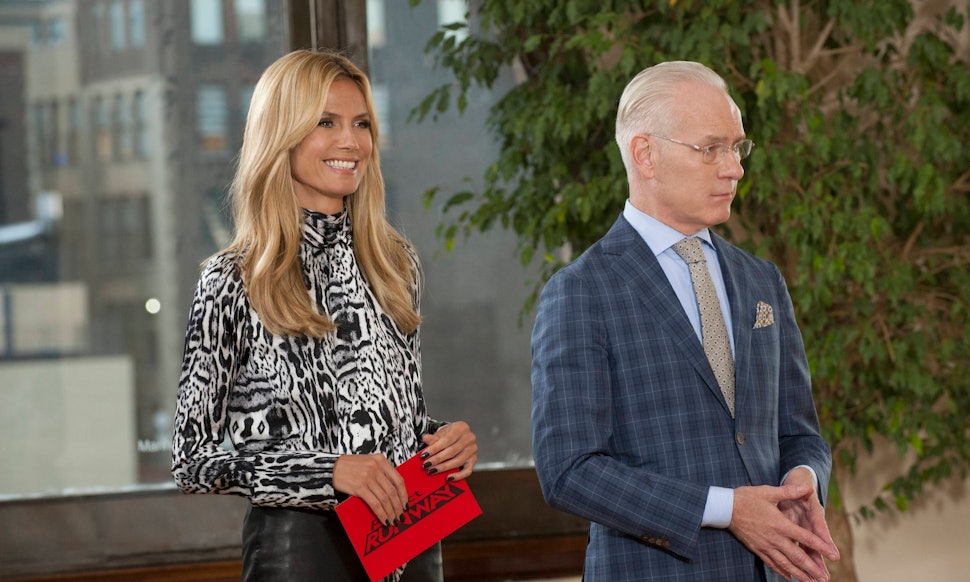 You've probably been craving the judgmental glares of a trio of mega stylish fashion gurus and dreaming of dresses made from only compostable materials, because Project Runway is about to begin its thirteenth season. Even though the show could use some new ideas (like Tim Gunn's amazing plus-sized models pitch), it's forever an old favorite.
At one time, entire blogs popped up around it, and it was a big part of the democratization of the fashion industry. That said, the real draw isn't just the contestants, but the judges who make the decisions about which looks are in... and which looks are out. And here are the fabulous faces we can expect to see this season alongside the ever pleasant Heidi Klum.
Heidi Klum
Heidi is back as both a judge and executive producer. She's the only judge who's sat on the panel in every season, every single episode, and has only gotten better with time.
Image: Barbara Nitke/Lifetime
Nina Garcia
Nina's coming back! And it's a good thing, too, because the sixth season, otherwise known as "That LA Season" or "Lifetime's Folly," where both Nina and Michael missed about half of the episodes, is the Project Runway equivalent of the dark ages.
Zac Posen
Designer Zac Posen will be back on the panel this year. He'll never truly replace the Michael Kors-sized hole in the show, but after an amazing showing at this year's Met Ball, Zac's proved he has the skills to be on that panel.
Tim Gunn
No, Tim won't be sitting on the judges' panel this year, but he will be given the power to "save" one designer from elimination, adding a little extra power to his usual mentor role. Though everyone on PR knows — if Tim is "worried" by your look, it's probably bad.
Awesome Guest Judges
This season's guest judges will include Elisabeth Moss (Peggy!), Julie Bowen (from Modern Family), Shay Mitchell (from Pretty Little Liars), snowboarder Lindsay Vonn, Dita von Teese, and Season 4 winner Christian Siriano.
Red Robin
The restaurant chain is sponsoring this year's 100,000 dollar prize, so those designers had better please the burger lobby.
Instagram Fans
Fans were able to vote on one of three previous designers they want to see return in Season 13, based only on the designer's Instagram posts of their recent work. Either Alexander Pope, Ken Laurence, or Amanda Valentine will be joining the cast in the premiere.
Image: Project Runway/Instagram
Good Luck, Season 13
With that many judges, these contestants have their work cut out for them. They'll have to please the fickle Heidi, restrained Nina, theatrical Zac, a bevy of guests and probably sew something out of garbage at least once.
Image: Barbara Nitke/Lifetime