Can Teresa Count on Psychic James Van Praagh?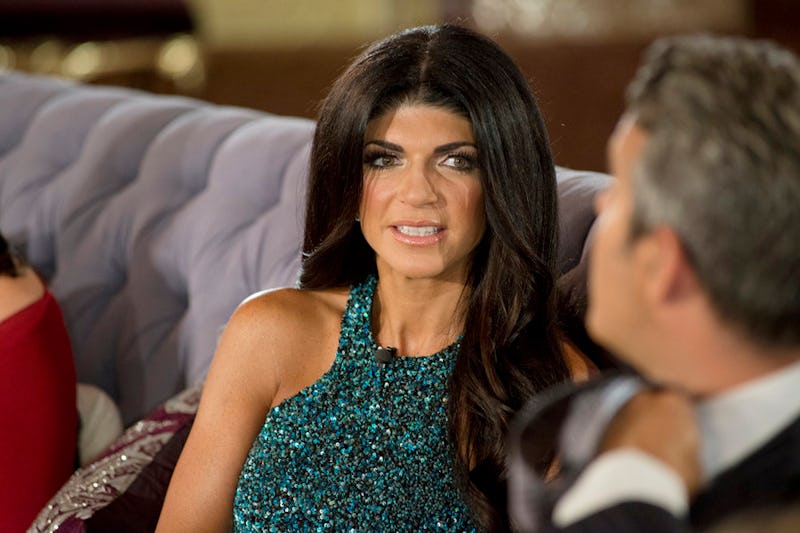 Things are not looking great for Teresa Giudice on The Real Housewives of New Jersey this season. Charged with a 39-count indictment in July 2013, Teresa and her husband Joe have had to confront the very real possibility of doing jail time. Because of this, fans have seen a much more mellow Teresa this season of RHONJ than we're used to (no table flipping here), who has been avoiding drama and seeking support from her loved ones. When you're faced with such enormous personal issues, sometimes you need other-worldly advice to help you get through them. Luckily, famous medium James Van Praagh will make an appearance on Sunday night's episode of RHONJ to help Teresa see things clearly during this difficult time.
Or maybe Van Praagh is actually going to deliver some bad news for Teresa. "I sense that things are going to be fine for you," Van Praagh says in the preview of Sunday night's episode. "Your husband, I'm not so sure about. I'm not sure he's going to get off with those charges." Uh oh. That's probably not what Teresa wants to hear since she seems to think everything is going to be fine for both her and her husband.
It may seem like Van Praagh is kind of a random guest to have on the show, but Teresa's RHONJ costar Dina Manzo has mentioned that she's all into that spiritual stuff, so maybe she became friends with Van Praagh during her journey. From the looks of this video, he seems to be pretty friendly with both Dina and Teresa. We can only hope his appearance will be as weird as when medium Allison DuBois puffed her e-cig at a dinner party on The Real Housewives of Beverly Hills.
Van Praagh is famous for communicating with the dead, connecting regular people with their loved ones, and also bringing through celebrities who have passed, such as Marilyn Monroe, Michael Jackson, and Princess Diana. He's also written some best-selling books whose covers either look like sci-fi thrillers or pamphlets you would find at a doctor's office.
Van Praagh has also helped bring the supernatural to the small screen by executive producing the Jennifer Love Hewitt series Ghost Whisperer and the TV movie The Dead Will Tell starring Eva Longoria. Ted Danson even portrayed Van Praagh in a mini-series about his life called Talking to Heaven.
He has also appeared on TV himself on shows like The TODAY Show, Dr. Phil, and Larry King Live. Van Praagh actually got into a bit of a feud with Barbara Walters after one TV appearance on The View in 2008. Walters told the audience a week after Van Praagh was on the show that he told her in private there was "something wrong with your blood" and with her lower back. After she got herself checked out with her doctor and the blood test results came back normal, Walters said Van Praagh told her it was "a dangerous thing to do." Van Praagh publicly stated how hurt he was by Walters' comments and felt vindicated when Walters underwent surgery for an aortic valve replacement two years later. "She owes me an apology," Van Praagh told Access Hollywood.
Walters' skepticism of Van Praagh wasn't the first time the legitimacy of his clairvoyant abilities has come under question, and it probably won't be the last. The James Randi Educational Foundation, an organization dedicated to educating the public about the truth behind those with paranormal abilities, is a constant critic of Van Praagh, and they challenged him to prove his abilities for $1 million. After Van Praagh read Josh Elliott on ABC's Primetime Nightline , the journalist was skeptical since all of the information Van Praagh brought up during the reading was available in an interview with Elliott published online. Van Praagh told Elliott he didn't search for him online before the interview. Van Praagh also had some trouble getting accurate readings when he appeared on 20/20 in 1998.
Whether or not Van Praagh's predictions about the Giudices' legal situation are accurate, his over-the-top personality will surely provide us with some entertaining TV on RHONJ. It doesn't take a psychic to see that.
Image: Andrei Jackamets/Bravo