Black Milk Clothing's Disney-Inspired Lookbook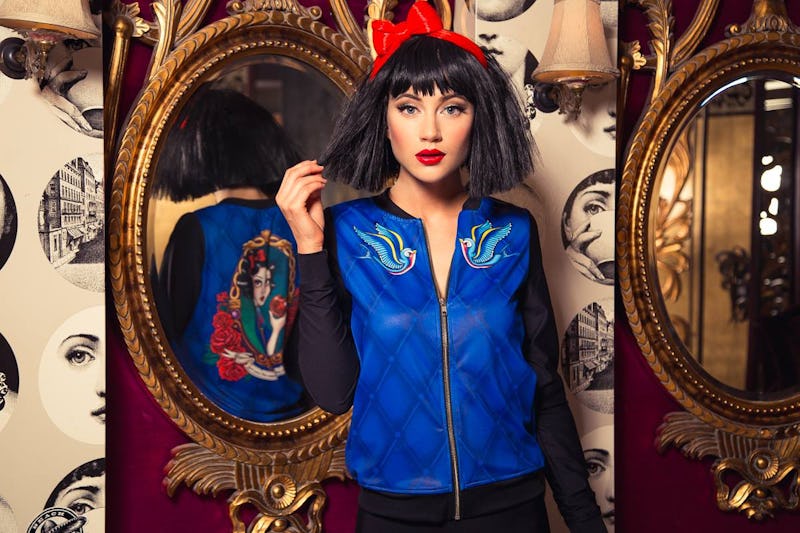 If you've heard of Black Milk Clothing's upcoming Disney collaboration (their adorable Princesses and Villains line), chances are you probably already have your wallet out. The line speaks for itself — personally, I didn't even have to look at the collection to know that I was going to be buying something from it. And once I actually saw some of the pieces (like those mermaid leggings and that Marie-from-The Aristocats skater dress)? I knew I was a goner.
But here's the final nail in the coffin: the Princesses and Villains lookbook. I mean, does it get any better than seeing the iconic Disney princesses reimagined in a modern setting? Especially when that "modern setting" happens to be "getting ready to go out to the club," right? There's Belle with a brunette take on Marie Antoinette's voluminous 'do, there's Snow White with a trendy razored bob, and Sleeping Beauty ready to stomp it out in giant platform booties — Cinderella even updated things with some blue eyeshadow to go with her dress. Meanwhile, Ariel kept her signature red beachy waves, and Alice is easily distinguished by her girlish black hair bow.
It's like seeing old (but super glamorous) friends! Let's take a look:
Cinderella
This updated take on Cinderella's ball gown is kind of perfection.
You could also take things even more literally with a dress printed with Cinderella's midnight flight from the ball. Just make sure to pair it with your best glass slippers!
Alice
Looks like Alice is paying homage to her frenemy, the Cheshire Cat.
Belle
Who doesn't like stained glass? Especially when it's inscribed with the Beast's tragic backstory.
Ariel
With those mermaid leggings and that shell-like bandeau, you've got a dead ringer for Ariel's signature look...
...or, you could shake things up with leggings printed with Ariel and all her friends.
Sleeping Beauty
Beauty sleep, indeed. Don't you love Princess Aurora's hot water bottle and sleep mask?
Snow White
Looks like Snow White here got caught in the middle of making an apple pie.
Finally, here's a group shot...
...and a behind-the-scenes clip of the models reenacting that infamous fan art of the Disney princesses posing for a gag photo:
Images: missbonniecee/Tumblr, bonniecee/Instagram, Black Milk Clothing