An Ode To 'Selena' In Honor Of JLo's Birthday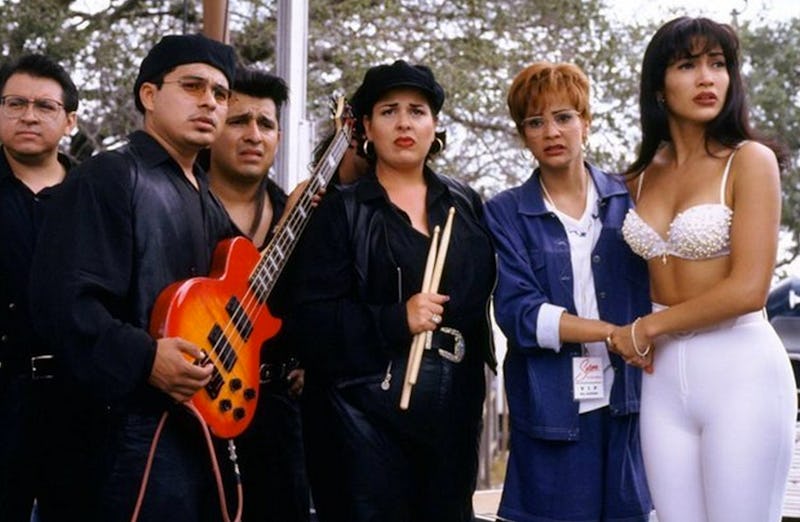 There is something very important we need to discuss today. It is Jennifer Lopez's 44th birthday. There will be countless articles, blog posts, and tweets this July 24 honoring the manic productiveness that is Lopez and her undeniably impressive career. But we are here to discuss Selena.
Lopez has done a lot since first breaking out in Selena. Like, a lot. So much. She jump-started her music career in 1999, something that's still going relatively strong considering the headlines her single "I Luh Ya Papi" made. She's starred in more than a few movies since Selena, too, and people seem to have forgiven her for Gigli much more than they have Ben Affleck.
But Selena was where it all started. She was a Flygirl on In Living Color before that, sure, and had a tiny role in 1986's My Little Girl,but Selena is widely regarded as her breakout. And yet we rarely talk about it, which is a bummer, because Selena's a bit of an underrated gem of a movie. In fact, I'd go so far as to say it remains Lopez's best performance.
And so, on this day of Jennifer Lopez's birth, let us look back on the glory that was Selena.
First off, the trailer
It opens with the American dream and shoulder pads.
Lopez's resemblance to the real Selena was aces
For real.
There was some A+ Pretty Woman-style attitude
They get a bonus for the racial context.
But what we really need to talk about is the CLOTHES
It turned me into a 12-year-old with a hankering for a collection of bejeweled bras.
The music was pretty great, too
They used Selena's voice.
Lopez's performance really sold the whole thing:
That whisper should be iconic.
Images: Warner Bros. [2]; Tumblr; The Hairpin; Rebloggy