26 of the Best Middle School Slow Dance Songs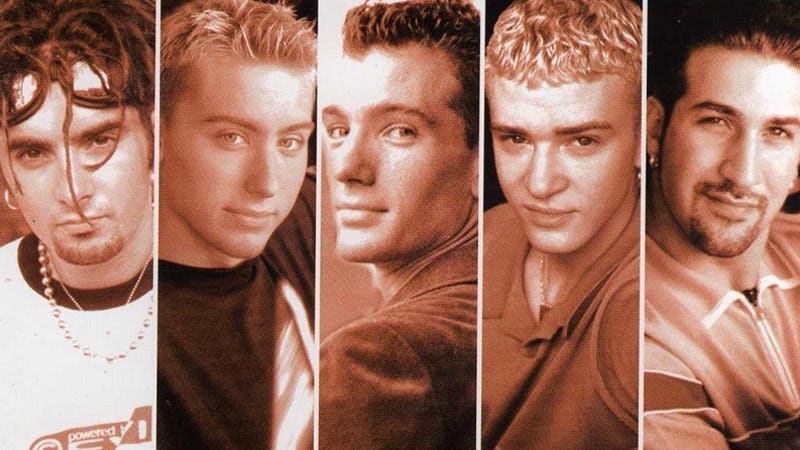 The scene: Your middle school's monthly Friday-night dance. The lunch tables have been pushed aside and the cafeteria has been turned into a giant dance floor — though everything still vaguely smells like pizza. And Axe Body Spray. And armpit/butt stink. ... Some of your fellow students haven't quite realized that they're going through puberty yet, so deodorant use and shower habits are spotty and inconsistent at best.
You and your posse enter the cafeteria, scoping out the best spot to form a non-threatening dance circle. This way, everyone can shuffle their feet to the beat together without the pressure of dancing one-on-one with someone else. The circle is on fire tonight. Your friend Kevin's older brother kind of taught him how to break dance last summer, and even though he keeps having to start over because he "messed up" and eventually just resorts to a poorly executed version of "the worm," his antics have attracted the attention of your peers (including some of the "cool" kids). Things are going well.
Suddenly, the lights dim and the DJ brings the tempo down. Oh no! It's time for the first slow dance of the night! Your dance circle breaks up as everyone frantically searches for a partner. People are pairing off left and right. Detention Joe is already slow dancing way too close with Sexually Developed Samantha, Tattletale Stuart is already stiffly rocking back and forth with Heart Murmur Jessie, and Quarterback Dave is already deep kissing Cheerleader April in the corner of the room while a group of sixth graders look on! Will you be able to find someone before the song's over?
Ah, middle school dances. So awkward, so smelly. Though you might not have always found a willing slow dance partner, when you did, you probably stood as far away from them as possible and avoided eye contact at all costs, rendering the act of slow dancing itself entirely pointless. But at least the music was good! I'm talking about those wonderful songs that struck both fear and excitement in your heart as soon as they began to play (they probably put some butterflies in your stomach, too).
So, in honor of these uncomfortable, yet amazing situations, let's raise a glass to middle school dances with a list of some of the best slow dance songs from the '90s and '00s!
Celine Dion — "My Heart Will Go On"
Fact: The version of "My Heart Will Go On" that they used to play on the radio with dialogue from Titanic clumsily spliced in is approximately 635 times more heartbreaking/amazing than the original.
K-Ci & JoJo — "All My Life"
So heartfelt, so meaningful.
Brian McKnight — "Back At One"
To middle school Alex, Brian McKnight's "Back At One" was the epitome of romance.
Selena — "Dreaming of You"
As far as I'm concerned, "Dreaming of You" is the perfect song to slow dance to — though it kinda makes me sad to listen to it now.
Enrique Iglesias — "Hero"
The dramatic music video for "Hero" must be seen to be believed. It features lots of sweaty french kissing AND Jennifer Love-Hewitt and Mickey Rourke for some reason. How could you go wrong?
*NSYNC — "(God Must Have Spent) A Little More Time On You"
Every member of *NSYNC's hair was at its absolute worst/most hilarious around the time that this song was recorded (ahem: Chris Kirkpatrick). Hairdresser shoulda spent a little more time on THEM, am I right? I'll see myself out.
All-4-One — "I Can Love You Like That"
I actually forgot that this song existed until I stumbled upon it on YouTube a few minutes ago. It's still legit.
Aerosmith — "I Don't Want to Miss a Thing"
This song is The King of Cheesy Soundtrack Power Ballads. Strangely, I've still never seen the movie Armageddon.
Savage Garden — "I Knew I Loved You"
I had a tough time deciding between this track and "Truly Madly Deeply" — they were both such huge parts of my middle school dance experience.
Avril Lavigne — "I'm With You"
I think this was the first time that our spunky lil' sk8er brat showed a little vulnerability.
Edwin McCain — "I'll Be"
"I'll Be" is kind of legendary as far as school dances are concerned. Again, strangely, I've never seen Dawson's Creek before — the television show that gave the song its start.
Mariah Carey & Boyz II Men — "One Sweet Day"
I remember being deeply affected by "One Sweet Day" when I was younger, though, at the time, the greatest loss I had ever experienced was probably that of a pet goldfish. What can I say? The song spoke to me.
Seal — "A Kiss From a Rose"
"A Kiss From a Rose" is featured on the soundtrack for Batman Forever — one of the best movies of ALL TIME. Don't @ me.
Lonestar — "Amazed"
The gentlemen of Lonestar are still making country music, but "Amazed" was one of their few crossover hits (shout out to "I'm Already There").
Norah Jones — "Come Away With Me"
Truthfully, "Come Away With Me" kinda puts me to sleep, but I've definitely slow danced to it a bunch of times in my life.
98 Degrees — I Do (Cherish You)
98 Degrees: The Underappreciated '90s Boy Band.
LeAnn Rimes — "How Do I Live"
Yeah, I definitely used to lip-synch to this song in the mirror. Yeah, I was cool.
No Doubt — "Underneath It All"
One of my favorite No Doubt songs ever!
Shania Twain — "You're Still the One"
Little known fact: "You're Still the One" appears on Shania Twain's Come On Over album — one of the best-selling albums in the United States in the past 23 years.
Alicia Keys — "If I Ain't Got You"
This is pretty much the only Alicia Keys song I can tolerate. Sorry not sorry.
Goo Goo Dolls — "Iris"
"Iris" was written for 1998's City of Angels, a movie in which Nicolas Cage stars as a guardian angel who falls in love with Meg Ryan. I don't think I'd want to live in a world where Nicolas Cage is an angel. Do you know what I mean?
Monica — "Angel of Mine"
Speaking of angels, after Monica's "Angel of Mine" reached the No. 1 spot on the Billboard Hot 100 chart in 1999, her career took a serious downturn from which it has never recovered. It's a shame.
Howie Day — "Collide"
Whatever happened to this dude? Also, I just realized that I get him confused with Ryan Cabrera. They are basically the same.
O-Town — "All or Nothing"
I like this song, but "We Fit Together" is still my go-to O-Town jam.
Backstreet Boys — "I Want It That Way"
Certainly one of the most memorable pop songs from the '90s.
Sixpence None the Richer — "Kiss Me"
One-Hit Wonder alert! Remember She's All That? Ah, memories.
Images: RCA Records; Giphy